Discover the impact of test methods and pigment selection on paint weatherability
Industrial coatings for vehicles, buildings and other structures must endure a lot during their life. They've got to be well prepared to handle it all. These coatings need to be optimized for demanding environments and proven to stand the test of time. There are different methods for studying weathering in industrial paint systems. This paper will compare some of these methods and discuss how titanium dioxide can contribute to the best outcomes.
Titanium dioxide is a well-known white pigment; but beyond its exceptional whitening power, it can also increase the durability of a paint. In a previous Ti-PureTM paper by Dr. Michael Diebold, entitled "What are you made of? Choosing the right titanium dioxide to enable the durability performance of other coating component," it was explained that TiO2 has a positive effect on the weather resistance of a coating due to its UV absorbing capacity. TiO2 itself is durable under any weather condition, but can have a negative effect on the organic paint matrix it is embedded in. This is due to the photocatalytic nature of TiO2 when absorbing UV light. TiO2 producers prevent this photocatalysis by treating the surface of a TiO2 pigment with inorganic oxides, which prevent the formation of photo radicals. The ef ciency of this treatment can vary between different TiO2 pigment types and can lead to important differences in the nal weather durability of the coating in which the pigments are used.
Selecting a Reliable Test Method
Studying the weather resistance of a coating can be a complex matter. The best and most reliable method for studying the weather resistance of a coating system is outdoor exposure for a number of years. However, during the development of a paint system it is often necessary to assess the weather resistance in a much shorter time frame. Therefore, different accelerated weathering techniques have been developed. Before we compare some of these, it is important to understand the complexity of the weathering process. There are different ways a coating can degrade during exposure to weather. In this study we will limit the discussion to white paints.
1. TEMPERATURE:
A common degradation pathway is temperature. Change in temperature can cause different kinds of damage depending on the paint system; such as color changes, adhesion failures, or cracks. Increased temperature will also accelerate many chemical reactions. However, the rate of thermal degradation is independent of the grade of TiO2, so we will not on this method.
2. PHOTOCATALYTIC:
A second degradation mechanism is the photocatalytic degradation related to the photocatalytic activity of TiO2. Reactions with free radicals produced at the surface of the TiO2 will occur at the vicinity of the TiO2, because of its photocatalytic activity. Degradation will mainly occur at or close to the surface here also, because UV light is absorbed and cannot reach beyond the surface of the coating.
Since photocatalysis is one of the mechanisms which can cause degradation of a paint system, one can assume that reduced photocatalysis will, at least, partially slow down the weathering degradation. So, measuring the photocatalytic activity of TiO2 will be a measure for the weather resistance of a coating system containing such pigment.
This can be done by measuring the effect of TiO2 on the light degradation of a simple organic molecule such as isopropanol. This is an over-simplified method, since in a true paint many more complex reactions are taking place.
An elegant way of predicting the photo catalytic activity of TiO2 is the measurement of the encapsulation efficiency of the pigment. For silica encapsulated TiO2, this can be done by measuring acid solubility.
However, this test only measures one aspect of degradation, and will not always be an accurate prediction for the final paint degradation.
3. UV LIGHT:
One pathway is direct degradation of the resin and is related to the effect of direct UV light. This degradation will mainly occur at the surface in a pigmented system.
The only way to get a realistic idea about the true weather stability of paint is doing a lengthy outdoor weathering study of the pigmented paint. Throughout the years, different methods to study degradation in an accelerated way have been developed. Since the degradation is caused by UV light (energy), there are different ways to accelerate it by increasing the rate of energy addition. There are three methods to do so.
A.The first: increase the temperature. However, as previously stated, this does not affect TiO2.
B. Secondly, one can increase the amount of energy per photon by using more energetic light, such as UV-B light.
C. A third method is increasing the number of photons, or light intensity. This is done using weatherometers (WOM).
Trying to accelerate the degradation; however, is risky, since the different degradation reactions do have varying dependence on light intensity. The photo catalysis reaction changes with the square root of the light intensity, whereas the direct degradation of the resin is directly proportional to the light intensity. This implies that usage of high intensity UV light will increase the direct resin degradation more than the photo catalysis reaction. Based on this, we can already assume that accelerated methods do not necessarily correlate well with true weather exposure.
Understanding the TiO2 Testing Impact
Now that we understand the different influences at play when trying to accelerate weathering, let us look at some examples of weatherability testing, and how TiO2 plays a role.
Having a standard method for measuring/assessing durability is one of the challenges in the coating industry. Not every paint application has weathering standards. This study uses two internationally recognized standards for the construction industry. The first one is the GSB standard (GSB AL 631), using QUV-B as accelerated method (DIN EN ISO 11507). The second one is the Qualicoat standard, using Xenon light exposure (ISO 16474-2). Requirements for both standards are shown in Tables 1 and 2.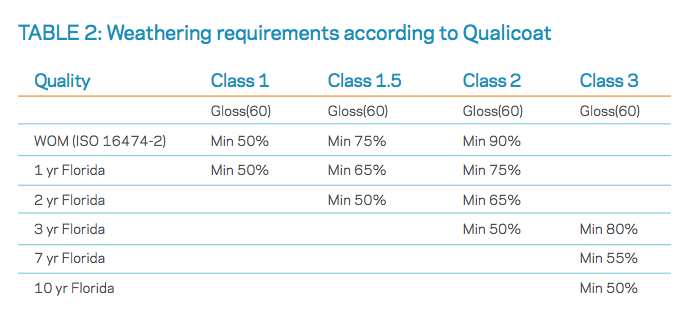 During the last decade, Chemours has evaluated 10 different industrial coating systems, including over 20 different TiO2 types. There were seven polyester coil coat systems, one primid cross linked polyester powder coat system, one refinish coating and one high bake melamine polyester automotive topcoat system. All these systems were evaluated with QUV-B, Xenon exposure and Florida. This is the ideal basis for a comparative study according to both standards.The first comparison looks at the correspondence between QUV-B exposure and Florida. According to GSB, 300 hours should be an equivalent measure for one year Florida (standard), and 600 hours for three years Florida. The former gives a reasonably good correlation, but there are already some TiO2 pigment responses that do not correspond. Longer exposure leads to much less correlation (Graph 1). The second comparison looks at correspondence between WOM and Florida, according to Qualicoat. The correlation gets worse with longer exposure here as well (Graph 2).

Accelerated Data Drawback
This general overview suggests that one has to be careful with accelerated weathering. Based on QUV-B, 70% of the coatings would qualify for GSB standard class, the same based on Florida. QUV-B would only qualify 50% for Master and 23% based on Florida. For Class 1 Qualicoat, almost all systems would qualify based on WOM and Florida. Only 40% would qualify for Class 2 based on WOM, but much less (27%) would qualify for Class 2 based on Florida. From looking at the graphs, one can see not only is the number of qualifications less after Florida, but that the types of paints that qualify under Florida can vary from those qualified under accelerated methods. Certain paints would qualify under WOM and not under Florida, and the reverse is also true. One can certainly draw the wrong conclusions when only using accelerated weathering, ruling out systems which might qualify in real life weather exposure.
It is clear that accelerated weathering can lead to the wrong conclusion; especially when going to the most durable systems. Paint producers must be cautious when basing customer performance warranties on the results of accelerated testing alone. It is also clear that TiO2, as an ingredient, plays a role in enhancing durability of white paints. However, testing this enhancement with accelerated weathering methods is difficult, and can be inaccurate—especially for long-lasting systems. Super durable grades like Ti-PureTM Select TS-6200 are designed to give optimal protection against UV light for a long time. This is confirmed in paint studies using real-time Florida exposure, a more realistic and reliable test method. The benefits of a high-durability grade of titanium dioxide can be seen in accelerated testing as well, but conclusions about a coating system based on only accelerated studies must be treated with sufficient care.