Mixing Technology Reports
Industrial Mixing Processes and Equipment
A History of One Company and Its Contributions to Mixing Technology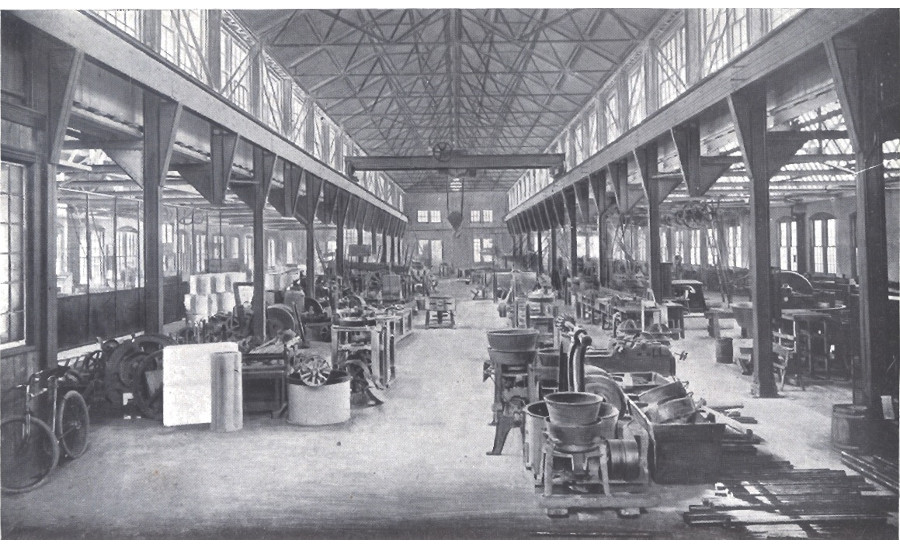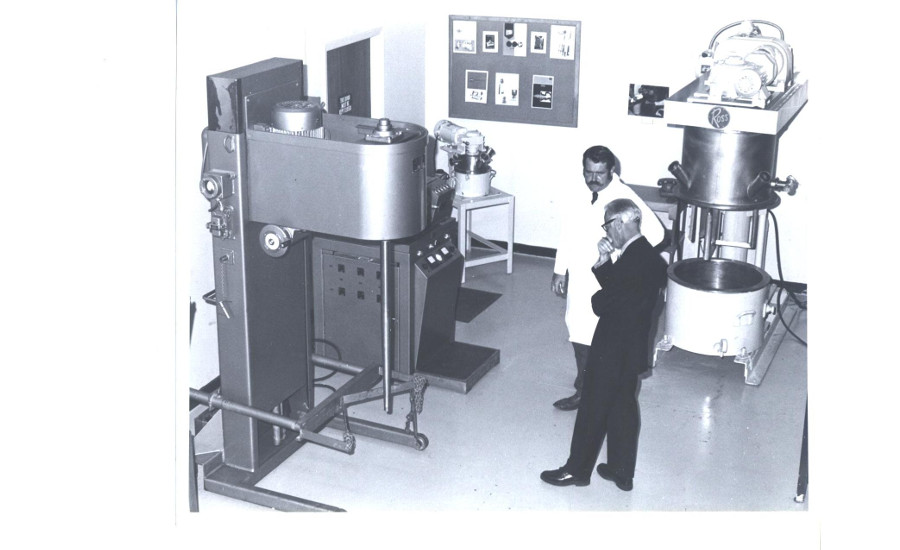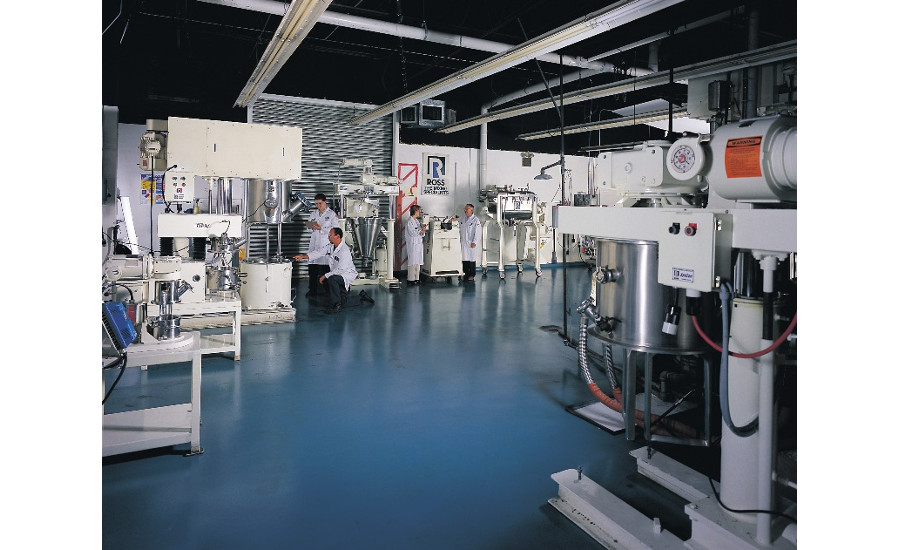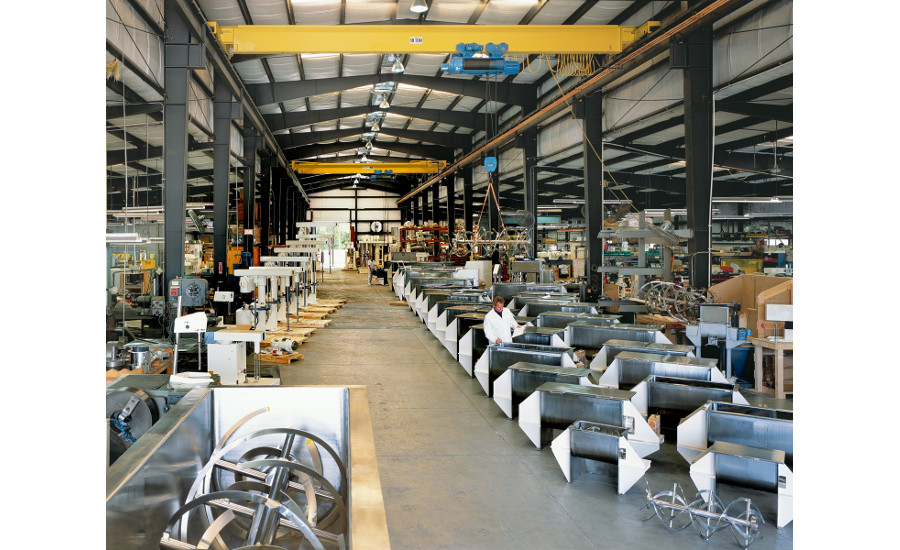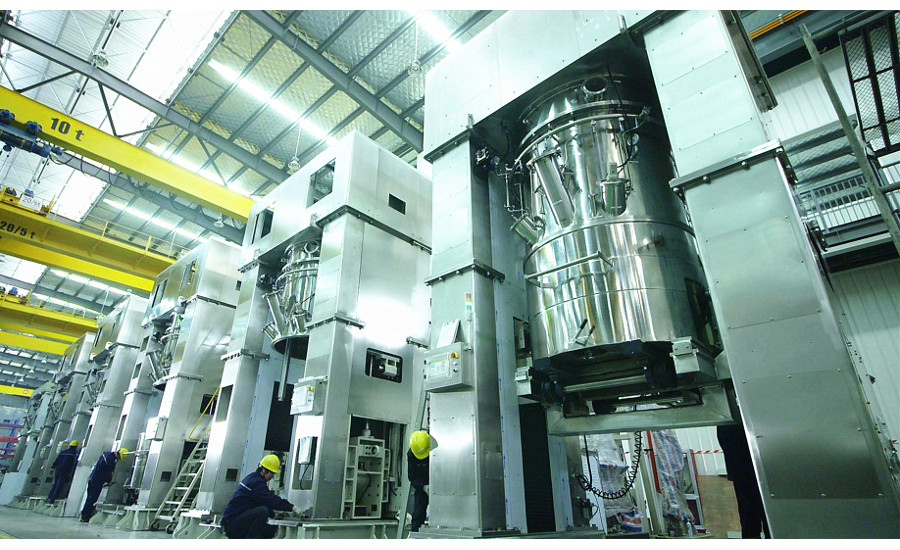 This article is about developments in mixing equipment over the past the past 80 years and how one company has helped to advance that technology. However, I have a personal story to tell about a mixer that happened over that same period. When my family was young, I inherited a stand-alone mixer from my parents. Manufactured in the 50s, it was a wedding gift from their parents. When I received the mixer, it had already survived five children and multiple moves across the United States, but was still going strong. It was a good addition to my family, often used for family cake production on Sunday afternoons, when the process of making cake and frosting was a great way to learn the subtleties of mixing technology that baking so elegantly imparts to children. If mixed too long with the paddle attachment, the gluten in the flour becomes too active, and your cake ends up with a stringy texture; when making frosting with the wire whip, the longer the mixing, the fluffier the frosting. Also, the dough hook is not an appropriate tool for either of these jobs. Surviving a few more moves across the United States, the mixer still sits on my counter, long after my parents celebrated 50 years of marriage. It is a marvel of American post-war manufacturing.
Here is another story of mixers and families, one that involves much more than Sunday cake making.
In Rochester, New York, in 1842, two brothers, John and Charles, worked side by side in two businesses: operating a bakery and building grain mills. For 20 years they worked together until they were separated by the Civil War. Later, Charles returned to work in the shop. But this time he was alone; his brother had died. In 1868, Charles moved the company to Brooklyn to eliminate the cost of shipping French burrstones from New York Harbor to Rochester. He did well building stone mills and began to offer other types of milling machinery. The next year, his company introduced the first models of three roll mills. These mills, which were marketed to the paint and ink industries, offered advantages over stone mills, increasing production and ease of cleaning. At that time, the Brooklyn factory was making mixing machines for paint, ink and chocolate pastes. On January 18, 1900, the company was incorporated under the name Charles Ross & Son Company, the name it would keep to the present day.
By 1902, Charles Ross' son, Charles G. Ross, had taken over leadership of the company and moved the factory to another part of Brooklyn that was closer to the paint companies that were sprouting up in that part of New York during the time. Besides paint and inks, new markets were opening up to mill and mixer providers, including chemical and pharmaceutical, and because of the growing auto industry, grease and lubricants.
During World War I and World War II, the company continued to expand. It fulfilled orders for the mixers and processing machines used to make smokeless gunpowder used in World War I, making technological advances to increase the efficiency of these machines. During World War II, the company supplied ROSS products in Europe. The rapid expansion of the chemical industry, which started in the 1920s, offered ROSS the opportunity to provide mills and mixers to support this growth, and the company established sales representatives in San Francisco, Chicago and Detroit. In Detroit, Ross equipment was used in the preparation of finishes, lacquers and colors for the bourgeoning automotive industry. Around that time, demand for cosmetics started to grow, and the company began to fulfill orders for that industry as well.
The company moved to Hauppauge, New York, a town on Long Island, in 1965. The facility included administrative and engineering offices, a manufacturing shop, and, later, a testing lab that allowed customers to test machines before purchase. In 1968, the company established ROSS Metal Fabricators in Islip, New York. This plant, which later transferred to Deer Park New York, manufactures mix tanks, pressure vessels, kettles and custom-built equipment. In 1978, the company opened ROSS Engineering Inc. in Georgia, which produces storage tanks, pressure vessels and reactors up to 100,000 gallons or larger. It also manufactures large-scale multi-shaft mixers, high shear mixers, vertical blenders and three roll mills. 1986 saw the opening of another ROSS facility, ROSS Mixing Inc., in Florida. The facility designs and manufactures laboratory mixers, high-speed dispersers, dual-shaft mixers and ribbon blenders. The company established a controls division in Georgia in 1996 that now supplies process control systems and automation packages to customers around the world. ROSS entered the Chinese market in 1997 through a joint venture, Nantong ROSS Mixing Equipment Co. Ltd., which supplies ribbon blenders, high-shear mixers, vertical blenders and other products to the Chinese market. In 1999, the company opened a second plant in China, ROSS Wuxi Equipment Co. Ltd. After several expansions, ROSS Wuxi today operates from a brand new 250,000-sq.ft. facility, the company's largest. This wholly-owned ROSS subsidiary serves customers in Asia and neighboring regions. In 2007, the company entered India with the establishment of ROSS Process Equipment Pvt. Ltd. in Pune. This facility builds a complete range of mixing and blending equipment for customers in India, the Middle East and Africa.
The history of ROSS not only documents the success of a family business, it also marks the establishment of new mixing technologies. Here are a few of the technologies developed by Ross that are now mainstays of the processing industry.
Double Planetary Mixer
In 1942, ROSS introduced the first change-can Double Planetary Mixer that was a popular machine for batching heavy paste paints. Ross' website describes the machine: "It had two sets of prong-like stirrers that rotated on individual axes while revolving around the vessel interior. All the gearing and other moving parts were enclosed in cast iron housings and operated in a continuous oil bath. During mixing, the vessel was fully covered but the operator could view the internals from a lamp-lit inspection window. When the batch is complete, a hydraulic lift raised the driving components and stirrers from the mix can. As the finished product is discharged, another vessel could be placed under the mixer to start a new batch."
The design was an improvement from pony-style mixers that were widely used at that time, and the Double Planetary Mixer was quickly adopted for uses outside of the paint and coatings industry because of its ability to mix viscous, sticky or putty-like materials.
Hybrid Planetary Mixer
In 1987, ROSS patented a hybrid planetary mixer design with low- and high-speed agitators. This design allowed for mixing usually accomplished by two or more devices. According to the Ross website: "The novel configuration features a stirrer blade that rotates on its own axis while orbiting the mix vessel, delivering a thorough mixing and kneading action suitable for processing high viscosity mixtures. At the same time, a saw-tooth disperser blade also revolves around the batch while turning on its own axis at tip speeds of around 5,000 ft/min. This high speed blade quickly disperses powders, fibers, pellets and other solids regardless of product rheology. Each agitator is controlled independently allowing the operator to fine-tune flow patterns and shear rates at any point during the mixing cycle." The company's PowerMix Planetary Dispersers are used in a number of industries, including adhesives, chemical, plastics, composites, coatings and medical.
X-Series Inline Ultra-High Shear Mixer
In 1995, the company unveiled another technological advancement when James C. Ross invented the X-Series Inline Ultra-High Shear Mixer, a significant advancement from rotor/stator technology. The company describes the technology this way: "Turning at tip speeds over 11,000 ft/min, the X-Series rotor consists of concentric rows of intermeshing teeth. Product enters from the center of the stator and moves outward through radial channels in the rotor/stator teeth. The combination of high tip speed and extremely close tolerances between the interlocking channels subjects the product to intense shear in every pass. Adjustable gap settings allow for fine-tuning of shear level and flow rate."
Today, this technology is used in production lines worldwide, offering companies the capability to produce submicron dispersions and emulsions that are a higher quality than those made with multi-stage rotor/stators and colloid mills.
SLIM Technology
The company's technical services group developed a powder induction technology in 1998 that it called SLIM (Solids/Liquid Injection Manifold) technology. This is an efficient and reliable device for dispersing powders into a liquid. According to ROSS, "It features a specially engineered rotor that creates an intense vacuum which draws solids into the high shear zone of the mix chamber."
Excellent for dispersing powders like fumed silica, gums, thickeners and pigments, this technology can cut process times by up to 80% and helps to eliminate dusting, floating powders and lumps.
Delta Rotor/Stator
ROSS was granted another patent in 1999 for the Delta rotor/stator used in its PreMax Batch Ultra-High Shear Mixer. The company website explains, "The Delta rotor runs at higher tip speeds (5,000 ft/min) than a regular high-shear mixer device, creating enhanced levels of mechanical, hydraulic and cavitational shear. In addition, the Delta rotor's unique shape generates a double vortex and intense vigorous flow which quickly draws powders from the batch surface."
High Viscosity (HV) Blades
ROSS received another patent in 2003 for the High Viscosity (HV) Blades used in ROSS Double Planetary Mixers. These blades have a precisely angled helical contour that creates a forward and downward mixing action. This action helps to keep the material being mixed within the vessel and prevents a climbing problem sometimes present when using traditional rectangular stirrers. According to ROSS, "The HV Blades extend the Double Planetary Mixer's viscosity range to approximately 6 million centipoise, easily handling applications that previously required a more expensive horizontal sigma blade kneader. The rotating helical stirrers pass each other in a slicing motion, which more evenly distributes the resistance of thick, non-flowable materials compared to the vertical flights of rectangular blades. The absence of horizontal crossbars also allows the HV Blades to be lifted very cleanly and easily out of a viscous or dense batch."
The 70-year old mixer that stands on my kitchen counter is one example of the ingenuity and endurance of American technology. So too is the history of Charles Ross & Company, which survived the Civil War, two World Wars, the greatest economic challenges the United States has faced, and still contributes every day to the forward movement of manufacturing both in the United States and around the world.