Formulations of suspensions to be produced by wet milling are becoming more diverse and exacting. At the same time, the pressure on costs, especially in high-volume production, has continued to rise. The DYNO®-MILL UBM series with the patented agitator DYNO®-DISC BC is a new agitator bead mill designed to answer the demand for high production capacity, adaptability to a wide range of applications and low maintenance costs. The fundamental steps in the development of the new agitator bead mill are described in this article.
Development
The first step in developing the new mill was designing new agitator discs featuring the required attributes. Each variation of an agitator disc was then put through a set of tests to evaluate its performance, especially grinding efficiency. The strengths of each geometry were established, and weaknesses eliminated in an iterative process.
If an agitator's geometry met the requirements, it underwent a rigorous wear test both as an individual component and as part of a complete agitator bead mill. In these tests, extremely high-quality and wear-resistant materials were tested with various suspension formulations under real production conditions. As such tests are only valid if a measurable amount of wear occurs, this is a particularly time-consuming and costly development phase. In return, it provides a real, meaningful and reliable basis to make decisions about each design model as well as a solid foundation for patent applications.
Subsequently, prototypes were built in sufficient number to be employed in a range of different production environments and applications. During this phase, which lasted more than a year, the DYNO-MILL UBM 20 units successfully demonstrated their capacity for smooth operation in routine production in a wide spectrum of applications.
The field tests were extremely valuable, as the designers could take customer feedback into account when finalizing the design. Ultimately, this process ensured that all the desired specifications were met, and the new agitator bead mill was released for serial production.
Features
As the new series of agitator bead mills was developed from scratch, the best design concepts could be implemented without constraints. Figure 1 depicts the most important components of the new mill.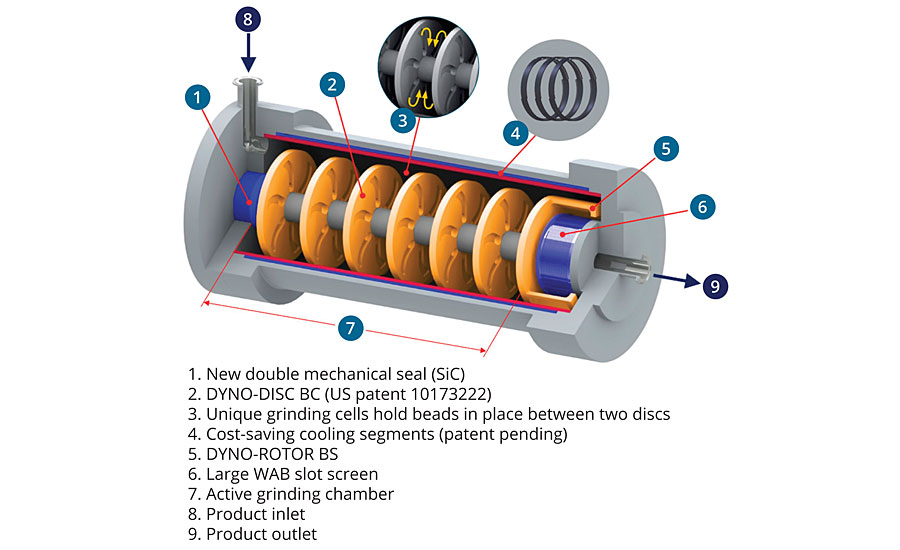 The new double mechanical seal (1) made of silicon carbide was developed with a special focus on robustness and suitability for a wide spectrum of grinding beads. Another special feature of the new design is its low sensitivity to bead breakage. At the heart of the innovations made in the process chamber is the new generation of agitator discs: DYNO-DISC BC [(#2 in Figure 1) and Figure 2].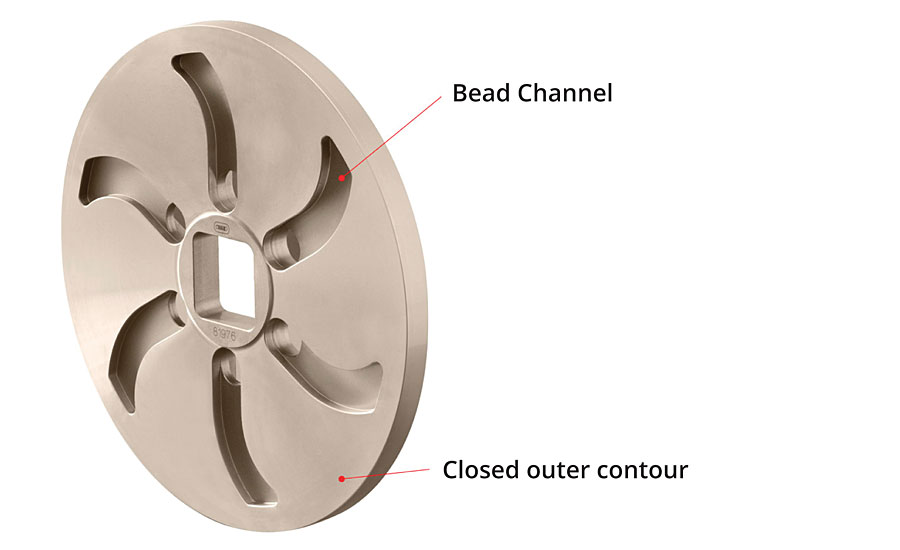 This new design features a completely closed outer contour and a unique surface structure with bead channels. The bead channels, closed on the inside and radiating out from the center of the disc, accelerate the mix of beads and product. The channel wall exerts an impulse on the beads perpendicular to the machine's axis. In combination with the neighboring disc's flow field, a grinding cell forms between each disc pair with accelerated grinding bead circuits (Figure 3).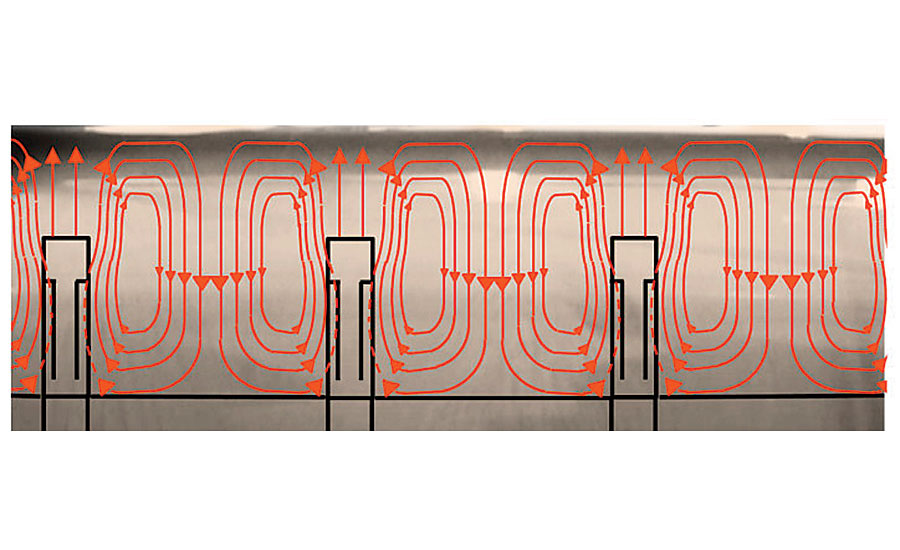 As the DYNO-DISC BC agitator discs are completely closed, except for small openings near the axis, the beads remain in place between two discs, forming discrete grinding cells (Figure 4). These grinding cells stabilize the uniform distribution of the beads in the active grinding chamber (#7 in Figure 1) and contribute to the high grinding efficiency of the agitator bead mill. In addition, the closed outer contour of the agitator discs offers excellent resistance to wear, as to minimize the size of particularly wear-sensitive surfaces.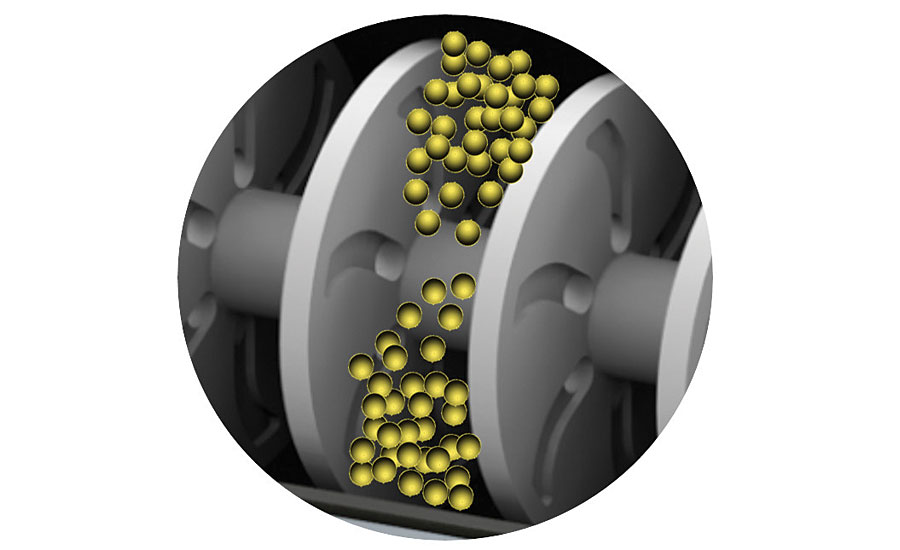 The DYNO-ROTOR BS (#5 in Figure 1) acts together with the grinding cells to protect the WAB slot screen (#6 in Figure 1) against the beads and general wear.
A stream of cooling water (#4 in Figure 1) flowing in spirals around the grinding cylinder is the most effective way to dissipate process heat. In previous designs, installing and replacing these spiral-shaped cooling ducts was very time consuming. A newly developed modular coolant line system reduces manufacturing costs and, if necessary, allows for fast, easy and inexpensive replacement by the customer.
An agitator bead mill in operation is exposed to varying thermal loads. During the design phase, the expansion of the components is specified within a defined temperature range. This is of course easiest if the thermal expansion coefficient is the same or similar for all materials. As soon as a material mix with differing heat expansion properties is used, the requirements in terms of design and material become a lot more complex. WAB-GROUP has succeeded in developing a novel system that perfectly offsets the effects of heat expansion. This innovative design will be used in the DYNO-MILL UBM series to fix grinding chambers and the surrounding cooling cylinders in place, independent from the material combination.
Easy handling and an ergonomic design are hallmarks of the new agitator bead mill (Figure 5). The grinding chamber is at an optimal height, making operation much easier, especially emptying and cleaning. The increased use of stainless steel makes the machine surfaces more resistant to environmental forces and reduces cleaning time as well as the amount of detergent needed.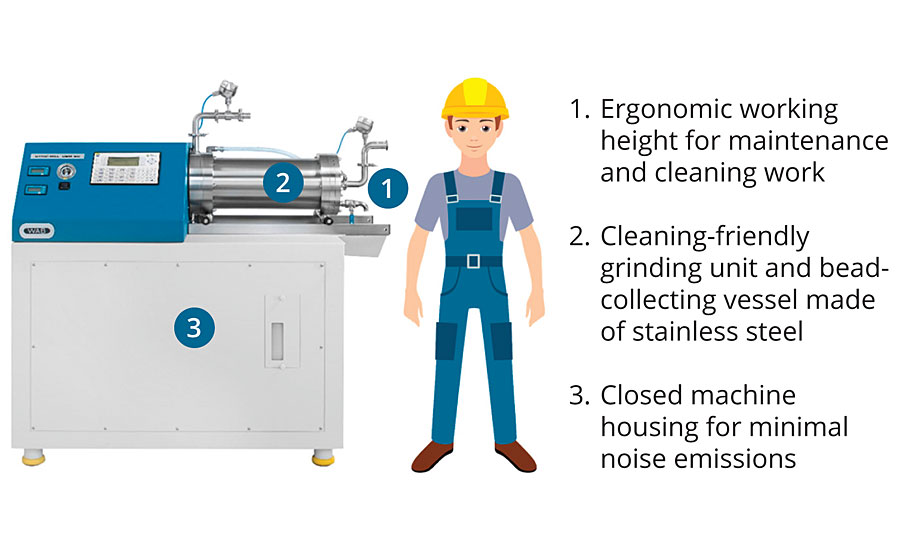 Compatible, interchangeable materials are available for the parts of the grinding chamber that come in contact with the product. Currently, material options include hardened chrome steel, polyurethane and zirconium oxide. Thus, customers can independently adapt their DYNO-MILL UBM to new requirements any time, at minimal extra cost.
User Experience in Industrial Applications
Automotive Coatings
Manufacturers of car paints and coatings use a wide range of formulations, from inorganic, high-solids primers to transparent metallic paints based on organic, high-performance pigments. In the following two paragraphs you will find OEM application results from cathodic electrophoretic coatings and automotive basecoats.
Cathodic Electrophoretic Coatings
An agitator bead mill for dispersing dip coatings must offer a high resistance to wear, be suitable for viscous media, and have a high production capacity in pass mode operation.
Customer trials have demonstrated the high performance of the new DYNO-MILL UBM. For cathodic electrophoretic coatings, production increased by a factor of up to 5 compared to conventional agitator bead mills, all process parameters equal.
Automotive Basecoats
Depending on the pigment chemistry, relatively high-energy inputs are sometimes needed to achieve the required color strength and the exact hue.
The new agitator bead mill has demonstrated its ability to efficiently grind even the hardest pigment types, in both pass and circulation mode. The tendency of some formulations to increase in viscosity during the grinding process does not cause any problems in production.
For all topcoats based on organic pigments, production increased by a factor of 2.5 on average compared to conventional agitator bead mills, all process parameters equal (grinding beads/fill level, throughput, peripheral speed of the agitator discs etc.).
Pigment-Based Inks for Inkjet Printing
Inks used in inkjet printing are temperature-sensitive suspensions with low viscosity and a very narrow particle size distribution in the nanometer range (D50 of about 150 nanometers, depending on the application).
For this application, choosing the appropriate agitator bead mill, in combination with high-quality, ultra-fine grinding beads (e.g. ZrO2-Y2O3 beads with a diameter of 0.3 mm) is crucial. In day-to-day operation, the required narrow particle size distributions can only be achieved in circulation mode.
The DYNO-MILL UBM 100 has successfully demonstrated its suitability for the production of these demanding products in batches larger than one ton. In continuous operation, the machine shows the desired low wear pattern and achieves a high purity of color (chroma). Once process parameters have been optimized, the new mill delivers a performance comparable to existing, high-priced high-performance mills.
Conclusion
The DYNO-MILL UBM truly grinds almost anything. This new generation of agitator bead mills guarantees high flexibility of use, high productivity and a cost-effective solution for all wet-milling tasks. n
For more information, call +1 973-873-9155, e-mail wab-us@wab-group.com or visit www.wab-group.com.