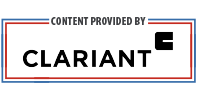 The wood coating industry is experiencing rapid change. Following the megatrend of sustainability, coating producers are shifting increasingly from solventborne products to waterborne systems. However, no compromises are tolerated in terms of processability and performance creating challenges, as well as new solutions.
New waterborne coatings formulations are competing with well-established solventborne technologies on the market. The new solutions must not only be more sustainable but also competitive in terms of performance and cost. Features like low toxicity, low VOC, easy handling (no odour) and compliance with more stringent regulations are just some advantages that contribute to the acceptance of waterborne technology. Newly developed additives used for light stabilisation, surface modification or fire protection help to further improve performance levels.
EASY TO USE WAXES ENHANCING AESTHETICS, PROTECTION AND SOFT TOUCH
In the last few years, Clariant has developed a range of solutions that are derived from renewable resources and address a range of other environmental issues. These sustainable additives provide multiple performance benefits and can even outperform standard waxes (Figure 1). Ceridust® 1060 TP is fully based on chemically upgraded rice bran wax, a non-food competing by-product of rice production. The nature of the highly functionalised, micronised wax makes it ideal for use in water-based systems. Next to very effective matting, slip modification and increased scratch-resistance, Ceridust 1060 TP generates a pleasant smooth and soft surface touch.
Ceridust 8090 TP and 8091 TP are two additives based on renewable polymers. The coarser grade Ceridust 8090 TP generates a uniformly fine structured surface, which creates the impression of untreated natural wood surfaces. The finer grade Ceridust 8091 TP creates a soft and smooth surface. Both additives can outperform conventional wax additives in terms of their scratch-resistance performance for highly durable water-based wood coatings. Furthermore, they provide effective protection against unintended polishing and, thus, support keeping a matte finish.
Clariant's range based on renewable feedstock is complemented by well- established polar modified synthetic waxes like Ceridust 3715, Ceridust 3716 and amide wax blends like Ceridust 2740, which can be used in a wide range of applications. They create a matte and scratch-resistant finish and improve chemical resistance. The polar modified synthetic waxes can be used both in waterborne and solventborne systems.
The easy dispersible properties of Clariant's Ceridust solutions enable direct incorporation in wood coating formulations using standard mixing equipment. Ceridust grades are very finely micronised powder waxes. Their particle size ranges between five and thirty micrometers.

INCREASING DURABILITY OF EXTERIOR WOOD COATINGS
Wood coatings not only need protection from physical impacts but also from sun radiation. When formulating exterior coatings to be applied on wood substrate, it is essential to include light stabilisers to provide the needed UV protection, otherwise such coatings and/or stains will quickly start to degrade; firstly with yellowing and colour change, followed by cracking and blistering issues, affecting the coating surface properties irreversibly and leading to complete delamination. To ensure extended durability, a longer service life and to keep the aesthetics of wood finishes for exterior applications, it is necessary to protect them from adversefactors, such as UV radiation, humidity and climatic changes, with the adequate light stabiliser solution.
Despite an increasing demand for waterborne wood coatings, Asian countries still predominantly use solventborne coatings for exterior wood protection. In both cases, light stabiliser additives must be considered in order to bring the desired performance to the applied coating in outdoor conditions.
Standard available products, such as liquid benzotriazole UVA and monomeric HALS were originally designed for solventborne formulations. When it comes to waterborne coating formulations, they often require additional mixing time and the use of a co-solvent, with the potential risks of formulation cost increase and reduced performance.
To overcome these issues, Clariant has developed a range of highly effective light stabiliser additives that provide state-of- the-art performance for a wide spectrum of applications. The light stabilisation effect of these solutions has been evaluated in comparison to traditional/standard stabiliser packages, by using a combination of a UV absorber (Hostavin® 3315 DISP) with a HALS (Hostavin 3070 DISP). Hostavin 3315 DISP is a benzotriazole UVA dispersion characterised by high absorptivity and longer photopermanence.
Hostavin 3070 DISP is formulated with a polymeric HALS, that is non-migrating and with a high resistance to extraction.Both additives are VOC free and label-free (no hazardous substances). In addition, the ready-to-use synergistic solution, AddWorks® LXR™ 313, was included in the evaluation. AddWorks LXR 313 is a 1:1 mixture of a triazine UVA and a non- substituted HALS.
As shown in Figure 2, in a waterborne wood clearcoat formulation, Clariant light stabiliser solutions outperform standard products generally used for the UV protection of wood coatings.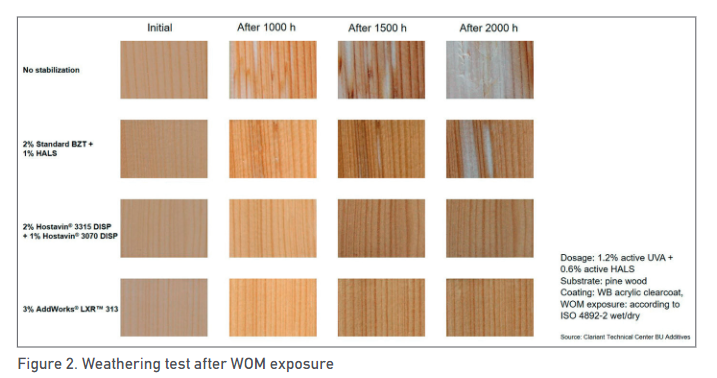 For a higher level of UV stabilisation performance, AddWorks LXR 313 is recommended, with the additional benefit of being suitable and compatible in both solventborne and waterborne wood coatings. Last but not least, for solventborne wood stains and paints formulated with autoxidative binders, such as alkyds, Hostavin 3055 LIQ, a non-substituted HALS with broader compatibility in such binder systems, is the right option to maintain the gloss and surface properties of exterior wood protective coatings.
Under normal circumstances a scratch resistant and UV stabilised wood coating is enough to protect the wood substrate from everyday stresses, but in some circumstances designers need to go beyond and put further thought into fire protection. As a very versatile material, wood is used to build everything from apartment blocks to high-rises and public buildings like sports stadiums. However, it cannot be used in public areas without appropriate fire protection. Pigmented fire-retardant wood coatings are widely
known for this purpose but, in addition to fire protection, the coatings also need to fulfil the architects' and buildings owners' desire: a beautiful and natural appearance of wood. Clariant has developed Exolit® 855 to meet these twofold requirements.
The fire retardant for transparent intumescent wood coatings is a completely transparent, virtually colourless, solution offering excellent fire and scratch resistance for all types of wood.
The product is a proprietary mixture based on liquid partial phosphoric acid esters. In combination with other ingredients, it contains all the necessary reaction partners for an intumescent reaction and reacts at lower temperatures than most conventional systems.
The intumescent clear coat can be applied on almost all wooden surfaces including solid wood, medium-density fibreboard, chipboard, plywood and all other types of engineered wood.
SUCCESSFUL FIRE TESTS FOR DIFFERENT APPLICATIONS
Besides its use as a construction material, wood can also be utilised in decorative design, for example as a wood veneer laminated on various substrates like "aluminium composite material," used for cruise liner and yachting interiors, or lightweight but rigid honey comb structures used in applications like interior compartment components of aeroplanes (Figure 3).
All application fields have to fulfil dedicated fire test regimes designed in accordance with the hazard levels in construction, shipbuilding or aerospace applications. Using the identical transparent intumescent formulation, based on Exolit 855, all fire tests undertaken were passed.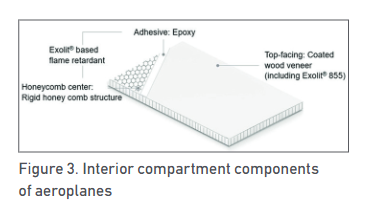 SPECIFICATIONS AND PERFORMANCE
The intumescent coating system consists of a two-component formulation. Part 1 is represented by a specific resin, several additives and water. Part 2 contains Exolit 855, a hardener and further components. The pot life of the combined parts is about 3hr and can be easily applied using a brush, airless spray gun or roller. The guide formulation (offered by Clariant under a nondisclosure agreement), shows excellent flow and levelling properties.
The coating cures at ambient temperatures, is dry-to-touch after 4hr and scratch resistant after 24hr. As usual, an additional solvent-based topcoat is beneficial for protection against high humidity and direct water contact. When tested in a cone calorimeter test (iCone; 50kW; distance 25mm) on a solid pine wood substrate (400g/m² wet) the intumescent coating offered excellent fire protection performance, as shown in Figure 4.
While the total Total-Heat-Release within 600sec test time (THR 600) is reduced by 98%, the maximum average rate of heat emission value is reduced by 67% compared to the non-coated panel (as shown in Figure 4). In an SBI-test on 13mm chipboard, coated with the intumescent clear coat, the European classification "B-s1, d0" was achieved.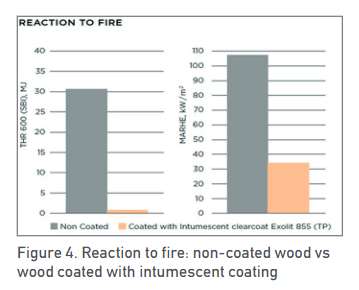 __________________________________________________________________________
Authors: Jean-Yves Desrats, Technical Marketing Manager Coatings, BL Performance Additives; Klaus Bender, Technical Service Manager, BL Flame Retardants; Milena Wundlechner, Technical Segment Manager Coatings/Inks, BL Advanced Surface Solutions, Clariant
Website: www.clariant.com
Note: Exolit 855 is not available in all Asian countries.