---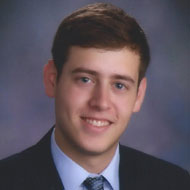 Jacob Shevrin
Scientist
Evonik Corp.

Jacob Shevrin joined Evonik's Functional Silanes business line as an Applied Technology Scientist in May of 2017. Since then, his research has focused on silanes for coatings and environmentally friendly metal treatment applications. Prior to joining Evonik, Jacob obtained an undergraduate degree in Physics from The Pennsylvania State University, and a master's degree in Materials Science & Engineering from UPenn.
Room Temperature-Cured Corrosion Protection of Metals with Novel 2K Waterborne Silane Pretreatments
As global environmental regulations continue to tighten restrictions on the use of well-established metal surface pretreatment processes, including chromate treatment and phosphatization, the need for environmentally friendly corrosion protection systems has never been greater. While one promising alternative to this worldwide regulatory issue is waterborne, heavy metal-free silane pretreatments, this technology often requires significantly high curing temperatures (ranging from 80°C-200°C) for sufficient corrosion protection performance. In this work, we demonstrate a novel 2K waterborne, chrome-free silane system that provides excellent corrosion resistance, alkaline resistance and weatherability to aluminum alloys and steels when cured at room temperature. By incorporating a hydrophobic diamino-functional silane oligomer into a waterborne sol-gel silane system, the hydrophobicity, surface passivation and crosslinking of the system is vastly enhanced ̶ even in the absence of an elevated temperature cure. Additionally, superior performance to the chrome-free commercial pretreatment benchmarks is observed, even after applying chrome-free aerospace primers on these pretreatments. These new findings demonstrate significant progress in overcoming the biggest obstacle in the use of sustainable waterborne silane technology for corrosion protection applications. Industries that previously could not use this technology can now explore this field with a higher probability of successfully replacing existing hazardous metal pretreatment technology.
---