---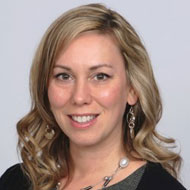 Amanda Adams
Key Account Manager
Croda
Amanda Adams is a Key Account Manager within Croda's Smart Materials group. Her goal is to help customers formulate green solutions in the CASE market. Prior to Croda, Amanda worked as a coatings formulator in the heavy equipment and general industrial areas. She graduated from Indiana University with a degree in Biology.
---
Formulating Industrial Coatings with Enhanced Chemical and Corrosion Resistance While Maintaining High Flexibility, Using Bio-Based Materials
Industrial coatings are often based on 2k polyurethane formulations, whereby both protective and long-lasting aesthetic appearance are required. Acrylate polyols are often used in such formulations because of their ability to form hard and weather-resistant coatings that obtain their protective properties by forming a tight crosslink network after the coating film has cured. Notwithstanding, there is a limit to the crosslink density as the coatings become at a certain point too brittle to provide protection; in particular on flexible substrates. The work presented here will demonstrate that by using a fraction of polyester polyols made from bio-based dimer fatty acids, a formulator can either further enhance crosslink density without making the cured film too brittle, or for maintaining a certain crosslink density to give more flexibility. By this mechanism, such co-polyols offer benefits to film hardness, Mandrel bending, as well as impact, corrosion and chemical resistance.
---