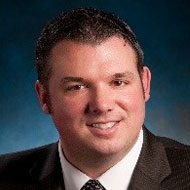 Daniel Chojnowski
Intellectual Property Attorney
Howard & Howard

Daniel Chojnowski concentrates his practice in the chemical and material science arts. Daniel's practice includes global patent procurement and opinion preparation. In addition, his practice includes counseling clients on clearance/freedom-to-practice issues, as well as on strategies for management of their global patent portfolios. Prior to becoming an attorney, Mr. Chojnowski was employed as a research chemist in the polymer and coating industry.
The Never-Ending Struggle – Do I Disclose My Formulation and Attempt to Obtain a Patent or Maintain the Formulation as a Trade Secret?
Companies are often forced to internally debate whether to apply for a patent or keep the invention "secret." This question is particularly ripe in the field of coatings, where the formulations are cumbersome, if not impossible, to reverse engineer. Thus, the consequences of the public disclosure mandated during the patenting process can be especially harsh if an attempt to obtain a patent is ultimately unsuccessful. This presentation will explore the essential factors that should be balanced when debating whether to apply for a patent or maintain a trade secret. This presentation will also discuss relatively new procedures at the United States Patent and Trademark Office that, if leveraged correctly, will allow an applicant to gather critical information and make an informed decision.