---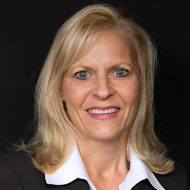 Kris Weigal
BioBased Business Consultant
OmniTech International

With over 33 years of operations, marketing and commercial leadership roles in the chemical industry, Ms. Weigal brings insight to business strategy for both petro-based and renewable specialty chemical companies. Her previous roles included Chief Commercial Officer at Resinate, VP of Business Development at BioAmber, and VP of Strategic Planning at Univar. Ms. Weigal has a Bachelor of Science in Chemistry and Business, and a MBA in Operation and Production Management from the University of Wisconsin. She serves on the Board of Directors for the Chicago Paint and Coatings Association.
U.S. Soy: The Sustainable Solution
The U.S. farmer-led United Soybean Board is committed to bringing useful information to companies to fulfill sustainability goals and improve products utilizing U.S.-grown soy. This presentation will outline U.S. soy's sustainability attributes while illustrating how soy derivatives enable resin manufacturers to develop a multitude of sustainable, renewable and technically improved products to meet the needs of formulators and consumers.
Renewable by nature, U.S. soybean derivatives are economical, consistent in quality and abundant in supply. The supply chain for soy as an ingredient also upholds sustainability standards with the consumer in mind — the U.S. Soy Sustainability Assurance Protocol — which 95% of U.S. soy producers participate in annually. This subjects those producers to an audit at any time on their sustainability practices, which include land management, water usage and more areas of focus for modern customers.
U.S. soy can also be used as a raw material in a diverse group of coating applications. These applications range from historical use in alkyd resins and plasticizers, to more recent use in polyurethane and powder coating resins, reactive diluents, dispersants, impact modifiers and coalescents.