---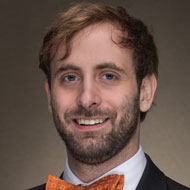 Lee Speight, Ph.D.
Director, Product Development
Green Biologics, Inc.

Lee attended the University of Pennsylvania for his doctorate in Chemistry (2014) and studied Chemical Biology. He joined Green Biologics immediately after graduate school as a Business Development Analyst. As Green Biologics' interest in adding value to core chemicals grew, his role evolved into product development. Presently, he is the Director, Product Development, for Green Biologics and leads the Product Development and Technical Services team out of the Virginia Biotech Park in Richmond, VA.
Performance Advantages of Bio-n-Butanol
Inclusion of bio-based ingredients into coating formulations has recently been motivated by marketing or corporate sustainability goals. However, innovations into the development and production of bio-n-butanol have revealed an opportunity to improve the performance of formulated products and the production of high-performance derivatives. We demonstrated the comparable performance of bio-n-butanol to petrochemical n-butanol in myriad coatings formulations. These experiments showed that bio-n-butanol is an alternative to petrochemical n-butanol. Examples include epoxy and short-oil alkyds, which highlighted the ability to utilize bio-n-butanol without noticeable changes in the properties or performance of the applied coating. The value of bio-n-butanol as a building block for coatings ingredients showed a dramatic improvement relative to petrochemical n-butanol. We used Fisher esterification and transesterification reactions to demonstrate that bio-n-butanol is capable of improving the crude yield and kinetics of acrylate and acetate ester productions. The butyl acetate produced using bio-n-butanol also demonstrated strong performance as a drop-in when substituted for petrochemical butyl acetate in a PUR coating. In addition to these performance benefits, the use of bio-n-butanol is sustainable and its supply is unrelated to volatile petrochemical commodities. These benefits combined allow formulators and producers to make a sustainable choice that improves their overall value proposition.