---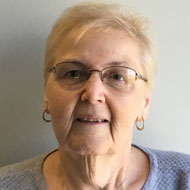 Linda Adamson
Technical Service Manager
Solvay

Linda Adamson works for Solvay's Research & Innovation (R&I) Center in Bristol, PA, where she supports specialty additives for water-based coatings. Prior to Solvay, Linda was Technical Manager for Wall Coatings for Dow, and started her 30+ year career in coatings at Rohm and Haas. Linda was part of a team of scientists who won the 2017 ACS "Heroes in Chemistry" Award and was a recipient of the 2013 Presidential Green Chemistry Challenge Award. Linda has several patents, has co-authored several articles, and has taught courses at World of Concrete and FSCT.
A New, APEO-Free Surfactant for the Paint Can
While pigments and resins are the dominant materials used in water-based architectural coatings, additives are components of the formulation that are added in small amounts to provide special properties to the wet paint as well as the dry film. In particular, surfactants affect the behavior of paint not only during the lifetime of the formed coating, but also the initial aggregation and film formation of the paint. Surfactants not only allow the paint to coat a surface more easily due to increased wetting of the coating, but are also critical in providing good color acceptance, stability and other application requirements. However, over the last decade, APE-containing (alkyphenol ethoxlate) surfactants are being replaced by APE-free surfactants due to biodegradability, toxicity of degradation products, bioaccumulation and possible endocrine disruptor. As such, APE-free surfactants are needed that will not only address environmental and health concerns, but also perform similar to APE-containing materials. This presentation will cover the use of surfactants in the paint can, their primary role in performance benefits, and demonstrate the performance of a new,  APEO-free surfactant as an excellent alternative to current APE-containing products for the paint can with acceptable surfactant leaching.