---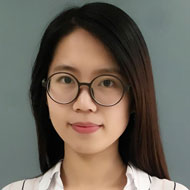 Mengfei Huang
Ph.D. Candidate
University of Massachusetts, Amherst

Mengfei Huang is a third year Ph.D. student in the Department of Chemical Engineering at the University of Massachusetts, Amherst. She also has a strong background in polymer synthesis and characterization. Her research is mainly focused on functional polymers and novel monomers, including UV-curable high-performance functional latex coatings, inorganic and organic nanoparticle encapsulation and novel emulsion polymers.
Methylidene Malonate for High-Performance Coatings
Novel methylidene malonate monomers can be synthesized economically using petro-based or renewable feedstocks. Interestingly, they undergo reactive anionic polymerization under ambient environment in water. This attribute provides a powerful and simple new approach to enhance the properties of emulsion polymers, waterborne coatings and related applications. The direct emulsion polymerization of MM initiation by water at various pH and functional groups was demonstrated. Polymerization was also readily initiated from latex particle surfaces. This strategy was employed to introduce high functional group densities to the latex particles, providing attributes such as UV crosslinking, free radical crosslinking, antifouling and mechanical properties to the latexes and coatings derived therefrom. Systematic studies were conducted with ultraviolet (UV) curing of methacrylate functionalized latex films on their thermal properties, surface morphology, crosslinking density and composition. Rapid UV curing and high crosslinking densities enable the synthesis of high-performance coatings based on very simple in-situ latex modification. This study provides a simple, new, in-situ and readily scalable chemistry and methodology to significantly enhance performance of emulsion polymers, latex systems, pigments and resulting coatings and other applications.