---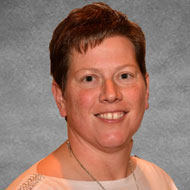 Michelle Bauer
Senior Project Chemist
ICL Phosphate Specialty

Michelle Bauer has over 18 years of coatings industry experience. Michelle holds a Bachelor of Arts degree in Biology from Augustana College. She began her coatings career at Ace Hardware Paint Division, in both quality control and product development roles. Through company acquisition, she joined Valspar in the consumer products division as a product development chemist and quality manager. For the past three years, Michelle has been a project chemist with ICL where she leads new product development and technical service interactions with customers.
Novel Additive for Anti-Corrosive Cool Roof Applications
Demand for high-performance water-based coatings continues to be the trend throughout many coatings market segments. Significant growth has been seen and is forecasted to continue in the roof coatings market, where demand for long-lasting, cost-effective barriers can bring significant maintenance cost savings to property owners. Environmental cool roof requirements in major metropolitan cities further require energy-efficient coatings that reduce the heat build-up in the region and reduce the energy consumption needed to cool the building's interior, all by reflecting the energy from the sun's ultraviolet rays. These demands require roof coating formulators to find cost-effective solutions to surpass environmental constraints. Recent research in this area has led to a discovery of a material that provides improved solar reflectivity in addition to anti-corrosive properties. These properties have been demonstrated in a white elastomeric roof coating where the primer coat was eliminated and achieved improved adhesion, corrosion resistance, and solar reflective properties versus a traditional primer and topcoat system.