---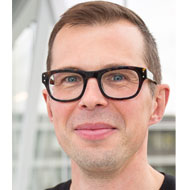 Otto Soidinsalo, Ph.D.
Technical Application Manager
Borregaard

Otto Soidinsalo holds a Ph.D. in organic chemistry from the University of Helsinki. Currently he works as a Technical Application Manager at Borregaard. Before joining Borregaard, Otto has been working in various positions in pharma and cellulose derivatives related industries, ranging from R&D to product and application development, and technical services.
Excellent Sag Resistance Without Sacrificing Your Levelling – Microfibrillated Cellulose, a Novel Bio-Based Additive
It is not always easy to find a balance between sagging and levelling. Sagging is driven by the gravitational shear stress whereas levelling is mainly driven by the surface tension. Increasing viscosity and yield stress in order to prevent sagging will hinder the levelling. Microfibrillated cellulose (MFC)is a bio-based and multi-functional product made of cellulose, consisting of fibers with lateral dimensions in the nanoscale and lengths up to micron scale. The main characteristics of this unique fiber structure is its resembling of both water-soluble polymers and insoluble additives, leading to a versatile and efficient alternative to technologies currently available. MFC secures high viscosity at rest, giving good stability, as well as offering shear thinning behavior and rapid viscosity build-up, which prevents sag during application. The aim of this work was to deepen the understanding of the effect of MFC on the yield stress and storage modulus of paints. Several different common rheology modifiers were compared in a high-pigment-load model system. The impact on sag resistance and levelling was studied with a deep base acrylic formulation, before and after tinting. We will discuss how MFC allows excellent sag resistance in coatings without sacrificing the levelling.