---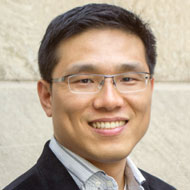 Philseok Kim, Ph.D.
Chief Scientific Officer
Adaptive Surface Technologies, Inc.

Dr. Philseok Kim received a Ph.D. degree in chemistry from Georgia Tech and attended postdoctoral training at Harvard where he co-invented SLIPS. With 12 years of industry experience in the areas of petrochemicals, polymers and coatings, he has been leading the technical innovations in repellent surfaces including SLIPS-based products for industrial, marine fouling and medical devices. He has published >40 papers in high-impact peer-reviewed journals and holds more than 10 issued patents in surface functionalization, materials for organic field-effect transistors, adaptive optical materials and slippery surfaces.
Novel Modular Additive Approach for Designing Biocide-Free Coatings to Control Biofouling
Biofouling, the growth of marine organisms on man-made structures, poses numerous challenges, including >$15 billion additional fuel costs to vessel operators worldwide, cost and time for cleaning, corrosion issues, and negative environmental impacts. Anti-fouling coatings are the primary method of protection against this persistent problem, yet the widespread use of toxic, biocide-based coating products is causing even greater concerns for our environment and sustainability. Therefore, a groundbreaking coating solution is sought to protect both the environment and our properties. Adaptive Surface Technologies has been developing a modular additive approach to address this problem. The effect (physical module) has been successfully integrated with a novel library of surface active polymers (SAPs, chemical module) to form what we call active performance ingredients (APIs) that could be easily introduced as an additive in a conventional binder matrix to yield a coating formulation. This presentation will discuss the synergistic effect of customized lubricant and SAPs in controlling biofouling without using biocides, along with promising results in both laboratory and field tests. This new additive route can open up a new avenue in developing environmentally friendly, non-toxic functional additives and formulation strategies for industrial, architectural, interior and medical coatings applications.