---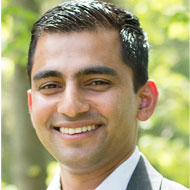 Rahul Nair
Product Manager- Coating Mechanical Testing Division
Fischer Technology, Inc.

Rahul Nair has a Master's degree in Mechanical Engineering from the University of Arkansas, specializing in Contact Mechanics at the Nanoscale. For the past nine years he has worked in the field of micro and nanoindentation testing equipment to characterize coatings and surfaces, and authored/co-authored multiple technical papers in this field. Rahul currently manages the Micro and Nanoindentation product line for Fischer Technology, Inc.
Measuring Coating Mechanical Properties like Hardness, Elastic Modulus, Adhesion and More Through Nanoindentation and Progressive Load Scratch
Discussion of the benefits of nanoindentation and progressive load scratch testers over traditional techniques. Adoption of nanoindentation and progressive load scratch has been hindered in the past by the complexity of operation and the cost of equipment and maintenance. Our primary focus has been on reduced measuring time and higher throughput while producing accurate and precise measurements with minimal influence of the operator. Some of the key features in newer nanoindentation and progressive load scratch testers are single-step tests, programmable test cycles, significantly reduced time to detect surface, improved autofocus, graphical presentations and automated report generation. These techniques are easily adapted for high-throughput process control as well as R&D applications. Additionally, because of the high resolution and large range for load and distance, these instruments can be used for a broad range of applications. Both testers can be used to test a range of polymeric coatings and thin films on different substrates.