---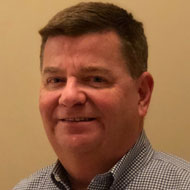 Richard Czarnecki
Director, Business & Technology Development
Micro Powders, Inc.

Rich Czarnecki is responsible for identifying markets, materials and manufacturing technologies that will grow the business. Previously, he served for seven years as Technical Director. He has over 35 years of experience in the coatings and inks industry, and has previously worked at Converters Ink, Zeneca Specialty Inks and Sun Chemical. He holds a Bachelor of Arts degree in Chemistry from Rutgers University, and a Master of Science degree in Polymer Science from the New Jersey Institute of Technology, and is the holder of five patents.
Nanoalumina Wax Composites for Improved Surface Durability
Alumina nanopowders are known to provide superior surface durability properties that include scratch and abrasion resistance. However, nanopowders are difficult to disperse and could present workplace exposure issues. This presentation will introduce a novel, patent-pending approach that harnesses the durability of nanoalumina in a wax composite powder. Data will be presented to show the dramatic improvement in scratch and abrasion resistance that can be achieved by using these unique nanocomposite wax additives.