---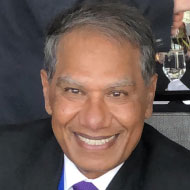 Romesh Kumar
Sr. Technical Sales Manager - North America
Colorants Solutions USA LLC (a Clariant Company)

Romesh is the Sr. Technical Sales Manager for North America, with Colorants Solutions USA LLC. He began his carrier with American Hoechst Corporation, and has been in the pigment industry for 40 years. Job functions include training new sales and technical colleagues, and promoting technologies in the coating's world. He teaches "Pigments for Coatings" for business professionals in educational programs at the University of Southern Mississippi and North Dakota State University. Educated at Laurentian University and Rensselaer Polytechnic Institute, Romesh has made several presentations about pigments and color measurement at national and international events. Member of ISCC, American Coatings Association and LAST.
Unique Colorants for Cool and Super-Transparent Formulations
For growing environmental and performance concerns Colorants Solutions USA, LLC has developed the following unique colorants: 1. Super-transparent pigment dispersions for industrial coatings. Based on chlorine-free pigments, and with optimum milling and additives, super-transparent colorants are suitable for many applications. Metallic shades in electronics, and motorcycle finishes, can be easily formulated with no waste incineration problem. Super-transparent dispersions are easy to use (automatic dispensers) and offer excellent light and weather fastness. Compared to dyes, there is no bleeding or migration. In addition, these can be easily used in complex shades (e.g. with effect pigments). Special appearance can also be created by application over light and dark substrates and varying the film thickness. 2. Low-VOC colorants for cool (to touch) coatings. In sunbelt areas of the United States, the energy cost for cooling can be significant. Coatings with colorants based on highly reflective pigments and high color permanency lead to energy savings, avoid warpage (of plastic surfaces) and require repainting only occasionally. In addition, these are highly suitable for coatings for sports surfaces.
---