---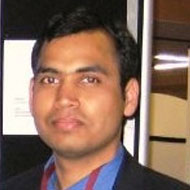 Subramanyam Kasi
Research & Development Manager
Autonomic Materials, Inc.

Subramanyam 'Kasi' Kasisomayajula is Research & Development Manager at Autonomic Materials, Inc. (AMI), an advanced materials company based in Champaign, IL. Mr. Kasisomayajula coordinates the company's research and development, including novel self-healing product development and application development for coatings, composites, sealants and adhesives. He has authored or co-authored over 30 peer-reviewed publications, conference proceedings and patents. He earned a Master's degree in Coatings and Polymeric Materials from North Dakota State University and a Master's degree in Chemistry from Indian Institute of Technology, Kanpur. His research interests include coatings, composites, sealants, adhesives, polymer science, corrosion, electrochemistry, microencapsulation and self-healing chemistry.
Self-Healing Coatings for Improved Corrosion Resistance and Adhesion Maintenance
Corrosion is a major problem in almost every industry sector, including oil and gas, infrastructure, transportation, manufacturing, and production. According to the report published by the National Association of Corrosion Engineers (NACE) in 2016, the total annual cost associated with damages and repairs due to corrosion on a global scale was estimated to be approximately US$ 2.5 trillion, which amounts to about 3.4% of global Gross Domestic Product (GDP). Industries such as mentioned above that maintain a disproportionate amount of their assets in extremely corrosive environments bear a disproportionate amount of these costs. Add to these costs the environmental and individual safety consequences of material failure due to corrosion and the case for investing in new technologies geared towards improving corrosion protection can hardly be overstated. In this presentation, we report on novel additives that leverage the incorporation of microencapsulated healing agents into coating systems with a view towards lengthening their service lives and that of their underlying substrates while minimizing the opportunity cost of downtime associated with maintenance. These self-healing additives have been evaluated in a broad range of coating systems aimed at delivering improved readiness and cost savings across the value chains of the industries highlighted above.