---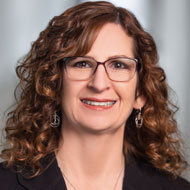 Terri John
Senior Scientist
Synthomer

Terri John is a Senior Scientist and Project Manager in the Coatings Applications group at Synthomer. Terri has nearly 20 years of experience formulating water-based and solvent-based specialty coatings for the architectural coatings market. In addition, she is involved in the development of innovative latexes for direct-to-metal coatings, clear sealers and roof coatings. Terri holds a Bachelor of Science degree in Biology from The University of Akron.
Waterborne, Self-Crosslinking Technology for High-Performance, Low-VOC Concrete Coatings
The use of a self-crosslinking acrylic latex in sealers for hard substrates such as concrete, protects surfaces from water damage caused by freeze/thaw cycles, stains from dirt, deicing salts, oil and other contaminants. Equally important, self-crosslinking technology enhances coating formulations by increasing water resistance that can improve the structural integrity of the concrete by preventing leaching of vital minerals crucial to its strength and durability. In addition, the improved UV resistance protects the concrete, while maintaining an attractive appearance. Several products on the market claim to have these properties. Synthomer (formerly Omnova Solutions) has developed technology for concrete protection that also provides superior blush resistance. An added benefit is good adhesion to multiple substrates. Coatings formulated with this technology can create a sealer that is hard enough to drive on, yet soft enough to be formulated to a VOC of <50 grams/liter.
---