---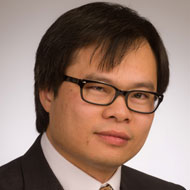 Ziniu Yu, Ph.D.
Technical Specialist
BASF

Ziniu Yu is a Technical Specialist with BASF for three years, focused on radiation curing technology for transportation, industry, floor and furniture Coatings. He has a Ph.D. in Chemical Engineering, and a M.S. in Statistics from Texas Tech University, and a B.S. in Polymer Engineering from the East China University of Science and Technology.
Photo-Latent Catalyst for Rapid Cure of 2K-PUR Coatings
Organotin catalysts are commonly employed in two-component polyurethane (2K-PUR) coatings to increase the rate of curing at the expense of a shorter pot-life. Furthermore, to rapidly cure coatings utilizing these conventional catalysts, temperatures up to 80 °C are required, resulting in additional energy costs and capital investment. One alternative to using tin-based catalysts is to employ a photo-latent catalyst that is photoactivated by UV light. The photo-latent properties allow flexibility in processing by significantly increasing the pot-life and allowing cure on demand when the catalyst is activated. The current work focuses on the unique capabilities of a photo-latent catalyst that is ideal for 2K-PUR coatings where long pot-life and rapid cure following application are desired.