---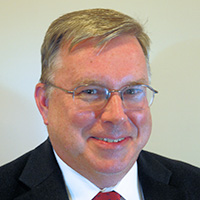 Dan Daley
Director
The ChemQuest Group, Inc.
With over 30 years of experience at Navistar International, a truck and engine OEM, holding various senior polymeric materials engineering and lab management positions, Dan Daley's technical leadership included solving problems in material compatibility and chemical interactions, with an eye toward process optimization, improvements in material performance/cost ratios and strategic sourcing.

The range of materials Dan Daley managed at Navistar included soft trim such as textiles, foams, composites, seating, upholstery and acoustic materials and energy management solutions; fluid connectors; lubricants and fluid systems; elastomers; automotive paint and coatings; and joining systems. Likewise, Dan Daley's experience includes engineering thermoplastics and developing alternate materials to improve the transportation OEM's strategy for sourcing specialty polymers. Moreover, Dan's engineering initiatives included the development of in-house industry air brake specifications to be polymer neutral; fuel system components and tubing to improve performance and reduce nylon 11 and 12 content; polypropylene and polyamide fluid tanks for coolant and hydraulic fluid applications; engine air management and aero components; and polyester and thermoplastic polyolefin (TPO) 3D blow-molded dual durometer air induction ducts.

In his current role as a Director at ChemQuest, Dan uses to uses his experience and vast network of contacts garnered as a materials' end user to offer his "customer" perspective on consulting projects. His past role as a specifying engineer and experience with a variety of materials and processes in the transportation industry benefit ChemQuest's clientele who are developing and marketing products for transportation applications.
---

Panel Discussion: The Evolution of Powder Coatings for Automotive Applications - Will There be Growth?
Powder coatings have been utilized in the automotive industry since the late 1960s, initially for under-the-hood parts such as coil springs, battery boxes and valve covers. Throughout the 1980s and 1990s powder use grew exponentially as GM, Chrysler and Peugeot used powder primer surfacers at multiple assembly plants. BMW followed with a powder clear topcoat for their 5 and 7 series cars built in Germany. Since then automotive powder market share has declined. Where and when will powders see new growth in the automotive industry?
Our panel of erudite experts will discuss these developments and field your questions.
---