---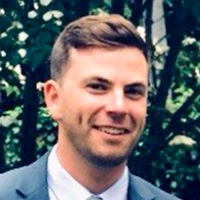 Matt Salvi
Technical Sales Specialist
King Industries
Matt Salvi graduated from Emmanuel College in 2011 with a BS in Chemistry. After graduation, he spent 6 years working as a Research Chemist for Hampford Research Inc. In 2015, Matt completed his MS in Chemistry at Sacred Heart University. In 2017, he joined King Industries as Sr. Development Chemist in the Specialty Markets Group. In 2019, Matt moved into a Technical Sales Specialist role representing King's NACURE acid catalysts and NACORR liquid corrosion inhibitors.
---

A New Powder Coating Catalyst for Low-Temperature Bake Systems
Thermoset powder coating systems have been a key growth area in recent years as they provide increased resistance and performance properties. However, at temperatures below 200 °C, conventional catalysts can have trouble achieving full cure. Our new low-temperature-cure powder catalyst is designed to help formulators increase capacity while reducing energy and manufacturing costs. This highly active catalyst accelerates the epoxy/acid reaction for powder coatings while providing great chemical resistance and crosslink density. Our recent study compares our catalyst to conventional imidazole-type powder coatings catalysts in both thin-film and thick-film direct to metal applications. Our product shows improved final film properties at the low-temperature-bake schedules compared to the imidazole's, without affecting color or appearance. We also discuss the improvements in safety and handling that our product provides.
---