---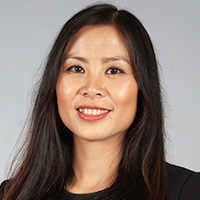 Trinh Nguyen
Technical Market Manager
Orion Engineered Carbons
Trinh Nguyen is Technical Market Manager – Coatings for Orion Engineered Carbons. In this role, she provides technical support to North American customers, collaborates with them to resolve technical issues, and initiates and directs coatings-related laboratory and manufacturing trials for Orion. Prior to joining Orion in November, 2019, Ms. Nguyen served as a Technical Service Chemist at BYK USA Inc. in Wallingford, Connecticut. Previously she was an R&D Chemist at Chad Labs Corporation, Milford, Connecticut. Ms. Nguyen earned her Bachelor's and Master's degrees in Chemistry at Southern Connecticut State University, New Haven.
---
Coloristic Performance of Carbon Black in Powder Coatings
This presentation will provide a comprehensive report surveying the coloristic performance including jetness, undertone, gloss and haze in both full tone and grey tone of carbon blacks in powder coatings. The study was conducted using carbon black in an epoxy-polyester hybrid and polyester system with HAA and TGIC crosslinkers. The final findings indicated that binder systems had the most influence on coloristic properties of carbon black. Bead and powder forms of the same carbon black showed no differences in colorimetric performances of the system. For typical powder coatings, it was recommended to use 1.0%-2.0% loading of carbon black (by weight, on total formulation) to obtain the opaque appearance. In the hybrid system, the oxidized gas black had inferior coloristic performance than non-oxidized types. In the polyester/HAA system, the non-oxidized gas black provided better pigment stabilization than the oxidized type. In general, for high jetness with bluish undertone application, high-color furnace black or high-color gas black was recommended. Low to medium furnace black or lamp black were determined to be suitable for low to medium jetness applications. It was also recommended to use coarser grades such as regular furnace black or lamp black for tinting application.
---