---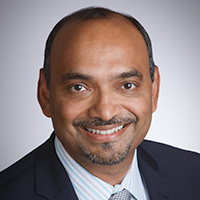 Vinay Mishra
Technical Sales Manager
Jayhawk Fine Chemicals Corp.
Vinay is a Technical Sales Manager at Jayhawk Fine Chemicals, focusing on dianhydride applications in high-end thermoset applications. He brings 25 years of industrial experience in thermoset resin technologies, notably epoxies and polyurethanes, covering various applications such as composites, coatings, and adhesives. He has previously held technology & business leadership roles at companies such as ITW, Sika, Air Products and Dixie Chemical. He is currently a Director at the NJ SAMPE chapter. He has also served other industry associations, such as TRFA (Thermoset Resin Formulators Association) where he was president for two years. Vinay holds a BS in chemical engineering from the Indian Institute of Technology (BHU) and a PhD in polymers from Lehigh University.
---

An Investigation into High-Temperature Epoxy Powder Coatings Formulated Using Benzophenone Tetracarboxylic Dianhydride (BTDA)
Epoxy powder coatings offer a range of functional properties based on the overall formulation. High-temperature service, dielectric strength and chemical resistance are typical benefits. Dianhydrides are a unique class of curatives that enable high-temperature performance while using the simplest solid epoxy resins (SERs) based on bisphenol A. This presentation will review such performance from BTDA, benzophenone tetracarboxylic dianhydride, showcasing the results from a collaborative study on the topic. The presenter will focus on the development of high Tg (glass-transition temperature) with respect to variables such as the epoxy resin EEW, the formulation's anhydride/epoxide stoichiometry and the cure profiles employed. Relevant data from thermal analysis techniques DSC and DMA will be shared.
---