---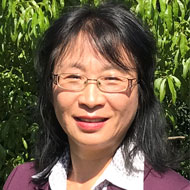 Susan Dong
Research Associate
Stepan Company

Susan Dong is a Research Associate at Stepan Company. She obtained her Ph.D. in Physical Chemistry from McGill University. She also has a master's degree in Polymer Chemistry. She has been working on new surfactant and additive technologies for the last 20 years for various industrial applications.
Novel Specialty Dispersant for Carbon Black in Industrial Waterborne Systems
Carbon black is one of the most widely encountered and challenging pigments that is used in the coatings industry. In order to obtain maximum jetness and shelf stability with this pigment, it is essential to be able to generate an effective dispersion. The resulting colorant must be compatible with multiple paint systems to ensure consistent color development in a wide range of applications. In addition, the dispersants used to make the colorants are expected to have a minimal impact on final film properties and on the environment. In this talk, we will describe our new dispersant platform, which relies on sophisticated molecular architectures and functionalities to effectively wet and stabilize multiple carbon black grades without the need for auxiliary additives that could lead to complications in paint formulation. Experimental results will be presented that demonstrate the superior performance of this technology in every aspect described above in multiple application scenarios.
---