---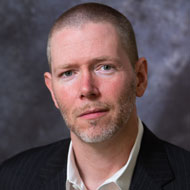 Dave Luebke
CEO
LumiShield Technologies

Before becoming CEO of LumiShield in 2014, Dave Luebke led a research team at the National Energy Technology Laboratory, developing advanced gas separations technologies for power systems. He holds a Ph.D. in chemical engineering from the University of Pittsburgh and is the author of more than 50 peer-reviewed publications.
An Alternative to Chromate and Phosphate Pretreatments
has developed a novel, chrome-free pretreatment process. Established in 2014, LumiShield's technology delivers powerful and economical corrosion prevention and improved paint adhesion. The process, which was recently demonstrated at small commercial scale, is non-hazardous, zero-VOC and eliminates the need for toxic metals and phosphates in pretreatment. It is based on a revolutionary advance in electrochemistry, which allows thin films of aluminum oxide to be deposited onto any conductive surface from a proprietary water-based solution. The resulting aluminum oxide barrier layer prevents corrosion of the underlying metal substrate and can be tuned to improve the adhesion of any organic coating. The presentation will include a description of the process and the theory underlying it as well as data comparing pretreatment performance to commercial technologies like chromates and phosphates.
---