---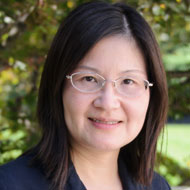 Hong Xu
Technical Service Manager
Cardolite Corporation

Dr. Hong Xu received her Ph.D. from the Dept. of Coatings and Polymeric Materials in North Dakota State University in 2011. Her Ph.D. research focused on developing metal-rich primer systems by using magnesium alloy pigments. Currently she is technical service manager at Cardolite Corporation. She has 10 years of experience with Cashew Nut Shell Liquid (CNSL)-based materials and a special interest in CNSL product development, coating formulations, coating properties evaluations and technical support.
---
Renewable, Zero-VOC Solutions for Bio-Based Epoxy and Polyurethane Flooring Coatings
Cardolite has developed several bio-based product lines suitable for both epoxy and polyurethane, ultra-low or zero volatile organic compound (VOC) formulations that address increasing requirements for fast return-to-service and good resistance to high moisture environments. Those product lines are based on renewable sources with the majority of products deriving from Cashew Nutshell Liquid (CNSL) technology – a non-food chain and sustainable natural material extracted from the cashew nut shell. CNSL-based epoxy curing agents show fast hardness development even at low temperatures and good blush resistance in high humidity atmosphere; they also provide excellent early water resistance and superb adhesion to damp or even contaminated concrete. A new series of bio-based polyols enables zero-VOC primer and topcoat systems, which could deliver good mechanical properties, water and chemical resistance, and excellent adhesion. This presentation will introduce the latest developments in CNSL technology and share the performance data of those bio-based epoxy curing agents and polyols in floor coatings.
---