---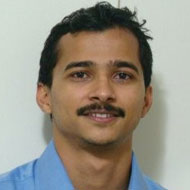 Nitin Patil, Ph.D.
Senior Chemist
Polynt-Reichhold

Dr. Patil received his Ph.D. in Chemistry from the Oklahoma State University, Stillwater, Oklahoma, in December in 2013. He completed the Bachelor of Polymer Engineering and Technology at University Institute of Chemical Technology, Mumbai, India in 2006. Prior to joining the Ph.D. program, he worked as a Polymer Technologist at Asian Paints Ltd., Mumbai. After his doctoral program, he moved to University of Massachusetts, Amherst for postdoctoral studies in Polymer Science and Engineering Department. Currently, he is working as a senior chemist at Reichhold LLC2 in the coating's division. His current focus is in developing low-VOC alkyd latex and PUDs.
---
Recent Advancements in Low-VOC Waterborne Polyurethane Dispersions for Wood Flooring Applications
Solventborne oil modified urethanes (OMU) have set the performance standard for highly durable wood flooring coatings. Due to high volatile organic content (VOC) associated with this technology, and need to maintain regulatory compliance, waterborne polyurethane coatings have become high-interest technologies. Waterborne polyurethane dispersions (PUDs) and waterborne oil-modified urethanes are unique products that use water as a solvent or dispersion medium along with a co-solvent. First-generation waterborne urethane products have disadvantages such as low solids, contain hazardous solvents like N-Methyl-2-Pyrrolidone (NMP), and have application difficulties. This presentation describes the advancements of wood flooring applications through NMP-free waterborne coatings that overcome the disadvantages of earlier PUD products.
---