---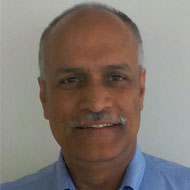 Ravi Ravichandran, Ph.D.
Vice President, Research & Development
King Industries

Ravi Ravichandran is Vice President, R&D, and Chief Technology Officer at King Industries, Norwalk, CT. He was  previously a Senior Research Director at Ciba Specialty Chemicals. He is the author/coauthor of over 30 journal articles, book chapters and books including Handbook of Coating Additives, Plastics and Coatings: Durability, Stabilization, and Testing, and holds over 150 US patents on various additive technologies. Dr. Ravichandran received his M.S. degree in Chemistry from the Indian Institute of Technology, and a Ph.D. degree in Chemistry from Vanderbilt University, Nashville, TN. He spent his post-doctoral years as a Research Associate at Rensselaer Polytechnic Institute, Troy, NY.
Lower-Temperature-Cure Catalysts for Epoxy Carboxy Coatings
A lower-temperature- responsive catalyst has been developed, which is capable of providing good cure of 2K SB epoxy/carboxy clear coats using bake temperatures of 100 °C or lower. In addition to excellent cure response, the coating films exhibited high gloss and great hardness as well as low color with good overbake resistance even at higher catalyst dosages. In addition to its potential utility in automotive clearcoats, lower-temperature powder coating applications are being explored.