Marine coatings are protective waterproof layers applied to surfaces unprotected from, exposed to, or immersed in fresh, brackish and/or salt water. They are mainly used for coating ferries, boats, ships and other watercrafts, as well as applied to marine structures such as offshore oil rigs, drill ships, and oil and gas structures. Marine coatings include base, top and clear coats; paints, primers, varnishes and stains; and inks, marking materials, and sealers or surface sealants. Similar to other types of protective coatings, marine coatings differ, in terms of performance, properties and chemistries. Marine paints include anti-corrosion and anti-fouling coatings, in which anti-corrosion coatings account for the major share.
The market size of marine coatings was around USD 3 billion in 2018 and is expected to grow at a CAGR of around 3% in the next five years. The market is consolidated, with top 10 players such as AkzoNobel, Chugoku Marine Paints, Jotun, PPG, Hempel, KCC, Kansai, Nippon Paint, Sherwin-Williams and RPM (Carboline) accounting for around 95% of the overall market share (Figure 1).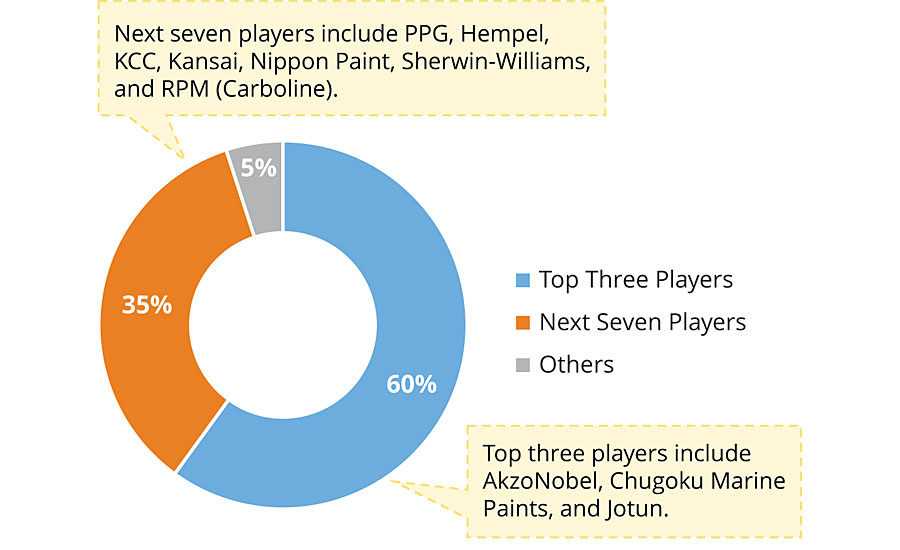 Globally, most of the marine coating companies have witnessed tough market conditions in the marine industry, where the combination of decelerating demand and increasing competition contributed to negative organic growth in the last few years. Significant negative impacts were observed in the marine new build markets in China and South Korea. The marine coatings market remained challenging in 2018, and has contracted further as a result of low demand in the new shipbuilding market. Despite these challenges, marine coating manufacturers are optimistic about witnessing underlying organic growth across most segments of the market and geographies. For the long term, manufacturers are positive about a recovery in shipbuilding manufacturing, which is likely to drive the demand for marine coatings.
Continuing Shift to Asia Pacific
Asia Pacific is the largest and fastest-growing market, and accounts for around 90% of the overall marine coatings demand in 2018. The region is projected to be the fastest growing in the next five years, in terms of both value and volume (Figure 2). China, South Korea and Japan are the key markets due to their large shipbuilding and dry docking industries. These three countries account for a major part of the global shipbuilding industry. In addition, Singapore has one of the busiest ports in the world, which in turn, is likely to increase ship maintenance and repair activities in the country. This would gradually increase the demand for marine coatings. Increasing shipbuilding activities in the emerging economies such as India, Indonesia, Malaysia and the Philippines are likely to positively affect the growth of the marine coatings demand in the region in the next five years.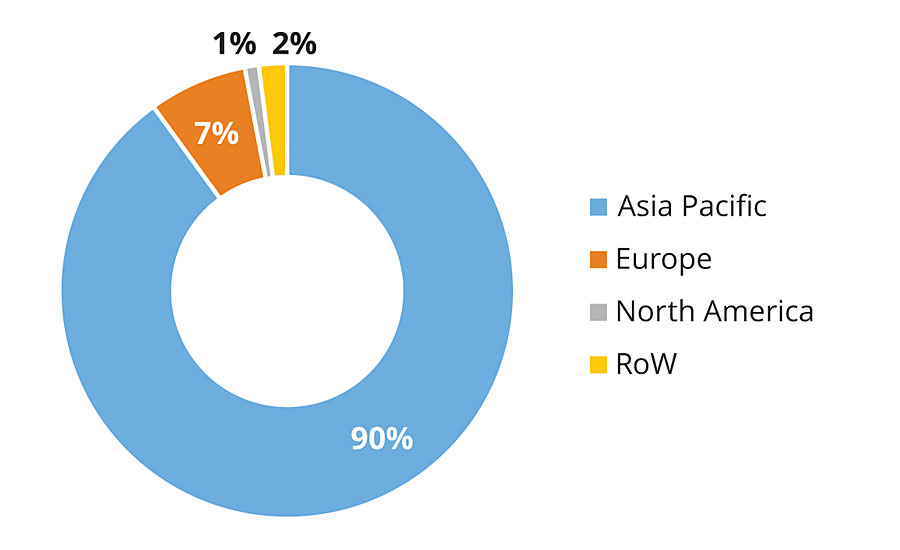 The marine coatings market comprises a number of sub-segments such as oil tankers, bulk carriers, general cargo ships, container ships, gas carriers, chemical tankers, offshore, and ferries and passenger ships (that operate in both ocean and freshwater environments) (Figure 3). Marine coatings can be used for new construction, OEM, maintenance and repair. Marine coating applications include ballast tank linings that protect against corrosion in severe conditions and enhance vessel safety, as well as container tank linings that protect liquid cargo from contamination and pollution.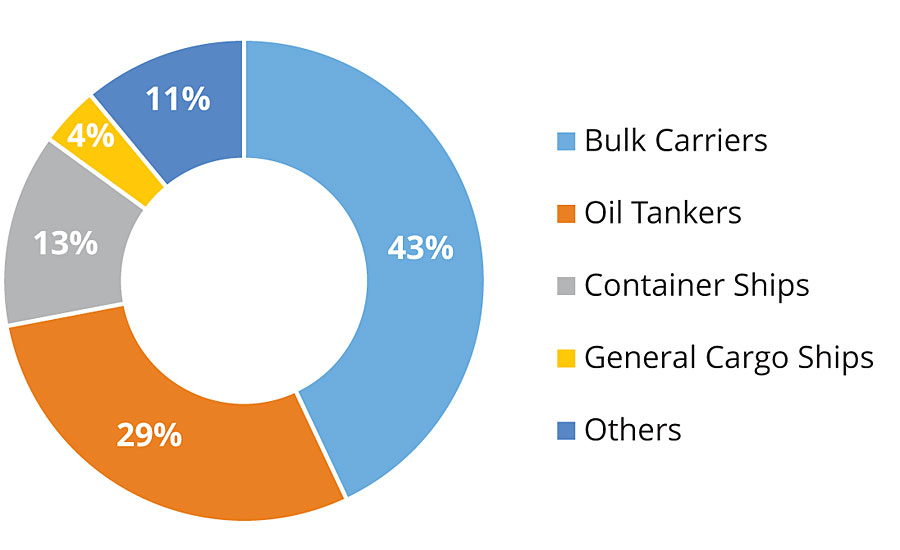 During 2017-2018, the demand for gas carriers and oil tanker vessels grew at a rate of 7.2% and 4.7%, respectively. The growth of the oil and gas industry provides an opportunity for an increase in the demand for liquid cargo vessels; this is expected to boost the marine coatings market during the forecast period.
Green Technologies to Conserve the Green Environment
Most regulations are targeted at curtailing VOC emissions from coatings. Regulations such as the REACH and LEED GreenSeal GC-03 2nd Ed., 1997 specify the VOC content in grams per liter (g/L) for coatings. Such regulations have put pressure on marine coatings manufacturers to reduce VOC content while simultaneously trying to improve or maintain both the coating quality and performance. All these have also affected the product prices, due to the changes in the technology used for producing marine coatings. Before these regulations came into force, solventborne coatings with moderate to high solid content were in vogue. However, the new regulations have compelled manufacturers to produce either solventborne coatings with low solid content or waterborne coatings. This change in technology entails high investments, as the production process has to be changed, which affects the product performance. Therefore, regulations are a challenge for market growth.
Solvents Emissions Directive regulates VOC emissions from facilities such as shipyards and docks. This indicates that companies have to produce coatings that have less solvent or are water-based. The companies are also regulated by the Biocidal Products Directive (BPD), where all biocides used in antifouling paints need to be evaluated and approved before they can be legally sold. In the EU, biocides that are not well documented are more or less phased out of the market, as regulated by BPD. All the leading suppliers are following this legislation. In the United States there are a series of regulations governing the substances that the companies can use in their products, together with the rules for VOCs and biocides. Rules pertaining to VOCs are about to be introduced in Hong Kong, Singapore and many other countries. For customers, there are two main areas of coatings legislation that have had a significant beneficial impact. Firstly, the Control of Harmful Antifouling Systems on Ships, in which the International Maritime Organization convention established a ban on the application of tributyltin (TBT) antifouling on ship hulls from January 1, 2003 and an end to the presence of TBT on ship hulls altogether from January 1, 2008. The convention was put into force on September 17, 2007. Secondly, the introduction of SOLAS Performance Standard for Protective Coatings for dedicated seawater ballast tanks in all types of ships and double-side skin spaces of bulk carriers was made mandatory in December 2006. The introduction of this standard has helped to increase the service life of coatings and ultimately provide crew and vessel safety.
Customized Solution Can Provide Better Decision Support
Product quality is a vital criterion for marine coatings manufacturers, but shipbuilding owners are increasingly resorting to coating suppliers for solutions to enhance their business. For instance, some customers prefer to outsource the management to any specific marine coating manufacturer, for a fixed cost. By leveraging digital tools, sensor technologies and data analytics, a marine coating manufacturer can quantify results, customize services and provide better decision support. While uncertainty in the new shipbuilding market is likely to continue to impact sales for the short term, experts expect positive growth in the marine industry for the long term, and thereby, the marine coatings market. 
For more information, email vikash.kumar@marketsandmarkets.com or annirban.bhattacharya@marketsandmarkets.com.