Paint and coatings producers are continually improving their processes to comply with the increasing number of regulatory policies enforced by various governments. The products that fail to meet these legal requirements are not allowed in the countries that have these strict environmental regulations, especially in many countries in Western Europe and the North America region.
The low-VOC coatings market is projected to grow from USD 89 billion in 2019 to USD 120 billion by 2024, at a CAGR of 6.0% during the forecast period. Waterborne, powder and radiation cure technologies are the major low-VOC coating technologies, and are thus gaining in popularity. Many cleaner technologies also reduce paint waste by improving the transfer efficiency of the coating to the substrate.
Waterborne coatings held 82% of the market, in terms of value, in 2019 (Figure 1). The market for conventional solventborne coatings has lost its long-running dominance due to the growing use of solvent-free coatings and increasing awareness regarding the harmful effects of VOC emissions on the environment. The shift from solventborne to waterborne coatings has been a trend that is mostly seen in the decorative/architectural coatings segment. The increasing demand for green products has also created the need for supplies of green raw materials for coatings, most notably, waterborne resins such as alkyd, acrylic and epoxy. For instance, advances in waterborne alkyd technologies have enabled the production of virtually zero-VOC alkyd resins with the same performance as that of solventborne alkyds.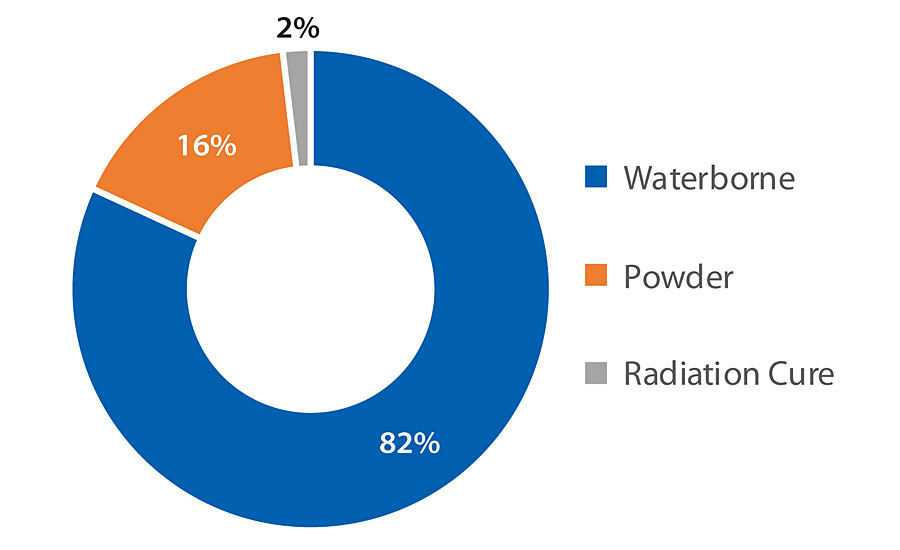 Waterborne technology uses water as a solvent, which makes it environment friendly and easy to apply. In most cases, this technology uses 80% water, with small quantities of other solvents, for instance, glycol ethers. This technology is widely adopted for architectural, automotive, wood, marine and packaging applications. The binders used for waterborne coatings can be either polyacrylate polyvinyl ethers, polyurethane, epoxy or alkyd resins. The quality and strength of waterborne coatings depends on the raw materials used since their chemical compositions differ.
Increasing Demand from the Construction and Automotive Industries
Waterborne coatings are widely used in the building and construction industry as well as in the automotive industry as basecoats. Functional advantages include excellent resistance to heat and abrasion, as well as excellent adhesion, and low toxicity, and flammability due to low VOC levels.
Asia-Pacific (APAC) is expected to continue to account for the largest share in the waterborne coatings market due to increasing residential construction (Figure 2). Improved home remodelling practices are also expected to drive the waterborne coatings market, especially in the developing countries. Additionally, government proposals to improve public infrastructure and rising cash incentives for non-residential construction are driving the waterborne coatings market. Moreover, increasing foreign investments, especially in the automotive and construction industries due to low-cost labor and easily accessible raw materials, are boosting the market.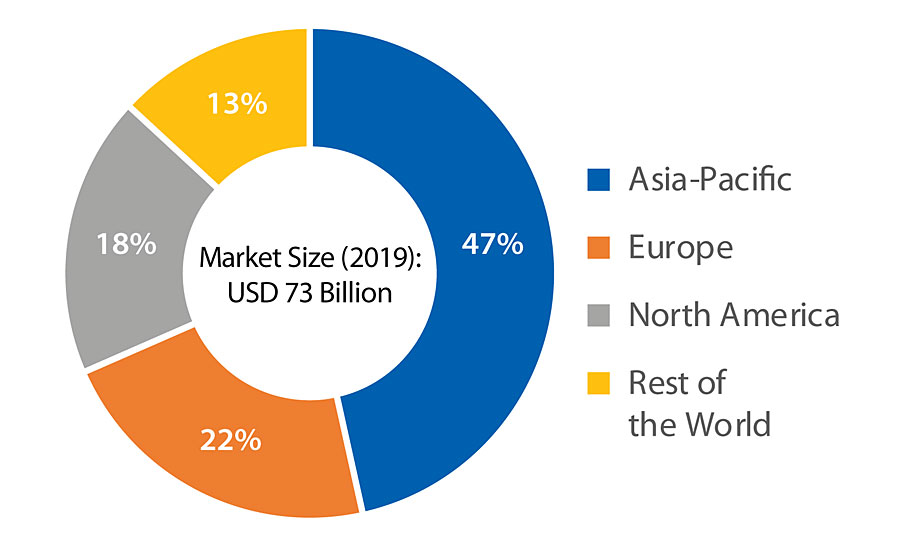 Technological Advancements in Powder Coatings
Figure 3 shows the size of the global powder coating market. There is an increasing demand for powder coatings in the transportation, construction and manufacturing industries in developing countries such as China, India and Brazil. APAC is the largest powder coatings market. The high population in the region leads to a growing demand for these coatings from end-use industries such as automotive, architecture, furniture, and others.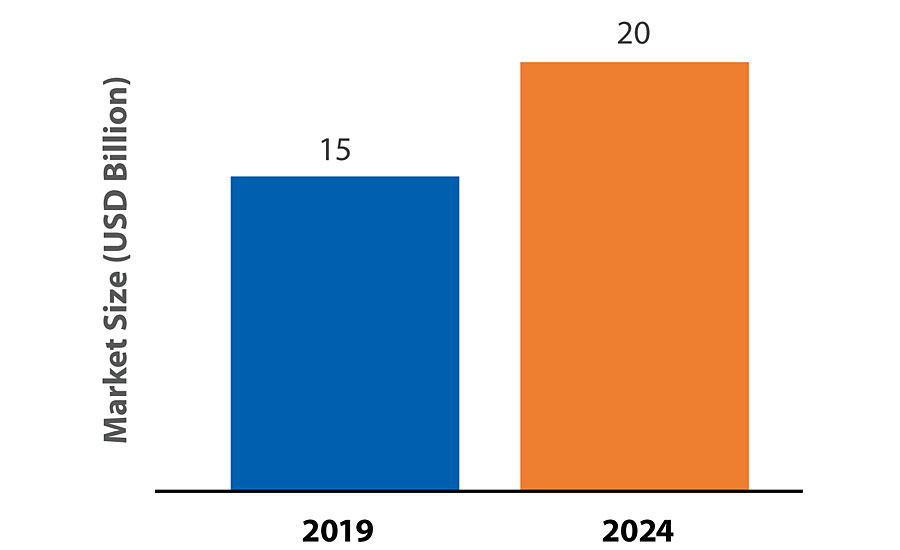 Powder coatings can replace liquid coatings. Advances in powder coating technology, thin-film powders (one mil or thinner), UV-cured powders and lower-temperature-cure powders are driving the market. For more than 40 years, powder coatings have revolutionized the finishing industry by providing a superior, durable and environmentally friendly finish, particularly for metal products such as appliances, automotive parts, sporting goods, and other commercial and industrial products.
There are two types of powder coatings, i.e., thermoplastic and thermosetting. They can be used in a variety of commercial and industrial applications such as in mailboxes, bathroom fixtures, ornamental fencing, vacuum cleaners, aluminum extrusions, microwave ovens, garbage disposals, kitchen appliances, fans, dishwashers, desk accessories, wheelchairs, gasoline pumps, vending/ice-making machines, and toolboxes, among various others.
The primary applications for powder coatings in the architectural sector are for aluminum extrusions and cladding. There is a growing requirement for durable coatings that have better weathering performance with robust mechanical properties, such as improved flexibility. From the architectural perspective, there is a growing interest in wood effects, which is achieved through sublimation print transfer.
Technological advancements in powder coating materials, their unique applications, and advanced curing methods have enhanced the use of powder coatings in heat-sensitive substrates. Medium density fibreboard (MDF), a combination panel bonding synthetic resin with particles of wood, is one of the most critical advancements in powder coatings. MDF is suitable for powder coating applications owing to its low porosity and homogeneous surface. Powder coatings are increasingly being used on MDF products for finishing. These products include doors, kitchen and bath cabinets, office furniture, store fixtures and displays, and ready-to-assemble furniture for offices and homes.
Bright Prospects in Radiation Cure Technology
Radiation-cured coatings rely on ultraviolet (UV) radiation or electron beam (EB) technology to cure solvent-free coatings formulations. Depending on the formulation and resin type, low VOCs will be emitted from the resins. Some UV- and EB-cured coating systems emit almost no VOCs. However, organic solvents are still required for cleaning uncured coating material unless the system is based on waterborne finishes. Radiation curing has been adopted by the wood finishing industry (for example, flat stock fillers in particle boards and hardwood flooring) due to short curing time and high-quality films that are produced without baking. The graphic arts industry uses UV curing for various printing inks and coatings on paper, cardboard and other substrates. The demand for UV- and EB-curing coatings is expected to be high from the automotive segment, as these types of coatings are suitable for automotive finishing.
Demand for Green and Low-VOC Technologies on The Rise
Today in many applications, consumer demand for environment-friendly products has created a significant impact on the product value and innovation of low-VOC coating technologies. Users of low-VOC coatings want products that provide similar functionality, better weather resistance, high performance, reduced maintenance costs, improved productivity and increased service life, along with ease of application and easy cleaning as compared to solventborne coatings. An increase in demand for such low-VOC technologies has, therefore, aided innovations by coatings manufacturers.
For more information, e-mail vikash.kumar@marketsandmarkets.com.