As with most technological advances, the industrial requirements for protective coatings help to boost product innovation and bring new solutions to both the professional and DIY markets. The ever-present need to improve efficiencies through faster application, curing times and reduced maintenance, alongside today's increased emphasis on sustainability and worker safety regulation, has led to significant new developments in the protective coatings sector. Based on novel PUR-silane hybrid systems, this next generation of high-performance scratch- and stain-resistant coatings delivering the optimal balance between performance, price and convenience, is now increasingly more accessible to the DIY sector.
On kitchen floors or a favorite piece of furniture, scratches on finished surfaces are commonplace in most homes, but until now, they would be expensive to fix without the need of a professional tradesperson. However, the development of new high-performance crosslinkers has given formulators a versatile toolbox to create customized solutions for easy-to-apply self-curing coatings for DIY users. Based on Evonik's innovative VESTANAT® EP-M, EP-MF and EP-E technology platforms, the new PUR-silane hybrid crosslinkers combine the multifunctional benefits and glass-like strength of silane chemistry, with the excellent durability and flexibility of polyurethanes, enabling very easy-to-apply self-curing clear coats for wood, plastic or metals.
Next-Generation Crosslinker Technology Platform
The outstanding performance in terms of scratch, stain and chemical resistance of the presented silane/PUR hybrid systems as well as highest quality appearance goes along with its ease of use in a room temperature curing, one-component, easy to apply non-isocyanate (NISO) coating system.
To start with the chemical structure of silane/PUR hybrid adducts, they are formed by combining isocyanato tri-alkoxy silanes (either 3-isocyanatopropyl tri-methoxy silane (IPMS) or 3-isocyanatopropyl tri-ethoxy silane (IPES)) with a hydroxy-functional backbone that is called linker (Figure 1). The use of different linkers — in terms of a varying number of urethane groups and different chain length — provides flexibility to design and to create tailor-made crosslinkers.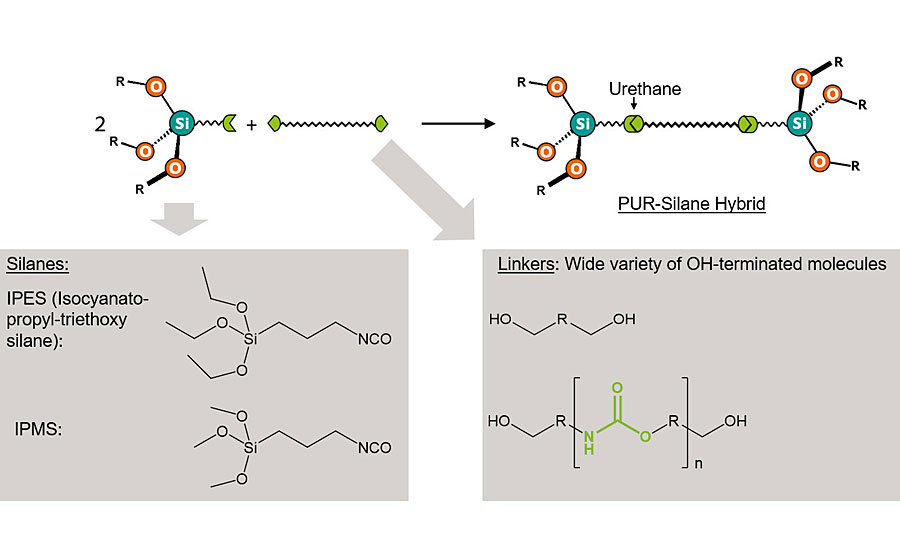 The final PUR-silane hybrid crosslinkers can be used as supplied and do not require the combination with a resin. Adding a certain catalyst, PUR-silane crosslinkers self-cure under room temperature conditions. This self-curing mechanism is induced by humidity and follows hydrolysis and condensation reactions to form siloxane linkages (Si-O-Si) (Figure 2). Either methanol or ethanol as separation product is released during cure depending on the type of silane in the PUR-silane adduct (IPMS or IPES). While the resulting siloxane linkages provide glass-like strength and scratch resistance, the degree of flexibility of the coating is determined by the kind and length of PUR linker. Additional flexibility can be achieved by adding a small amount of an acrylic polyol to the formulation.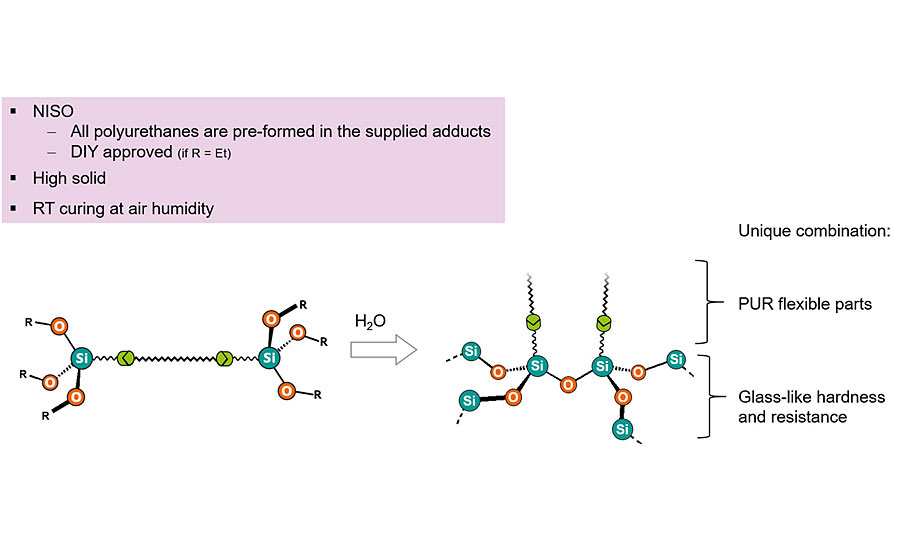 As PUR-silane adducts are liquids and can be used without additional solvents, the VOC content and emissions of these formulations are very low and allow for fast re-occupancy times.
Room-Temperature-Curing PUR-Silane Systems
To find an appropriate catalytic system for cure under room temperature conditions, it is important to consider that methoxy silane-based adducts are about 10 times more reactive than their ethoxy silane-based counterparts. Thus, finding suitable catalysts for the latter ones appeared to be more challenging, but solutions could be found.
Starting with the more reactive methoxy-based silane-PUR adduct, a portfolio for room temperature cure has been developed, containing an amine-based catalyst and being available as VESTANAT EP-MF grades (Table 1). These systems can be dust dry after less than one hour at room temperature. The grades EP-MF 203, 204 and 205 differ in their linker length, with EP-MF 203 offering the most scratch- and chemical-resistant coating, and EP-MF 205 resulting in the most flexible coating (Figure 3).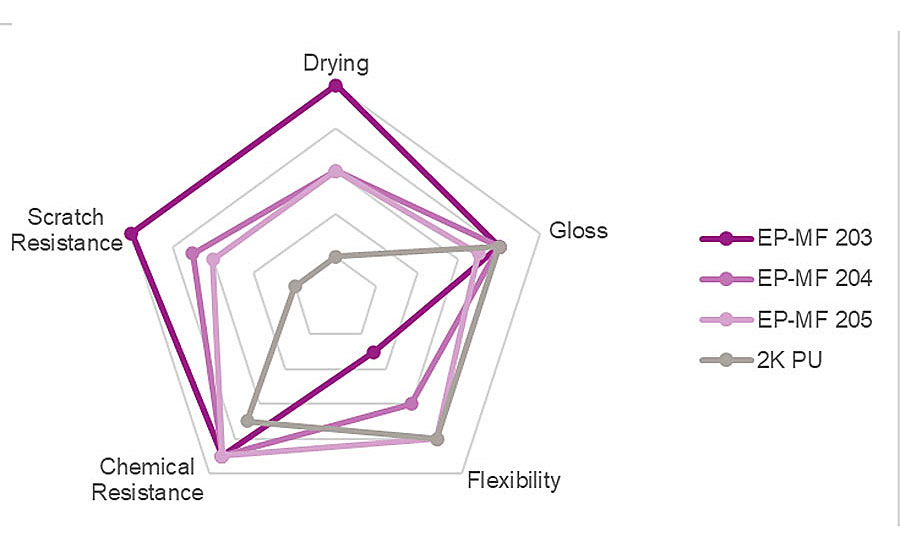 New Hybrid Crosslinkers for Self-Curing DIY Applications
For most DIY coating applications, self-curing, ready-to-use systems are necessary, but the performance requirements are just as demanding as those of the industrial and professional sectors.
A kitchen table is a good example as it must be protected against the mechanical and chemical impacts of micro scratches left by brushes and dust, swelling caused by aggressive chemical cleaners, or discoloration (haze) from substances like red wine — all of this while also still looking like new after several years.
Use of methanol-releasing PUR-silane adducts (EP-MF grades) would be limited to the industrial and professional sectors, while the novel EP-E grades are suitable for DIY applications, only releasing a small amount of ethanol. Combined with a novel, amine- and metal-free catalyst system (VESTANAT EP-CAT 21), VESTANAT EP-E grades can achieve the same level of performance as the EP-MF grades (Table 1). Thus, room temperature curing as well as touch-dry-times of less than one hour can be achieved without the emission of methanol.
VESTANAT EP-E grades exhibit superior compatibility with hydroxy-functional resins, providing customers with formulation freedom to adjust the degree of flexibility on the one hand, and scratch and stain resistance on the other hand. Furthermore, the catalyst for VESTANAT EP-E-grades is available separately to adjust to specific cure requirements and offering full design freedom.
This design freedom in terms of flexibility and reactivity provides a much broader portfolio of properties for use in multiple different applications. These include scratch-resistant coatings (Figure 4; e.g. for whiteboards and motorcycle gas tanks), excellent stain resistance for wood (Figure 5) and for easy-to-clean anti-graffiti coatings for clear-coated metals that don't strip the underlying paint (Figure 6).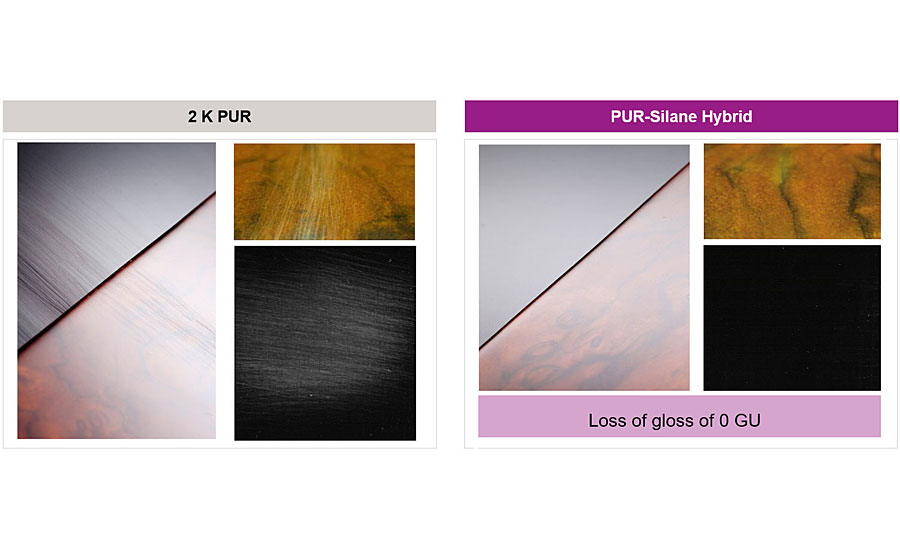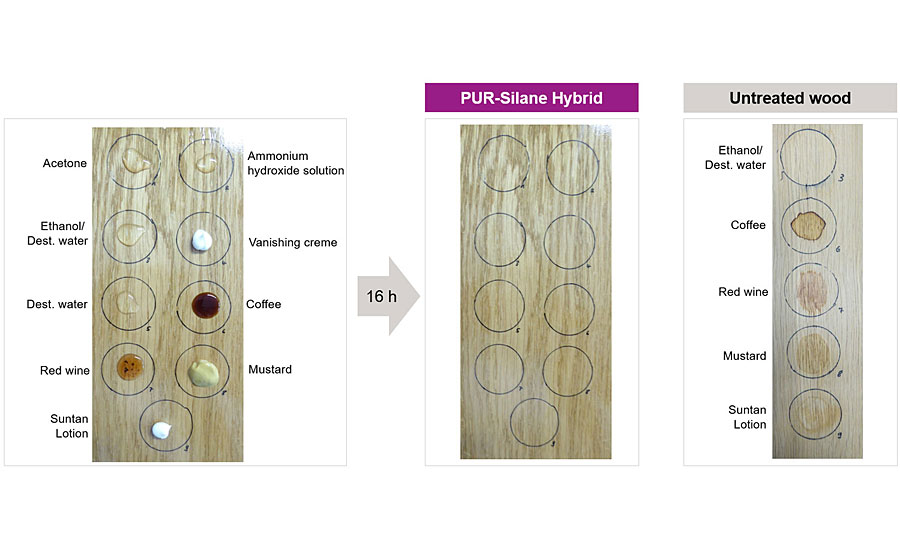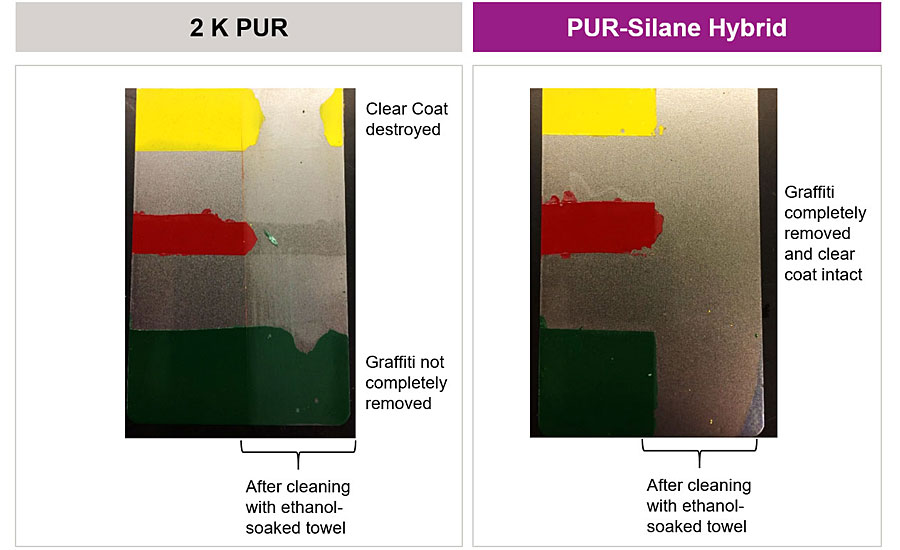 Summary  
PUR-silane hybrid crosslinkers deliver high-performance NISO coatings and provide a unique solution for surface protection with outstanding scratch and stain resistance. These new hybrids are specifically designed for self-curing clear coats for wood, high-gloss plastics or metals. VESTANAT EP-MF grades are tailored formulations for use in professional use scenarios, whereas VESTANAT EP-E grades provide maximum formulation latitude to adjust curing time and coating flexibility for use in DIY as well as in professional applications.