The TiO2 industry had experienced a difficult 18 months from mid 2018 through 2019, seeing consistent sales volume decline, as a period of formidable destocking was immediately followed by a global trade war. First quarter 2020 sales outside China were brisk, as sales volume increased by an estimated 12% vs. 1Q19. China was dealing with COVID-19, as their sales volumes dropped by nearly 25% during the quarter.
As COVID-19 spread outside China, TiO2 sales were impacted. Based on recent comments from the industry's multi-national producers and observers of the Chinese industry, sales outside China are predicted to drop 12-15% in 2Q20 vs. the previous year quarter, while Chinese recovery is slow.
TiPMC provides some insight, along with a view of what signs will signal an industry recovery.
A bright spot has been North American architectural coatings. DIY coatings have been extremely robust, as noted by multiple coatings manufacturers. According to data from Northcoast Research, DIY coatings sales have grown 50% as compared to the same period of 2019 (Figure 1). Sherwin Williams recently noted that it believes DIY coatings will make up for lost sales in the professional painting segment of its Americas group, believing that segment will see a sales increase in 2020. Globally, TiO2 plastic sales have been robust, as plastic grocery bags and materials utilized in the battle against COVID-19 have seen strong growth.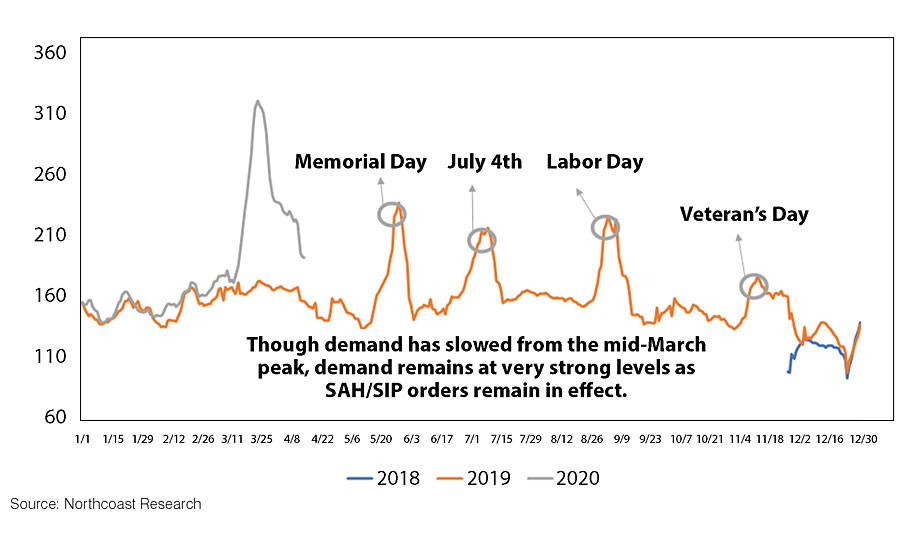 As architectural coatings are a far larger consumer of TiO2 than other segments, the overall impact on the coatings segment is not as devastating for TiO2 (Figure 2).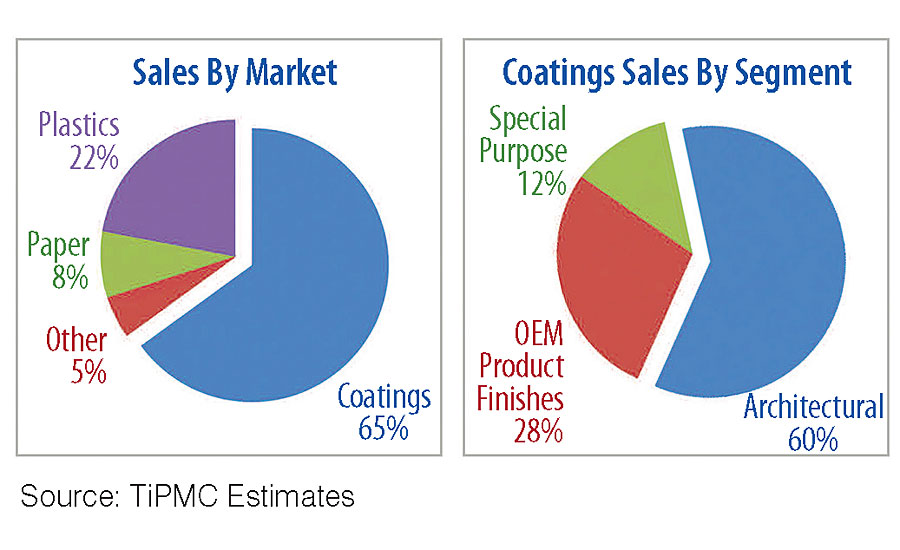 Switching to a regional perspective, Europe, particularly Italy, Spain and France, have been impacted across all TiO2 segments, as lockdowns stopped all industries considered non-essential. Asia has also been hard hit, especially India, the fastest growing consumer of TiO2 the last decade. Other parts of Southern Asia are facing similar lockdowns, with the timing of normal business activity still very much in question. Korea, Japan and China, which account for over 30% of TiO2 sales globally, are further along in opening their economies. Producers are hoping these economies can return to more normal activity toward the end of 3Q, providing a boost to the industry (Figure 3).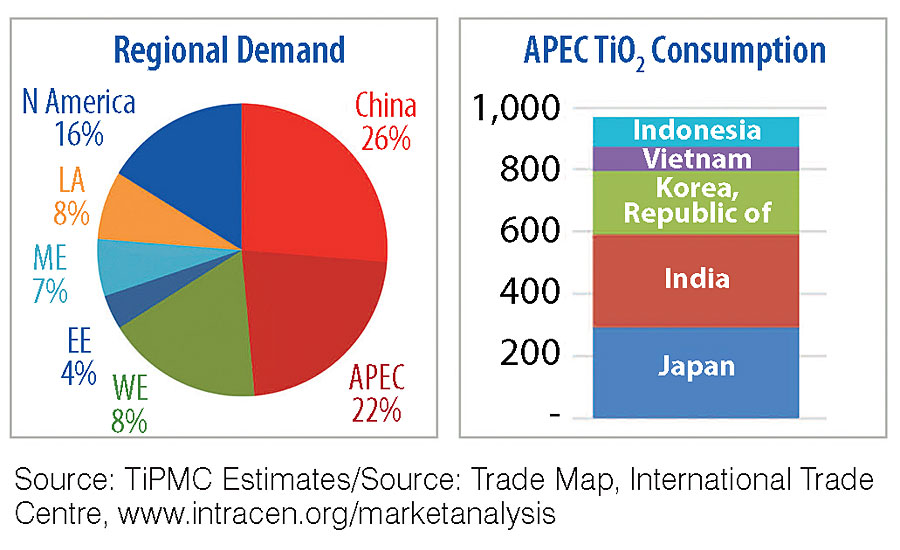 What is Next?
Predicting the length and depth of the impact of COVID-19 on TiO2 sales is difficult. TiPMC believes recovery will come in waves, based on the recovery of regional economies and segments within the TiO2 customer base. TiPMC believes 2020 impact will be 9-11% in reduced sales, based on its best estimates. 2020 will be the third year of declining sales for TiO2. History shows us that TiO2 rebounds ahead of most industries in recovery, reaching back to its correlation to long-term GDP trends. Depending on timing, recovery may be as high as 15% YoY, based on TiPMC modelling.