Any surface submerged in seawater is subject to marine organisms, including hundreds of thousands of types of bacteria, algae and mollusks. These marine organisms are often known as fouling or biofouling by the shipping industry. The accumulation of organic material on a surface can have serious impacts on the marine industry. These impacts include increased vessel fuel consumption, Green House Gas emissions and loss of maneuverability due to the deterioration of their underwater hulls. Hull deterioration occurs through coating degradation, biocorrosion and an increase in hull roughness. Biofouling costs the shipping industry billions of dollars per year in transportation expenses (Callow and Callow, 2011).
Antifouling coatings have been a longstanding solution to prevent the accumulation of marine organisms. They have been used extensively by the industry, and usually rely on the leach of a toxic substance such as:
Copper (metallic)
Cuprous oxide
Heavy metals (lead)
Arsenic-based coatings
TributylTin (TBT-based compounds).
All of the above coatings, however in different levels, have adverse effects on aquatic life, and more specifically, on a broader range of marine organisms such as oysters, mammals and fish. In January of 2008, the International Maritime Organization banned the use of TBT-based coatings applied to all vessel types. To combat this change, antifouling paints were made with high concentrations of copper, leading to new environmental issues.
The improved awareness of environmental issues and an increase in bunker fuel price (main source of ship fuel) due to IMO2020 (resolution to decrease sulphur content on the shipping industry) have given reasons for the shipping industry to find alternative solutions.
Novel low-surface-energy foul-release coatings are an environmentally friendly option that show potential to reduce the impact of using biocides and save on fuel consumption for the shipping industry. Fouling-release coatings are the next generation of smart coatings for the industry. They save the shipping companies money by lowering their fuel cost and do not leach biocides into the ocean.
The current state-of-the-art foul-release coatings contain two major groups of polymeric materials that show fouling release properties: silicone- and fluorine-based polymers. However less harmful than biocide-based coatings, these polymers also introduce toxic com­ponents into the marine environment. Due to their substantial nature and chemical structure, these coating systems are extremely soft and tend to wear out and tear easily. Soft foul-release polymers have a low elastic modulus, low surface energy and exhibit extremely low adhesion with biofouling. The issue is that they wear away over time, generating a significant amount of micro-plastics in the ocean. Several scientists are researching this effect, such as "Marine Litter Plastics and Micro-Plastics and Their Toxic Chemicals Components: The Need for Urgent Preventive Measures," by Frederic Gallo and others from the University of Siena in Italy. Other reports have also shown that these fluorinated compounds are suspected of similarly causing health problems, including cancer, liver damage, decreased fertility, and increased risk of asthma and thyroid disease. The main issue with commercial soft foul-release coatings is their weak adhesion; it makes them impossible to properly clean without compromising their coating surface.
Graphite Innovation and Technologies Inc. has developed a hard foul-release coating that can be easily cleaned and does not require the application of primer underlayers. This composite smart coating is based on the recent advancement of nanomaterials. Graphene is known for its high mechanical strength, low friction and incredible toughness. The company has been working with the technology for over three years and was able to create a hard, stable surface that does not leach toxins or micro-plastics into the ocean. The coating's properties include a beneficial slick surface that can provide the same fuel savings performance as soft foul-release technologies.
The coating also incorporates green chemistry, with its state-of-the-art polymeric composite, predominantly stemming from renewable sources. A coating with virtually zero volatile organic compounds (VOCs) compared to commercial coatings with up to 40% VOC, the new technology is planned to be in commercial production in 2022.
Foul-Release Coatings
This "slick" coating generates fuel savings due to its underlying surface properties. Materials science has enabled a deep study of the surface profile on a nanometric scale and the chemical interaction between the ocean water and the coating surface. In this case, two types of silicone and fluorinated coatings have been compared to the newly developed hard foul-release coating. The roughness profile of these coatings' surfaces was leveled down to ca. 0.01 µm, which imparted them with an appealing smooth finish and improved their surface water flow, reducing the drag force felt by ships (Figure 1).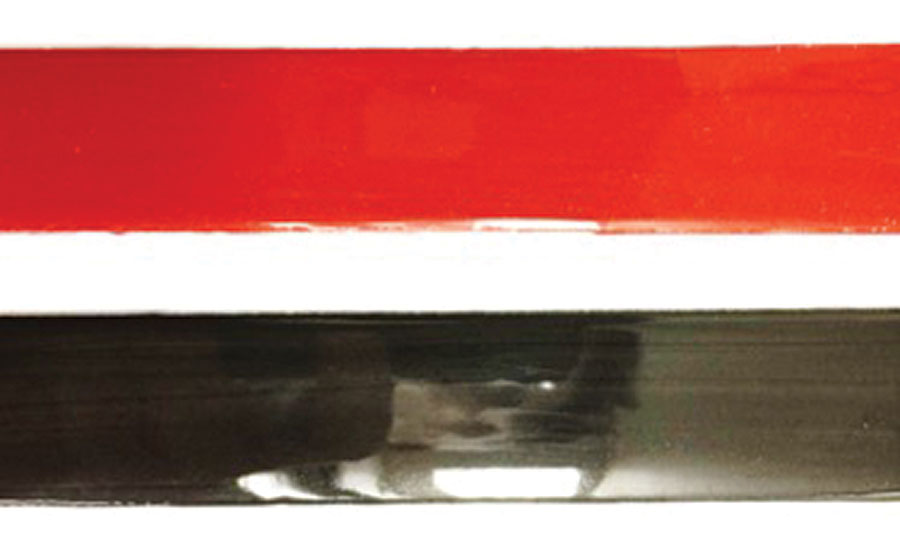 The interaction between the ocean water and the coated hull is extremely important for hydrodynamics of the ships. The less contact the water has with the surface of the coating, the less drag is observed by the ship. Also, the harder it is going to be for marine organisms to adhere to the surface. The reduction of the interfacial tension of the surface enhances hydrophobicity and self-cleaning performance of this technology. Figure 2 shows a comparison of commercial technologies and the new hard foul-release technology, outlining the "contact angle" using the "sessile drop experiment" to evaluate the interaction between ocean water and the coated surface.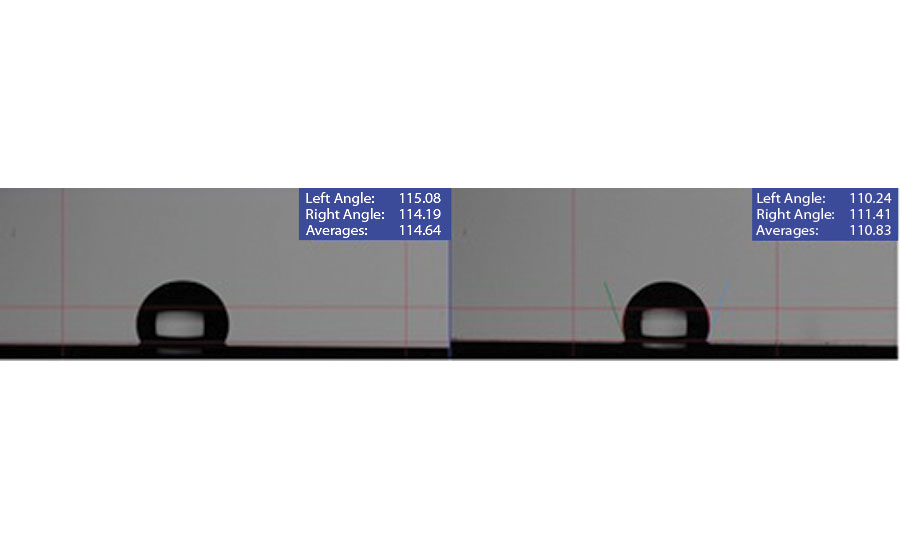 Main Limitations of Soft Foul-Release Technology
One of the main issues of silicone- and fluoropolymer-based coatings are related to the hull exposure to scratches and damages during day-to-day shipping operations. Over the lifetime of these coatings, when they are scratched, they remove their top coating layer, creating a defect that is susceptible to biofouling. This defect also disturbs the hydrodynamics of the hull and is a source of further coating delamination around the damaged areas. Figure 3 shows the scratch resistance by a simple experiment comparing soft foul-release technology versus the newly developed technology by GIT. Both samples were manually scratched using a screwdriver at 45° with 5 kg force. This simple experiment shows the scratch resistance of both technologies, which also simulates day-to-day shipping operations and hull cleaning operations.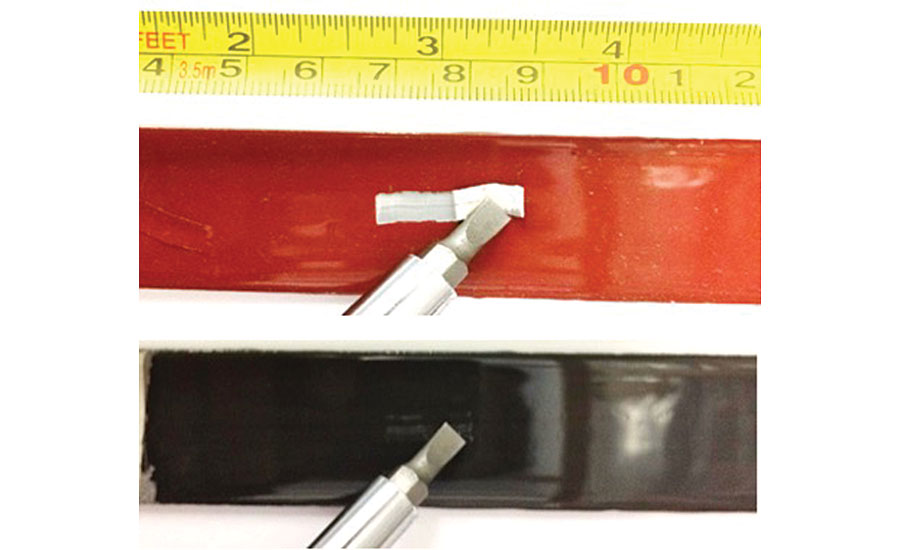 One of the major benefits of using advanced materials science in paint development is the ability to further increase the hardness of this type of material without losing its flexibility. While extremely soft, the fluoro-based polymers can sustain a significant amount of deformation. One of the major advantages of this newly developed hard foul-release coating is the ability to bend while being scratch resistant within the same material due to the extremely high toughness of its graphene nanoplatelets (Figure 4).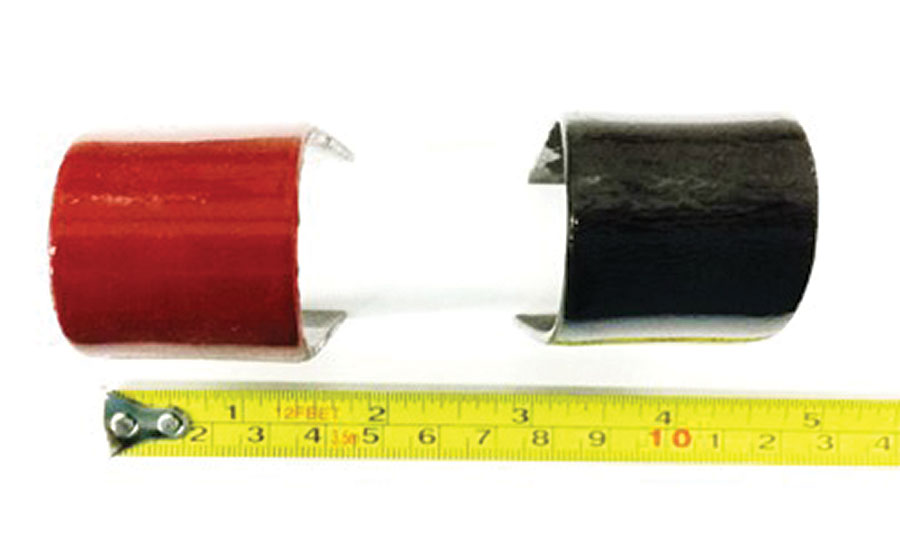 Benefits of Multifunctional Hard Foul-Release Coatings
The new era of smart marine coatings has incredibly high hardness with good scratch resistance. Showing a D shore hardness over 72.5, when compared to 0.2 for silicone-based foul-release coatings (Figure 5). The smart coating also offers intrinsic corrosion protection with less than 10% VOC content. The development of hard foul-release coatings is leading a new era in environmentally friendly coatings that provide: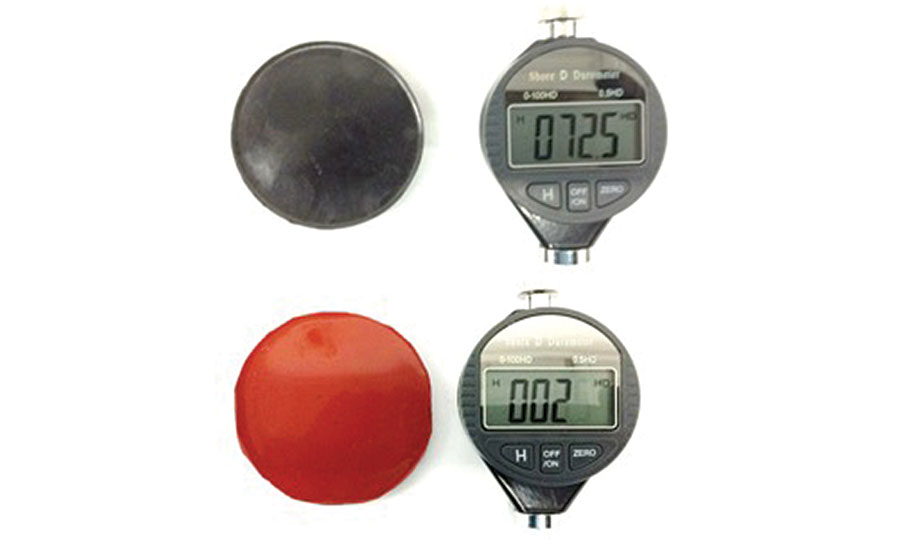 Safer application (low evaporation, low odor) and increased worker safety.
Lower paint weight.
Capability of hull underwater cleaning without damaging the paint.
Low losses after coating dries (wet film thickness dry film thickness).
Less paint application required to obtain adequate coverage.
Better control on the quality of the paint job.
Avoid production delays and increase environmental protection.
Figure 6 compares traditional biocide-based paints with soft and hard foul-release technologies.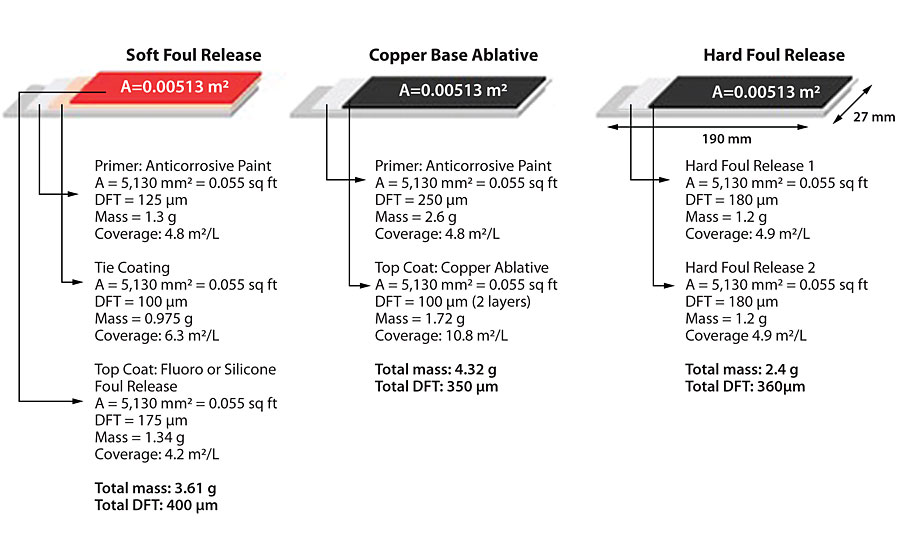 Bottom Line/Looking Ahead
The future of underwater marine coatings is driven by decreased marine pollution and increasing the energy efficiency of ships. New environmental restrictions are coming into place, such as IMO 2020 and now IMO 2030 to reduce CO2 emissions by at least 40% by 2030, pursuing efforts towards 70% by 2050 in order to meet the temperature goals in line with the Paris Agreement. As well, with the new understanding of underwater noise and the effect it has on mammals in the ocean, there will be plenty of room for environmentally friendly solutions developments. Smart coatings technologies aim to tackle and solve these issues by being part of the solution, with the end goal of solving our environmental crisis and saving money for the shipping industry.