Although the same companies remain in the top 10 as last year, their order has changed a bit. Here are the global coating leaders and some of their top stories.
Akzo Nobel Coatings nv
Arnhem, The Netherlands
31 26 3664433
www.akzonobel.com
CEO: Hans Wijers
Estimated 2004 Coatings Sales: $6.366 billion
Akzo Nobel is a multicultural company and the largest coatings company in the world, with about 8 percent share. It is active in all sectors of the coatings industry. Sales in 2004 totaled 12.7 billion euros, with 25 percent in pharma products, 41 percent in coatings and 34 percent in chemicals. Marine & Protective Coatings led growth. Decorative Coatings delivered satisfactory performance despite sluggish European market conditions. The Industrial Activities segment bore the brunt of the steep rise in raw material costs during the second half of 2004, while Car Refinishes, which had been under pressure for the first nine months of 2004, began to see the benefits of its restructuring program towards the end of the year. Net sales in the United States and Canada in 2004 were 15 percent of total sales, for an estimated $955 million.
 
Top Stories
In 2004, Akzo Nobel opened two new multipurpose industrial finishes sites in China and a new, non-stick coatings facility in Brazil. Marine & Protective Coatings established International Paint Japan to serve Japanese and worldwide marine coatings customers directly. Furthermore, the company completed investments in two new powder coatings sites in China and a new decorative coatings facility in Vietnam. Recently, Akzo Nobel announced the acquisition of ALTANA Chemie AG's Rhenacoat S.A. coil-coatings business in France. In addition, Akzo Nobel and BASF announced a swap of coatings businesses in transactions that will send BASF's Glasurit Construction coatings business to Akzo Nobel, and transfer parts of Akzo Nobel's Car Refinishes business in Europe to BASF. Akzo Nobel's Decorative Coatings business has also initiated the latest phase of its competitive European expansion strategy by signing an agreement to acquire Swiss Lack, Switzerland's leading paint company.
PPG Industries Inc.
Pittsburgh
412-434-3131 • www.ppg.com
Chairman and CEO: Charles E. Bunch
Estimated 2004 Coatings Sales: $5.275 billion
PPG is a major global coatings company. It is the largest producer worldwide of transportation OEM and refinish coatings. It also has a global position in industrial and packaging coatings and is a major player in architectural coatings in the United States. Coatings represent 56 percent of corporate sales of $9.513 billion. Glass and chemicals make up the rest of the sales.
 
Top Story
In 2004, PPG Industries and Kansai Paint concluded negotiations to launch an alliance for the sale of automotive coatings to global original equipment manufacturers. The joint venture is known as PPG Kansai Automotive Finishes (PKAF).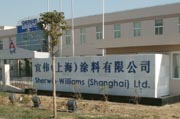 Sherwin-Williams is the largest coatings producer and marketer in North America and the company also has operations in other parts of the world, including this facility in Shanghai, China.
Sherwin-Williams Co.
Cleveland, Ohio
216-566-2000 • www.sherwin.com
Chairman/CEO: Christopher M. Connor
Estimated 2004 Coatings Sales: $4.83 billion
Sherwin-Williams is the largest architectural coatings producer and marketer in North America. Total sales for 2004 were $6.114 billion, with $637-million external sales of all consolidated foreign subsidiaries. It is estimated that about 79 percent of sales represent coatings sales, with the remainder being related products, including wall coverings, floor coverings and application supplies. With 3,254 company-owned paint stores, and branches in North and South America, the company maintains a strong position in architectural paint sales to DIY consumers, contractors, and industrial coatings and automotive refinishes. In addition to the main brand, "Sherwin-Williams," sold only in its paint stores, the company sells coatings under many other brand names through other outlets where paint is sold. In the special-purpose coatings market, the company has strong positions in industrial-maintenance coatings, auto-refinish and aerosol paints. Industrial coatings sales are made both directly and through company-owned industrial stores.
 
Top Story
In September 2004, Sherwin-Williams completed the acquisitions of Duron Inc., and Paint Sundry Brands Corp. Duron is located in the Baltimore/Washington area and is a major regional manufacturer of architectural and light-industrial coatings designed for the professional contractor. Paint Sundry Brands, a holding company for a variety of assets, manufactures and sells paint brushes and rollers under several brands, including Purdy®, Bestt Liebco® and Symphony™, as well as a full range of other paint applicators. Since the Duron and Paint Sundry Brands acquisitions were completed in September 2004, the four months of data for these entities are not included in the financial data provided.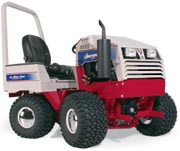 The Ventrac, model 4200VXD, made by Venture Products, is designed to use more than 30 different attachments, allowing mowing and blowing, digging and drilling, and more. This compact tractor is coated with DuPont Powder's Tractor Red, Tractor Tan and Vulcan Black HP.
DuPont Coatings & Color Technologies Group
Wilmington, Del.
302-774-1000 • www.dupont.com
Group Vice President: Edward J. Donnelly
Estimated 2004 Coatings Sales: $3.98 billion
DuPont Coatings & Color Technologies Group is the world's leading automotive coatings supplier. It offers high-performance liquid and powder coatings for the automotive OEM, refinish and aftermarket, and general OEM industrial applications, as well as high-performance specialty products. The volume growth of OEM coatings moderated in the second half of 2004 as major auto producers, particularly in the United States, announced production cutbacks to reduce inventories of new cars. DuPont is not active in the architectural coatings market and operates in only selected industrial markets. The group is also the largest manufacturer in the world of titanium dioxide. Sales of coatings worldwide are at $3.98 billion. U.S. sales of coatings are $1.68 billion. DuPont, the parent company, had worldwide sales of $27.38 billion in 2004.
 
Top Stories
The company's acquisitions and joint ventures in 2004 include POL-SVER Lakiery Proszkowe Sp. zo.o - Poland - powder coatings. Remaining interest in DuPont Turkiye joint venture - Turkey - automotive, refinish and industrial coatings.
ICI Paints
Berkshire, U.K.
44 1753550000 • www.ici.com
CEO/President: David Hamill
Estimated 2004 Coatings Sales: $3.917 billion
ICI is a leading international coatings business with wide geographic spread. ICI specializes in architectural (91 percent), metal container (8 percent) and miscellaneous industrial (1 percent) coatings businesses. The consumer decorative-paint business has one of the leading market shares in most countries where these paints are sold. The container coating business specializes in internal and external coatings for food and beverage cans and is one of the leading suppliers. ICI has many well-known brands in the U.S. market, including Glidden, Dulux, Devoe, Fuller O'Brien and Sinclair. Glidden paints are carried at all Home Depot stores. ICI has a dominant share of the market for interior coatings for metal containers.
 
BASF Coatings AG
Münster, Germany
011 49 2501 14 3160 • www.basf.com
CEO/President: Jean-Pierre Monteny
Estimated 2004 Coatings Sales: $2.438 billion
BASF is the world's leading chemical company, with products including chemicals, plastics, coatings systems, dispersions, agricultural products, fine chemicals, as well as crude oil and natural gas. Total corporate sales in 2004 were 37.537 billion euros. Coatings sales include automotive OEM coatings, automotive refinish coatings, industrial coatings and (in South America) decorative coatings. North American coatings sales for 2004 were $670 million.
 
Top Story
In 2004, BASF opened a new production plant in Sao Paulo, Brazil, for architectural coatings.
Valspar Corp.
Minneapolis
612-332-7371 • www.valspar.com
Chairman/CEO: Richard M. Rompala
Estimated 2004 Coatings Sales: $2.215 billion
The company operates its business in two reportable segments: Paints and Coatings. Revenues in 2004 were $802 million and $1.413 billion, respectively. The Paints segment includes interior and exterior decorative paints, primers, varnishes and specialty decorative products, such as enamels, aerosols and faux finishes for the do-it-yourself and professional markets, as well as automotive refinish and high-performance floor coatings. Within the Coatings segment, the Industrial Coatings product line includes decorative and protective coatings for wood, metal, plastic and glass. The Packaging Coatings product line includes coatings and inks for rigid packaging containers. The company's remaining activities include specialty polymers and colorants that are used internally and sold to other coatings manufacturers, as well as composites (gelcoats and related products) and furniture-protection plans.
 
Top Stories
In June 2005, Valspar completed the acquisition of Samuel Cabot Inc., a privately owned manufacturer of exterior and interior stains and finishes. With annual sales of approximately $60 million, Cabot has been family owned since 1877 and is based in Newburyport, Mass. In January 2004, Valspar acquired De Beer Lakfabrieken B.V., a manufacturer and distributor of automotive refinish coatings based in the Netherlands. In August 2004, Valspar acquired selected assets of the Forest Products business of Associated Chemists Inc., a manufacturer and distributor of wood coatings and chemicals for the pulp and paper industry based in Portland, Ore.
SigmaKalon Group BV
Uithoorn, The Netherlands
31 297 54 1700
www.SigmaKalon.com
CEO/President: Pierre-Marie De Leener
Estimated 2004 Coatings Sales: $2.05 billion
SigmaKalon is a worldwide player in decorative, marine, protective and industrial coatings. The company employs around 10,000 people in 40 different countries. The Group's largest business is the supply of decorative coatings where it has leading positions in France, the UK, the Benelux, Poland, Slovakia and Czech Republic. SigmaKalon operates with seven different business units: Decorative Coatings France; Decorative Coatings UK and Ireland; Decorative Coatings Northern Europe; Decorative Coatings Poland; Industrial Coatings; Marine, Protective Coatings; and Deco International.
 
Top Stories
SigmaKalon recently acquired Primalex Brasy, the largest Czech/ Slovak paint producer, from the U.S. investment fund The Riverside Company. In 2004, Samsung Fine Chemicals (SFC) and SigmaKalon put their Korean coatings operations together into a joint venture company known as Sigma Samsung Coatings (SSC).
Nippon Paint Co. Ltd.
Osaka, Japan
81.6.64581111 • www.nipponpaint.co.jp
CEO/President: Teruyoshi Fujishima
Estimated 2004 Coatings Sales: $1.88 billion
Nippon Paint Co. Ltd. has evolved into the leading company in the paint and coatings industry in Japan. It develops paints and coatings for a broad range of industries, including automotive, construction, railway rolling stock and ships. The company is working to expand globally as a specialty chemical company, offering high-value-added products in terms of function and low environmental impact. The company's fundamental commitment is to "become a trusted, eco-friendly company to help protect the environment and save resources and energy." The Nippon Paint Group consists of 20 manufacturing and sales companies in Japan and 10 elsewhere in Asia, as well as four companies in the United States and three in Europe.
 
Kansai Paint Co. Ltd.
Osaka, Japan
81.6.6203 5531 • www.kansai.co.jp
President: Katsuya Sera
Estimated 2004 Coatings Sales: $1.647 billion
Kansai Paint Co. Ltd., has gained global stature as a pace-setting manufacturer of paint and coatings. Products supplied by Kansai Paint and its Group companies find application in automobiles, buildings, construction equipment, metal furniture, wood products, beverage cans, household electric goods, chemical plants, storage tanks, industrial machinery, bridges, containers, ships and home paints. Sales of paints and coatings totaled ¥179,010 million, up ¥4,563 million (2.6 percent) over the previous year.
 
Top Stories
In 2004, PPG Industries and Kansai Paint concluded negotiations to launch an alliance for the sale of automotive coatings to global original equipment manufacturers. The joint venture is known as PPG Kansai Automotive Finishes (PKAF). Kansai Paint is building a plant in the outskirts of Delhi in India for its subsidiary, Goodlass Nerolac Paints Ltd. (Kansai has also initiated the process to hike its equity stake in this second-largest Indian paint company by 15 percent from its current holdings of 64.5 percent.) Kansai is also building plants at its joint ventures in China.
Editor's Note: This article is printed with permission from Paint & Coatings Industry magazine, another fine BNP Media publication. For PCI's Top 50, visit www.pcimag.com and click on PCI 50.