Finished Products
Finishing Equipment
Bio-Based Corrosion Protection
BioCorr® rust preventative belongs to a newest and most advanced generation of corrosion protection products. It is a 100% bio-based, water-based and biodegradable product, formulated with renewable raw materials, intended for preservation of metals during processing, in storage and transportation. BioCorr® is now also available in totes. It offers a multi-metal protection, and is an excellent environmentally sound alternative to petroleum-derived products, especially due to the rapidly increasing oil prices.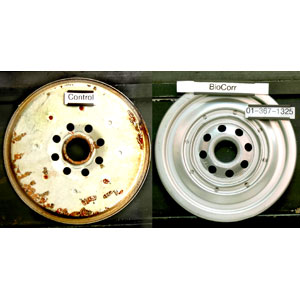 By using Biocorr®, customers will replace hazardous anti-corrosion oils and flammable solvents, whose prices are growing astronomically, with more effective solution at much lower cost. Biocorr® is 40% cheaper than rust-preventive oils. Metal surfaces protected with this product do not require cleaning unlike oils, and in most cases can be painted over. Therefore expensive disposal costs associated with oils are eliminated. Visit www.cortecvci.com.


I want to hear from you. Tell me how we can improve.