Protective Coatings Market by Resin Type...
Product Details
Protective Coatings Market by Resin Type (Epoxy, Polyurethane, Acrylic, Alkyd, Zinc), Technology (Solvent-based, Water-based, Powder Coatings), Application, End-Use Industry, and Region - Global Forecast to 2026
Once purchased your report will be sent to you electronically via email. Please allow 1-2 business days for arrival
Pricing:
Single User License: Allows the person purchasing the report and that person alone to view and use the report
Corporate License: Allows the person purchasing the report and any colleague within the same organization to view and use the report regardless of location
Returns or Refunds - The electronic format and type of information provided by Canadean and ICD Research is such that Canadean and ICD Research cannot accept returns of products once they have been dispatched. Refunds will only be considered where the product does not accurately reflect what is being advertised. Refunds may occasionally be offered at the discretion of the management
[308 Pages Report] The market size for Protective Coatings is projected to grow from USD 13.8 Billion in 2021 to USD 17.8 Billion in 2026, at a CAGR of 5.2%. The civil building and infrastructure, by end use industry in APAC region is expecting a boom in the forecasted period and will lead to an increase in the demand for Protective Coatings.
To know about the assumptions considered for the study, Request for Free Sample Report
COVID-19 Impact on the Global Protective Coatings Market
According to recent updates by the IMF (International Monetary Fund), there will be a recession as bad as the global economic crisis of 2008 or worse in 2020. The IMF has warned of a total output loss of USD 9 trillion of the world economy between 2020 and 2021. The extent of the economic damage still depends on how the virus spreads in Europe, the US, and other major economies.
According to economists, the Chinese economy is likely to be hit further by reduced global demand for its products due to the effect of the outbreak on economies around the world. As the pandemic escalates, the growth rate will fall sharply against the backdrop of volatile markets and growing credit stress.
Initial data from China suggests that its economy has been hit far harder than projected, although a tentative stabilization has begun. In Europe and the US, increasing restrictions on travel & transportation and prolonged lockdown will lead to a demand collapse that is expected to recover a little in the second quarter before significant recovery begins later in the year.
Central banks have swung into action and are undertaking some combinations of sharply reduced policy rates, resumed assets purchase, and liquidity injections. Fiscal authorities have generally lagged but begun to loosen their purse strings. It is expected that larger and more targeted spending to the most affected groups is forthcoming.
Restrictions on movement in Europe and the US are putting a severe dent on economic activity. India and Southeast Asian countries are also facing major disruption in their economies.
Protective Coatings Market Dynamics
Drivers: Increasing demand from Civil Building and Infrastructure industry
Protective coatings are used in the civil building & infrastructure industry for flooring, wood finishes, interior & exterior walls, bridges, swimming pools, doors, and ceilings. Protective coatings form a thin layer on the surfaces on which they are applied and are used for increasing the longevity and stability of the structures. Bridges, highways, and infrastructure projects are essentially in the need of long-time stability and the ability to withstand harsh weather conditions, for instance, acid rains.
Restraints: High prices of raw materials and energy
Protective coatings are very costly, and their cost of manufacturing is also growing with the increase in the price of energy. Fluctuating crude oil prices and changing foreign currency fluctuations have resulted in higher raw material prices. Raw materials for protective coatings vary significantly in terms of prices that range from USD 2.5/kg to USD 10/kg. Acrylics are the least expensive among them and cost about USD 2.5/kg. Polyurethane and alkyd protective coatings are available in the price range of USD 3/kg to USD 4/kg. Epoxies are the costliest type of protective coatings and cost about USD 4.5/kg–USD 10/kg. In addition to the raw material prices, manufacturers are also burdened with the additional cost incurred due to the increased taxes on energy, which results in higher operating costs and lower profit margins.
Opportunities: Increasing demand for maintenance for existing substrates
Protective coatings are used in maintaining the existing substrates to extend their lifespans. Many industries have systems that run on continuous operations. Several of them are exposed to environmental changes or involve the use of harsh materials. This results in the deterioration in the structure of the equipment or decline in the efficiency of the process, which causes shutdown of the plant or stoppage in the overall operations. Protective coatings help in preventing these issues, thereby saving on the cost of shutdown and replacement of equipment. The marine industry is prone to damages in vessels, ships, and docks due to the corrosive action of seawater. Coatings, such as waterproofing coats and joints & crack filling coats are widely used for maintenance in the marine industry.
Challenges: Development of cost effective products under stringent environmental regulations
Increasingly stringent regulations governing the use of protective coatings have compelled manufacturers to develop products with low volatile organic compounds (VOCs), high solid content, and less harmful biocides. Registration, Evaluation, Authorisation and Restriction of Chemicals (REACH), Green Seal, Solvent Emissions Directive (SED), and Biocidal Products Directive (BPD) are stringent environmental regulations limiting the emission of VOCs (volatile organic compounds) and HAPs (hazardous air pollutants). This has resulted in technical difficulties in the use of solvent-based coatings. These regulations also make the industries shift toward the use of environmentally-friendly coatings. However, the challenge exists in the development of new products that conform to these stringent regulations and make it economically efficient for industries.
Civil Building and Infrastructure accounted for the fastest-growing segment of the Protective Coatings market between 2021 and 2026.
The civil building and infrastructure industry is the fastest-growing end-use industry for protective coatings. The primary purpose of protective coatings is to protect structures from solvents, dust, fungi, corrosion, humidity, and other threat that may affect the stability and functionality of the structures. Protective coatings also provide waterproofing solutions, thereby preventing water leakages. Protective coatings act as a protective barrier that enables structures such as buildings, dams, wells, bridges, floors, wood finishes, and exterior & interior walls to function in demanding environments and situations.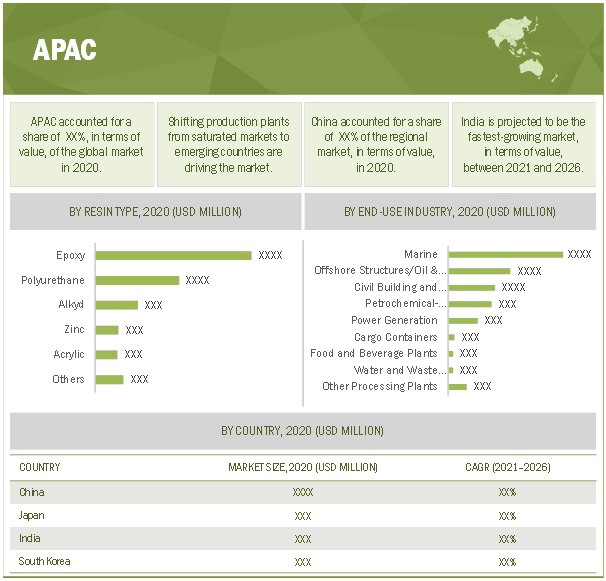 To know about the assumptions considered for the study, download the pdf brochure
APAC is the fastest-growing Protective Coatings market.
APAC is projected to be the fastest-growing market during the forecast period. The region comprises countries with different levels of economic development. The growth in the region is mainly attributed to the use of Protective Coatings in various end-use industries such as Civil Building & Infrastructure and Marine.
Key Market Players
PPG Industries (US), AkzoNobel N.V. (Netherlands), Sherwin-Williams (US), Hempel (Denmark) and Jotun (Norway) are the major players in the Protective Coatings market.
Jotun is a leading supplier of protective coatings (steel and concrete protection) to companies in the offshore, energy, infrastructure, and hydrocarbon processing industries. In 2020, Jotun has experienced a high demand for protective coatings from the Brazil power generation industry for 216 wind towers and secured a record-breaking 256 contracts for wind towers scheduled for delivery in 2021. Jotun benefitted from increased activity in the oil & gas industry, which created a demand for Jotun products in both, the Offshore and Hydrocarbon Processing Industry (HPI) concepts.
Scope of the report
Report Metric

Details

Years Considered for the study

2017-2026

Base year

2020

Forecast period

2021–2026

Units considered

Value (USD) and Volume (Kiloton)

Segments

By Technology
By Resin type
By Application
By End-use Industry
By Region

Regions covered

APAC, Europe, North America, Middle East & Africa, South America

Companies profiled

PPG (US), AkzoNobel N.V. (Netherlands), Sherwin-Williams (US), Hempel (Denmark) and Jotun (Norway). A total of 25 players have been covered.
This research report categorizes the Protective Coatings market based on Technology, Resin Type, Application, End-use Industry, and Region.
By Technology:
Solvent based
Water based
Powder coatings and others
By Resin type:
Epoxy
Polyurethane
Acrylic
Alkyd
Zinc
Others
By End-use Industry:
Offshore structures/oil&gas – Exploration, Production & Transmission
Petrochemical – Refineries & chemical processing
Marine
Cargo containers
Power generation
Water & wastewater treatment
Civil building & Infrastructure
Food & beverages
Others
By Application:
Abrasion Resistance
Chemical Resistance
Fire Protection
Heat Resistance
Corrosion Resistance
Pipe Coatings
Tank Linings
Others
By Region:
APAC
Europe
North America
Middle East & Africa
South America
Recent Developments
In December 2019, Jotun has made a joint venture with the shipment leading company of Hong Kong i.e., COSCO shipping. This venture delivers the mutual value to both the parties. The company marries the innovative, high-performance coatings technology of Jotun with the infrastructure, industry, and expertise whereas Jotun will enjoy the COSCO valued reputation in the key market, China.
In December 2018, Jotun and Kansai have signed an agreement forming the SeaStar Alliance 2002, they had already worked together for many years, and the alliance was a development. The partnership has led to the development of anti-fouling brands such as SeaQuantum, which is now the world leader in antifouling based on Silyl technology. The alliance between both the companies enables the widest coverage of the global market and the plans are to work towards more exciting innovations, solutions, and services together.
Frequently Asked Questions (FAQ):
What are the factors influencing the growth of Protective Coatings?
What are the major end-use industries for Protective Coatings?
Who are the major manufacturers?
Why Protective Coatings are gaining market share?