Metallic Powder Coatings Market by Process Type (Bonding, Blending, Extrusion)...
Product Details
Metallic Powder Coatings Market by Process Type (Bonding, Blending, Extrusion),Pigment Type (Aluminum, Mica), Resin Type (Polyester, Hybrid, Epoxy, Polyurethane, Others), End-use Industry, and Region - Global Forecast to 2025
Once purchased your report will be sent to you electronically via email. Please allow 1-2 business days for arrival
Pricing:
Single User License: Allows the person purchasing the report and that person alone to view and use the report
Corporate License: Allows the person purchasing the report and any colleague within the same organization to view and use the report regardless of location
Returns or Refunds - The electronic format and type of information provided by Canadean and ICD Research is such that Canadean and ICD Research cannot accept returns of products once they have been dispatched. Refunds will only be considered where the product does not accurately reflect what is being advertised. Refunds may occasionally be offered at the discretion of the management
[249 Pages Report]The market size for metallic powder coatings is projected to grow from USD 2.3 billion in 2020 to USD 3.3 billion by 2025, at a CAGR of 7.5%. The market trend is attributed to the continued growth of the architectural industry, which is the largest consumer of metallic powder coatings.
To know about the assumptions considered for the study, download the pdf brochure
COVID-19 Impact on the Global Metallic Powder Coatings Market
The outbreak of COVID-19 has disrupted the production of raw materials used in paints and coatings manufacturing. Asian countries such as India, China, Japan, Singapore, and Thailand are the hubs for paints and coatings manufacturing and are major suppliers of these raw materials. The outbreak of the novel coronavirus in APAC has affected the supply of these raw materials. For instance, China is one of the major suppliers of resins and exports a million tons of resins in the global market. The break in the supplies of raw materials has reduced the production of paints and coatings products.
In April 2020, all private buildings and construction sites, government constructions, and refinish automotive businesses were hit drastically. Retailors are also canceling already placed bulk orders of paint and coatings products due to the shutdown of the market. End-use consumers are not buying expensive coating technologies such as polyurea and polyurethanes from distributors and retailers due to COVID-19. Overall, the sales of paints and coatings products are hampered at the distributors' level due to the suspension of construction and building activities.
Metallic Powder Coatings Market Dynamics
Driver: Increasing demand for metallic pigments from architectural and automotive industries
Metallic powder coatings find major applications in the architectural industry due to their phenomenal weathering properties with excellent color and gloss retention. Their corrosion resistance and excellent weatherability make them extremely popular for exterior architectural applications, such as façade, curtain wall, windows, doors and aluminum profiles, sheet metal, cladding, and others. Growing consumer demand for specialty and attractive products has made metallic pigments an option for the automotive industry. The increased acceptance of aluminum pigments in the automotive sector has been instrumental in driving the growth of the market. The growing awareness regarding the use of products with low carbon footprints is expected to drive the demand for metallic pigments in eco-friendly paints and coatings products. Hence, the use of metallic pigments in powder coatings is increasing at a rapid pace as they provide a wider range of color products to the consumers.
Restraint: High priced product in a price-competitive market
Metallic powders are more expensive than solids, especially if it is a bonded metallic powder coating. The reason is the extra processes involved in creating a bonded metallic powder. Also, some metallics require a clear top-coat, and others require a base coat. Even if the metallic needs one of those requirements, it is an extra step in the manufacturing process and therefore cost added onto a job. Metallic powders can be more difficult to spray than solid color powders. Essentially, the electrostatics, among other things, have an effect on the way the metallic flakes in the powder orient. A small change in flake orientation can change the color of the coating, especially when there is a large contrast between the base color and the color of the metallic flake.
Opportunity: Advanced materials and new compositions in wheels
The automotive industry has seen constant innovation in the development of lightweight materials. The average percentage of carbon fiber reinforced composites and aluminum used in automobiles has been increasing consistently over the years. Given the growing demand for lighter, faster, and better performing vehicles and rising fuel costs, aftermarket players have been focusing on developing light-weighting technologies. In an endeavor to offer pleasing reding, aftermarket players are using innovative materials/composites for making wheels that provide a better grip with high performance and strength. The developers and manufacturers are innovating with new materials for making wheels that are cost-efficient and feasible in practical life.
Challenge: Application of metallic powder coatings
Metallic powder coatings are denser than other powder materials. This makes it harder to fluidize and deliver the metal flake materials. Challenges such as uneven film thickness (varying deposition of effect pigments gives rise to color or effect change) arise during application. To make it easier to fluidize, it should be ensured that the air supply is properly dry. It is usually recommended that the air should be around 38°F (3.3°C) dew point or lower. Also, a feed hopper needs to be used, not a box feed system. A box system may work, but it is more challenging to control the distribution of the powder by particle size and pigmentation. In some cases, it can be helpful to have additional inlets into the plenum to add more air volume. Additional pressure alone may not provide good fluidization, where additional air volume (CFM) without additional pressure (PSI) can be helpful.
Metallic Powder Coatings Market Ecosystem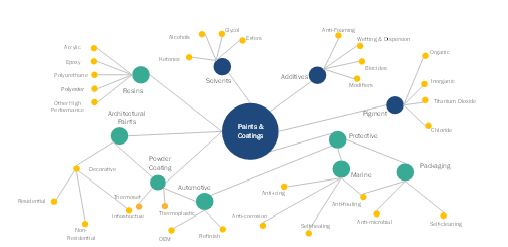 Polyester resin segment accounted for the largest share of the metallic powder coatings market in 2020.
Polyester resin segment accounts for the largest share in the metallic powder coatings market. A powder coating based on a polyester resin system blended with suitable metallic pigments. Polyester-based metallic powder coatings are designed where the user requires a superior decorative finish for exterior use, as they offer excellent flow and toughness. Other attributes such as enhanced mar resistance from metal rubbing, and fingerprint resistance, Tribo-safe also can be achieved. A range of substrates may be coated with the help of polyester based metallic powder coatings.
Architectural is projected to witness the fastest growth of metallic powder coatings market during the forecast period.
Architectural is projected to witness the fastest growth of metallic powder coatings market during the forecast period, in terms of volume. Metallic powder coatings for architectural applications include interior and exterior coatings such as facade panels, metal constructions, railings, and window and door frames. These coatings are primarily used in residential and commercial buildings and applied by paint professionals and do-it-yourself consumers. They are used to coat aluminum and steel, both for interior and exterior applications.
APAC is the largest metallic powder coatings market in the forecast period
APAC has emerged as one of the leading producers as well as consumers of metallic powder coatings. The developing countries of APAC, such as China, Japan, India, Indonesia, Malaysia, the Philippines, are focusing on the construction of new residential and commercial buildings, and this is expected to increase in the future. Factors such as advances in civil construction and the high demand for efficient paints drive the architectural metallic powder coatings market. The shifting of the end-use industries such as automotive, appliances, and furniture to cost-competitive countries, such as Indonesia and Vietnam, is driving the metallic powder coatings market in countries.
The spread of the coronavirus started in China in early January 2020. Within a small period, the spread in other Asian countries such as Japan, South Korea, and Thailand resulted in the pandemic situation, with numerous positive cases and deaths. This situation led national governments across APAC to announce lockdowns, leading to a decrease in traffic, construction & mining activities, manufacturing industries, and so on. Since China is a global manufacturing hub, the impact of COVID-19 is anticipated to be much higher in the country. Considering the above factors, the metallic powder coatings market is expected to decline in APAC in 2020.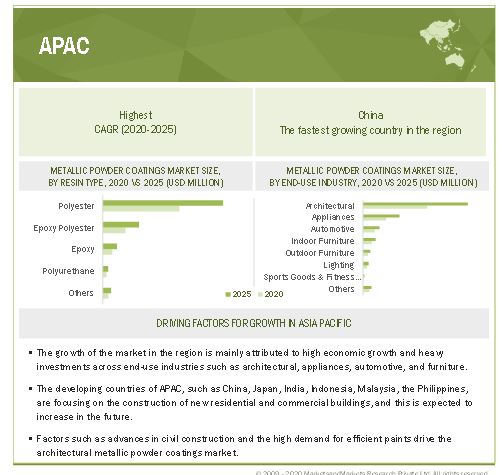 Key Market Players
The key players operating in the market are AkzoNobel N.V. (Netherlands), Axalta Coating Systems, LLC (US), Jotun A/S (Norway), PPG Industries (US), The Sherwin-Williams Company (US), and Tiger Coatings GmbH & Co. KG (Austria).
Scope of the report
Scope of the report
Report Metric

Details

Years considered for the study

2018-2025

Base year

2019

Forecast period

2020–2025

Units considered

Value (USD) and Volume (Kiloton)

Segments

By Process Type
By Pigment Type
By Resin Type
By End-use Industry
By Region

Regions covered

APAC, Europe, North America, South America, and Middle East & Africa

Companies profiled

The major market players AkzoNobel N.V. (Netherlands), Axalta Coating Systems, LLC (US), Jotun A/S (Norway), PPG Industries (US), The Sherwin-Williams Company (US), and Tiger Coatings GmbH & Co. KG (Austria). (Total of 26 companies)
This research report categorizes the metallic powder coatings market based on process type, pigment type, resin type, end-use industry, and region.
By Process Type:
Bonding/Bonded
Blending
Extrusion
By Pigment Type:
By Resin Type:
Polyester
Hybrid
Epoxy
Polyurethane
Others
By End-use Industry:
Architectural
Automotive
Appliances
Furniture
Sports Goods & Fitness Equipment
Lighting
Others
By Region:
APAC
Europe
North America
South America
Middle East & Africa
Recent Developments
In July 2019, AkzoNobel announced plans to add three new production lines at its Changzhou powder coatings plant in China—the company's largest facility of its kind in the world. The USD 3.3 million investment will support additional supplies of acrylic powder coatings, metallic powder coatings, and powder primers for the automotive sector, strengthening AkzoNobel's ability to deliver more locally produced premium products.
In December 2019, Axalta strengthened its position in the global powder market by investing in bonding capabilities for metallic effect powder coatings. The investment will enhance Axalta's new bonding production line in Landshut, Germany, and upgrade bonding equipment and capabilities in Houston, Texas, US and Shanghai, China, to enable customers to purchase best-in-class metallic effect powder coatings more easily from Axalta's locations worldwide.
Frequently Asked Questions (FAQ):
What is the current size of the global metallic powder coatings market?
Who are the major players of the metallic powder coatings market?
Where will all these developments take the industry in the mid-to-long term?
Which segment has the potential to register the highest market share for metallic powder coatings?
Which is the fastest-growing region in the market?