Appliance manufacturers face many challenges on the assembly line. They need to produce reliable and long-lasting appliances in high volumes, quickly and at the lowest cost. In order to do so, they need materials that can keep up – materials that deliver increased performance and efficiency in the final home appliance. Materials themselves can sometimes also present their own set of challenges in assembly and sealing; for instance, some adhesives or sealants may require surface treatment to ensure durable adhesion, thus slowing down the assembly line process. Or they are unable to bond to different types of substrates, limiting the types of materials a manufacturer has at its disposal to produce cost-effective appliances. Dow Corning recently launched two new adhesive and sealant products for the industrial assembly and maintenance market, which address these manufacturing needs for materials with greater performance and efficiency, as well as delivering on enhanced design options and cost-in-use savings. This article will explore these materials in more detail.
New Adhesive and Sealant
Recently launched Dow Corning® 750 plastic surface adhesive sealant and Dow Corning HM-2600 silicone assembly sealant have been engineered to provide appliance manufacturers with higher productivity, enhanced design options and cost-in-use savings. As Figure 1 demonstrates, one of the key benefits for both of these new solutions is their exceptional bond strength to a wide variety of substrates. Of particular interest to manufacturers will be that they both outperform general-purpose silicone adhesives when it comes to bonding to low-surface-energy plastics like polypropylene and polyethylene, which are widely used in appliances like refrigerators and washing machines. Like with all silicone-based products, the products also offer stability over a wide temperature range, are UV, weather and radiation resistant, chemically stable, and display excellent electrical properties and low flammability. With their excellent bonding to less-expensive plastics, appliance designers have more material solutions to choose from, which can considerably lower total costs. Additionally, each of these new materials offers manufacturers solutions to fit their specific assembly processing needs; not only giving them high-performing bonding properties, but also offering greater flexibility to adapt to their equipment set up, economies of scale and size of operations.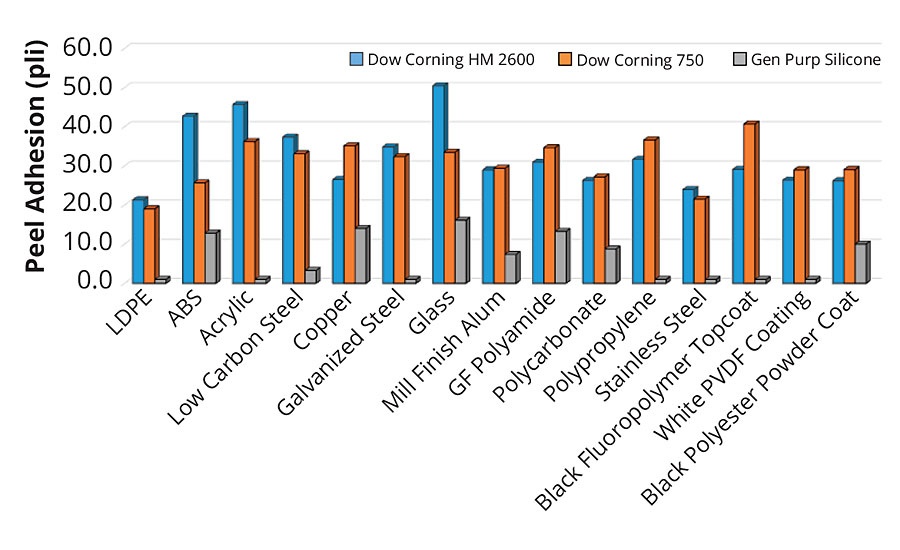 New Plastic Surface Adhesive Sealant
Dow Corning 750 adhesive sealant is a white, one-part adhesive that is easy to use and can be applied as a standard room temperature vulcanizing (RTV) product. Available in cartridges, it easily extrudes and cures at room temperature by reacting with moisture in the air and forms a durable, flexible rubber seal. This curing process can take up to 24 hrs to complete, depending on the thickness of the sealant. During the curing process care must be taken to clamp or hold the parts in the desired assembled configuration until the final adhesive strength is developed. The new neutral-cure silicone sealant can be dispensed from a standard dispensing tool and applied as a bead to a wide variety of substrates (Figure 2). For manufacturers without automated equipment, this still helps them achieve excellent adhesion and robust silicone chemistry durability without the added investment of large-scale dispensing equipment on the factory floor.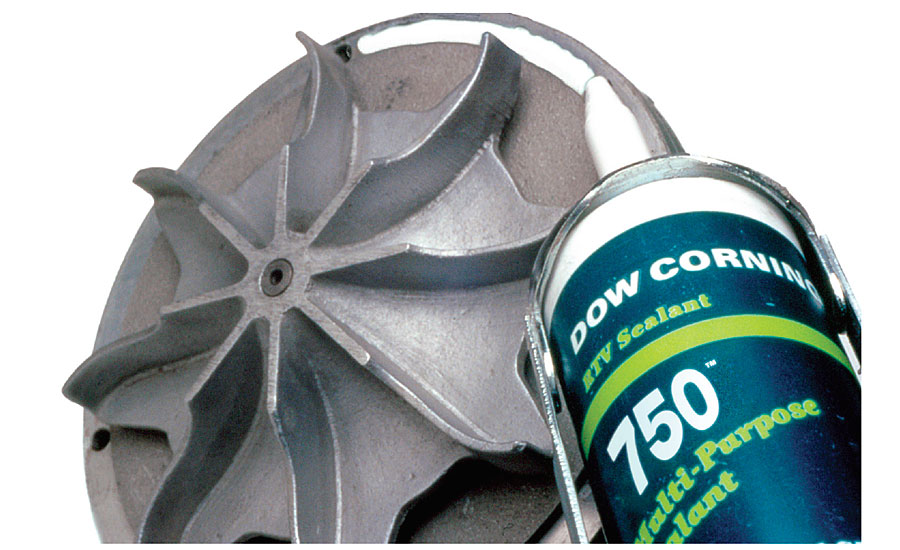 Furthermore, the new sealant has been designed to adhere to low-surface-energy plastic substrates that are typically difficult to bond to. In fact, it is the first 100% silicone adhesive to bond to polypropylene. This allows manufacturers more design freedom and a greater material selection to choose from than was previously possible. Normally, when bonding to low-surface-energy plastic materials, manufacturers would require a surface treatment or primer to activate the surface for durable adhesion, which is not required with the new adhesive sealant, thus saving time and money. The sealant adhesive also avoids the potential for inconsistent primer application, which is commonly identified as the root cause for adhesion loss. Eliminating this root cause will help improve product quality as well as reduce costly warranty repairs or replacements.
Additional testing also shows that the new adhesive sealant displays strong properties once cured (Table 1). The sealant has a very low modulus, which means it has good movement capability and can stretch if you have mismatched substrates and will not become brittle or crack. It also only has a working time of 15 min, which limits downtime and enhances productivity on the assembly line. Testing also demonstrates that Dow Corning 750 displays minimal flow or sag, ensuring stable bead dispensing for consistent quality part assembly. Manufacturers can use the new sealant under a wide range of temperatures and rely on its excellent UV resistance and durability. It therefore makes it an excellent choice for bonding mechanical enclosures, sealing penetrations for plumbing, electrical lines or ducts, or adhering functional or decorative components to surfaces.1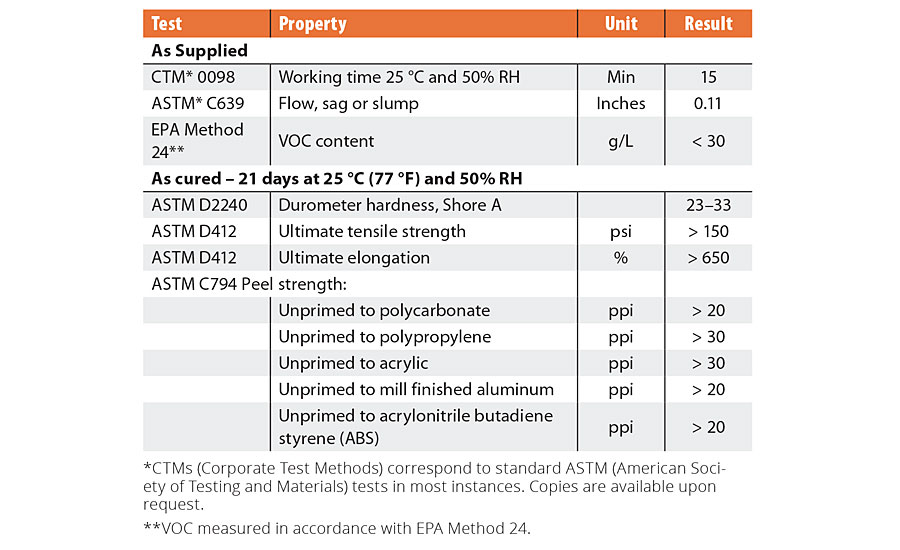 New Silicone Assembly Sealant
Dow Corning HM-2600 sealant is the latest addition to the company's reactive hot-melt silicone sealant technology family, which was designed to give tenacious adhesion across a spectrum of substrates, especially to metals and low-surface-energy type plastics. It is a 100%-silicone, moisture-reactive hot-melt adhesive that offers instant green strength, which means it can be immediately handled; thus, helping address manufacturers' needs for high-speed, high-volume production assembly. It can be used as a great alternative to mechanical fasteners or pressure-sensitive tapes. The assembly sealant also offers excellent clarity, giving manufacturers further application options when an aesthetic requirement is necessary, such as when sealing glass surfaces or transparent substrates (Figure 3). In comparison to organic hot-melt adhesives, it offers low long/open working time before curing to a flexible, yet tough, adhesive. Also, as compared to the Dow Corning HM-25XX family of hot-melt sealants, this formulation was especially developed to minimize creep at temperatures up to 110 °C. As such, when the fully cured viscoelastic material experiences elevated temperatures, the assembly sealant will soften but recover to its typical properties when cooled down. This means that manufacturers do not have to be concerned with the impacts of thermally induced stress and strain on the adhesive.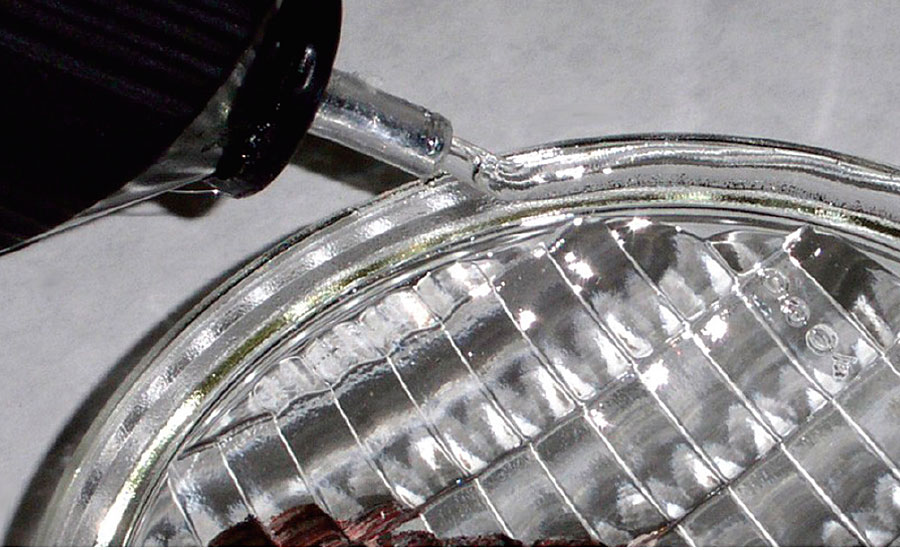 The reactive silicone hot melt can be used with various types of high-speed automated equipment, including XY tables and robots, and uses standard hot-melt technology to dispense the material. It is applied from 20-liter pails or 200-liter drums, and the recommended dispensing temperature ranges between 115 °C and 135 °C (239 °F and 275 °F). Like the 750 sealant, the HM -2600 does not require priming or surface treatment (such as plasma or flame) to common substrates, and once applied, the sealant exhibits instant green strength and undergoes moisture cure to provide a strong silicone sealant with good durability (Table 2). This leads to greater productivity by removing the often-challenging buildup of inventory or work in process, as well as reducing the manufacturer's total cost of ownership. Furthermore, the HM-2600 hot-melt adhesive is already certified to UL94 HB and is currently undergoing further food contact and drinking water contact certifications (NSF 51 and 61). As such, the hot-melt sealant is recommended for use whenever the assembly of plastic parts in appliances requires NSF certification, such as water filters.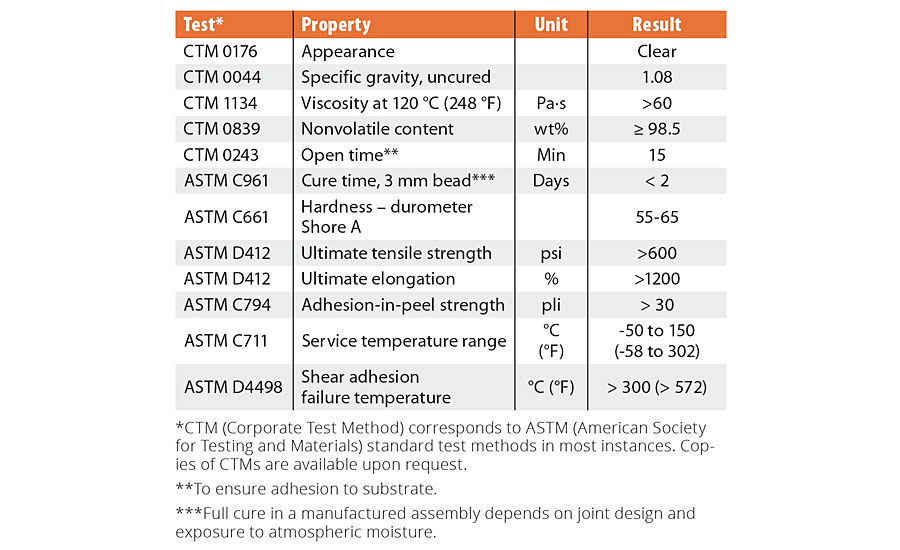 Conclusion
With the introduction of these two new silicone material solutions for appliance assembly, manufacturers now have more options to choose from than ever before. They can rely on materials that deliver exceptional primerless bonding to a wide range of substrates compared to general-purpose silicone adhesives on the market. This will help contribute to greater efficiencies and productivity, both in terms of output and costs, as well as flexibility, thanks to greater design options on the assembly line. Manufacturers can easily incorporate either of these material solutions into their equipment and processing set ups to deliver high-speed and high-volume production assembly and contribute to reliable appliances on the market. 
For more information, visit www.dowcorning.com/ContactUs.
Footnotes
1   Dow Corning 750 is not recommended for use as a visible joint.