Thanks to ecological and economic advantages, powder coatings have been one of the most interesting and fastest-growing coating technologies. Powder coatings are environmentally friendly because they are solvent-free – and hence emission-free. Overspray recoverability and high application efficiency guarantee optimum utilization of the materials. In only one step, powder coating layers of sufficient thickness are applied to the substrate. Powder coatings exhibit excellent surface quality as well as high mechanical and chemical resistance. Typical application areas for powder coatings are household appliances and furniture, as well as outdoor applications, such as facade coatings or in the automotive sector.
Powder coating applications in silver metallic shades require aluminum pigments, which are especially suitable for electrostatic application processes. This applies for leafing pigments, which float to the coating surface during the melting phase, as well as for non-leafing pigments, which instead distribute themselves within the coating layer. Due to their superior weather and abrasion resistance, non-leafing pigments are the preferred choice for powder coating applications. Nowadays, they are offered in a variety of different pigment encapsulation technologies, tailored to the requirements of the desired end use.
Despite the progress in pigment encapsulation technologies in recent times, there is still room for improvement. Platelet-shaped metallic effect pigments and spherical powder coating particles can separate during the application and recovery of (dry-blend processing) metallic powder coatings. This can result in an undesired shift of the color shade, which could so far only be avoided by bonding processing. ECKART's pigment innovation now allows metallic powder coatings with bonding quality – without using bonding equipment.
Bonding-Free Metallic Powder Coatings – with Bonding Quality
The innovative STANDART® PCBF aluminum pigment preparation is composed of ultra-stable, non-leafing aluminum pigments based on a completely new pigment encapsulation technology. The aluminum pigments are protected by an inorganic silica encapsulation and an additional organic durable surface coating using thermosetting resin molecules. The preparation contains approximately 50% silica-encapsulated aluminum pigment and approximately 50% carboxylate super-durable polyester with an acid value of 25 (Figure 1).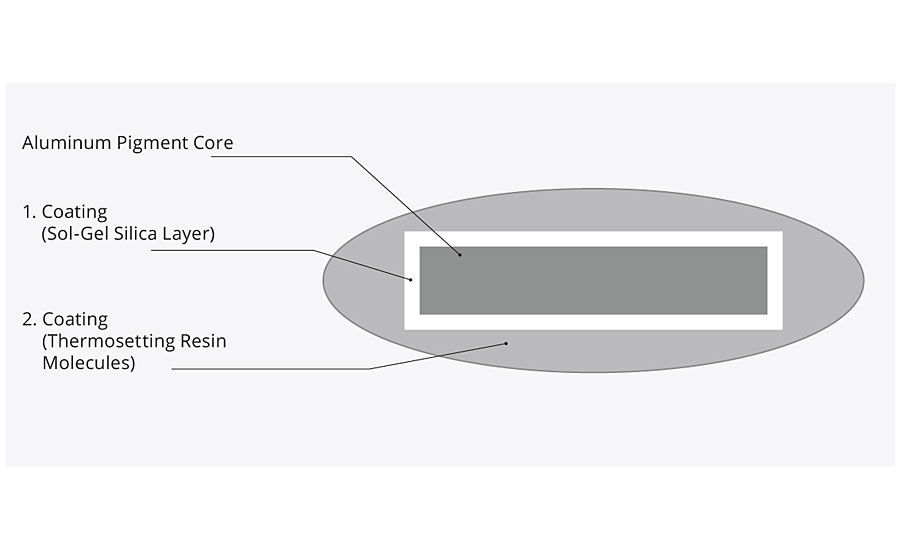 In the powder coating application process, due to the resin component, STANDART PCBF reacts with the powder coating matrix and crosslinks the metallic-effect pigment preparation firmly in the powder coating film. Tests with various epoxy-polyester, polyester-PT910, polyester-primide and polyurethane have shown perfect compatibility.

Gloss and Brilliance: Comparable to Wet Coatings
From an optical point of view, the new pigment preparations enable unique metallic effects for powder coatings. Now it is possible to create high-gloss metallic powder coatings that stand up to any optical comparisons with liquid coatings. With just one powder coating layer, STANDART PCBF pigments provide so-called three-dimensional metallic effects with unique optical depth. Especially exposed to direct light and sunlight, an extraordinary sparkle effect with a high gloss level can be achieved. This was previously only possible by using the wet coating process.
The new pigment also enables the development of recyclable powder coatings without using bonding technology. By using dry-blending processing only, the application properties of powder coatings with these new pigments are comparable with those of bonded powder coatings, especially when it comes to recoverability.
The comparison of the new aluminum pigment preparation with a conventional high-performance aluminum pigment was carried out with pigments of an average particle size of 35 µm in a black polyester powder coating system. The recoverability (powder recycling stability) was tested with pigmentation levels of 1.5% (conventional high-performance aluminum pigment) and 3% (STANDART PCBF 3500 new aluminum pigment preparation).
Each powder coating was applied to a control panel, and then the powder coating was passed through a cyclone and recovered three times in a row. The recovered powder was then again applied on a panel.
The measurement of the dE value (differential value between sample after cyclone test and control panel) resulted in color shade differences of only half a unit for all measured angles for the aluminum pigment preparation (15°, 25°, 45°, 75° and 110°).
Regarding the conventional high-performance aluminum pigment, the differences were much greater. They show a difference of more than three units (Figure 2). The measurement results underline the improved recoverability of a metallic pigmented powder coating using dry blend processing when the new STANDART PCBF 3500 aluminum pigment preparation is used.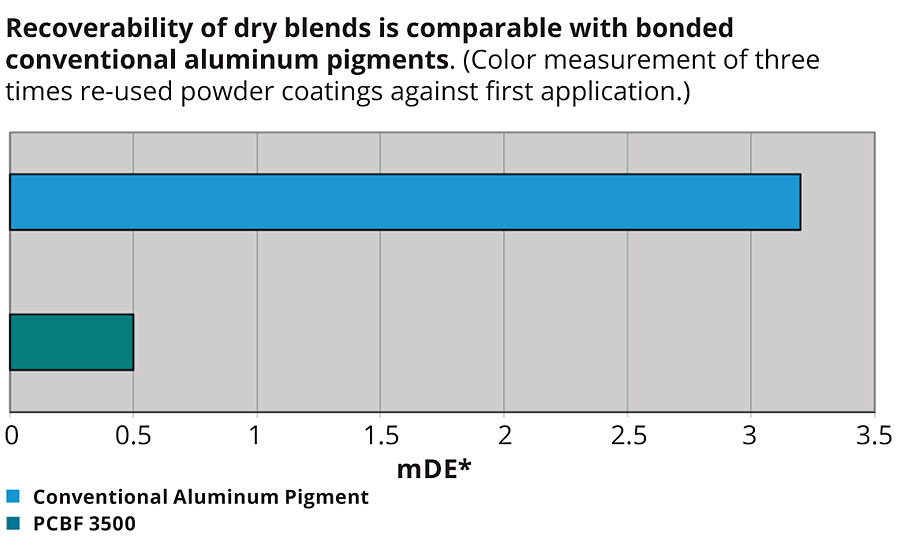 Excellent Workability, No Cloudiness, Strong Resistance Qualities
The new ultra-stable pigment preparation is a stand-alone product; there is no comparable product in the market so far. It shows excellent workability due to improved chargeability, comparable to the powder coating system itself. No cloudiness on the panels is visible when using dry blending processing (Figure 3).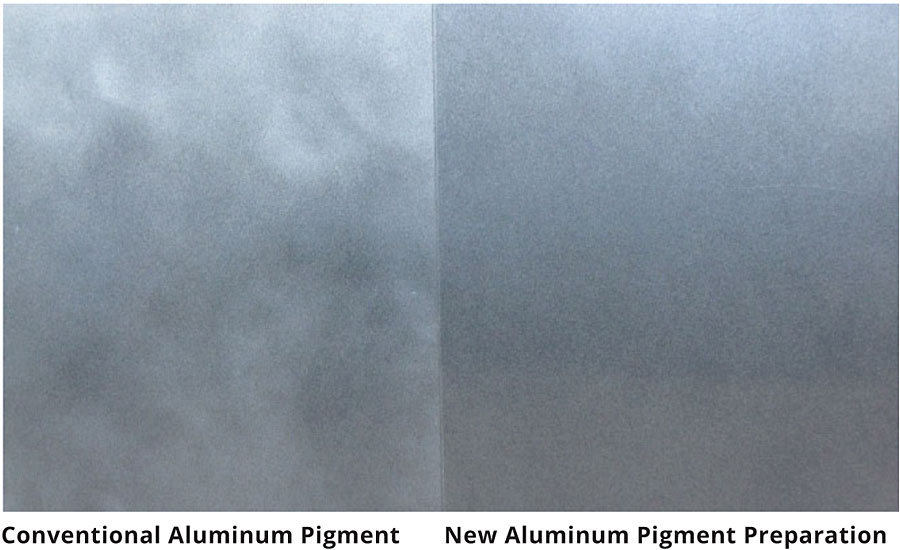 Testing methods like the mortar test (acc. to Qualicoat) proved the superior corrosion resistance properties of this new ultra-stable pigment preparation. STANDART PCBF also shows strong resistance against weather and chemical stresses. In addition, humidity resistance, Florida Exposure and QUV testing led to excellent results.
As the pigment preparations do not require the bonding process, the usual problems with high shear forces during bonding application are no point of discussion. There is no damaging of the protecting encapsulation, which ensures superior corrosion resistance and lasting optical brilliance.
Conclusion
STANDART PCBF is a new pigment generation for producers of powder coatings who do not possess bonding or soft bonding equipment. Two different grades are available, with 35 µm and 50 µm. A finer grade is in development and will soon be available to the worldwide market. 
Note: This article was originally published in Pitture e Vernici in Italy.