The use of elastomeric cool roof coatings with high solar reflecting properties is becoming more and more popular to reduce the need for air conditioning and to keep energy consumption down. To maintain cooling power, the coating must stay clean; this is where silane-modified colloidal silica that enhances the anti-soiling properties play a key role.
Air conditioning accounts for up to 70 percent of the energy consumption in warm, sunny areas of the world. One way to reduce the buildup of heat in buildings is to apply cool roof coatings, which have high solar reflecting properties. They are designed to reflect a significant part of the energy from the sun, often aided by a reflecting pigment like titanium dioxide (TiO2).
A proven concept to improve solar reflecting properties is to use hollow, ultra-low-density thermoplastic microspheres, such as Expancel microspheres. They are used as a filler in elastic waterproof, cool roof and wall coatings to improve several important coating properties. The micron-sized hollow microspheres have a surprisingly strong effect on reflecting solar radiation and reducing the temperature of cool roof coatings. Results from solar reflectance measurements show that the coating system filled with hollow microspheres reflect solar radiation of all incoming wavelengths (Figure 1). To further improve the concept, tests were carried out on dirt pick-up resistance by adding silane-modified colloidal silica, Levasil CC301, to the paint formulation.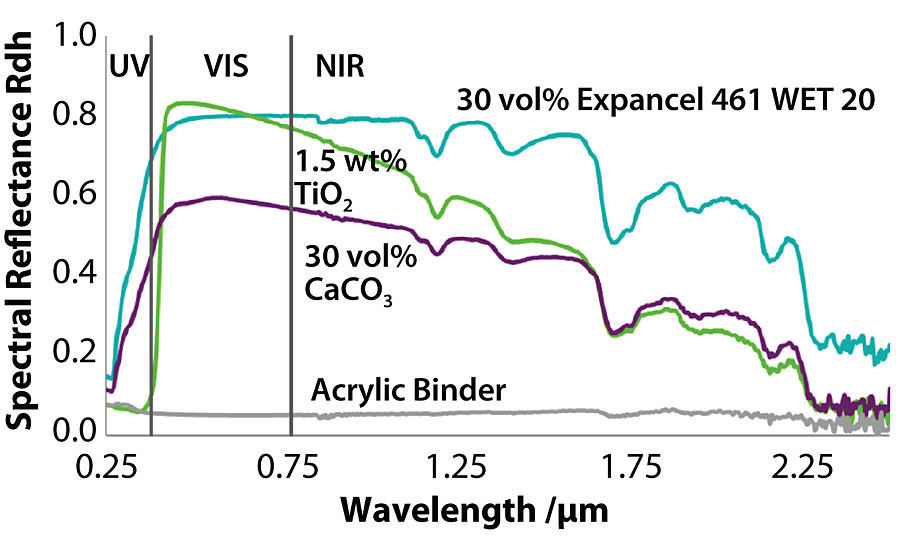 Improved Dirt Pick-Up Resistance with Silane-Modified Colloidal Silica
Elastomeric cool roof coatings are prone to dirt pick-up due to their tacky nature. This leads to increased heat absorption, a need for labor-intensive manual cleaning and a coating that has a reduced service life. Anti-soiling is a very important ability of exterior coatings. The better these coatings resist soiling, the fresher and cleaner they look. Likewise, when they require cleaning, dirt is easily removed by rinsing with water. A paint that can withstand the strain of daily weather and requires less manual cleaning lasts longer. The use of silane-modified colloidal silica to improve dirt pick-up resistance in exterior waterborne coatings has successfully been used for many years, and we can now show that the same effect is found when added to elastomeric cool roof coatings. The anti-soiling effect is achieved without sacrificing the elastic or solar reflectance properties of the cool roof coating nor causing any degradation of the coating film.
So how does it work? The nano-sized silica particles in colloidal silica dispersions have many surface hydroxyl-silanol groups, which are hydrophilic. Thanks to the enrichment of the hard colloidal silica particles in the coating surface you get a less tacky and slightly more hydrophilic surface. This means that water forms a film on the surface, allowing dirt to run off with the water. By adding silane-modified colloidal silica to the formulation, such as Levasil CC301, you get an anti-soiling effect - or in more everyday language - self-cleaning paint.
Dirt pick-up resistance tests were conducted with carbon black and red iron oxide as dirt components, showing that this is efficient towards both hydrophobic (carbon black) and hydrophilic dirt (iron oxide). Coated aluminium substrates were soiled with iron oxide and carbon black water-based pastes. The pastes contained only water and the carbon black/iron oxide pigment without any other additives, and were left to dry for 24 hrs. The dried cakes were first removed under running water with a soft towel. During the second step, the surface was washed with a soft towel, water and soap, in order to simulate rain and cleaning. Trichromatic coordinates were measured initially, and after soiling and washing of the paint surfaces. The total color change value (ΔE) between the "cleaned" and the "pre-soiled" coating was then calculated. Low ΔE values corresponds to high dirt pick-up resistance (Figure 2).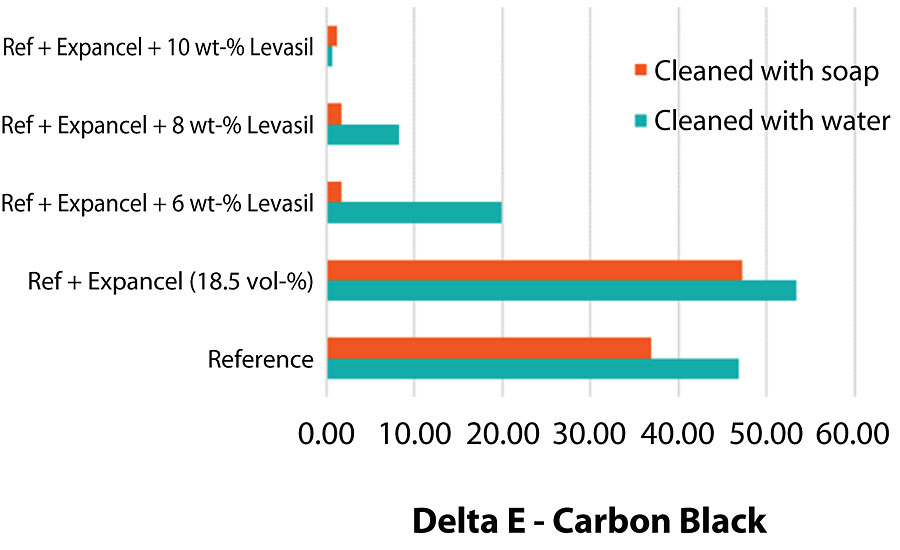 Adherence to the Substrate
Another important factor for elastomeric cool roof coatings is that the coating needs to firmly adhere to the substrate, and expand and contract with it upon temperature changes in order to also seal and waterproof the roof. The addition of silane-modified colloidal silica improves adherence and mechanical properties of the coating without sacrificing coating elasticity and flexibility. Wet adhesion is a valuable property for any acrylic elastomeric waterproofing membrane, since it gives good opportunities to reduce delamination that can occur over time.
Wet and dry adherence tests were made according to test methods ASTM D903 and ASTM C794. A coating was applied by brush to a galvanized steel substrate, and a 2.5-cm-wide strip of cloth was then placed on top, and another coating layer subsequently applied. Drying time was 14 days at 23 °C at 50% relative humidity, and the total coating thickness was ca 500 μm. For the dry adhesion test, the strip was pulled backwards at a 180° angle at a traction rate of 50 mm/min, and the force required to do so was measured. The wet adhesion test was carried out similarly, but after the sample had been immersed in tap water for 168 hours at ambient temperature (Table 1).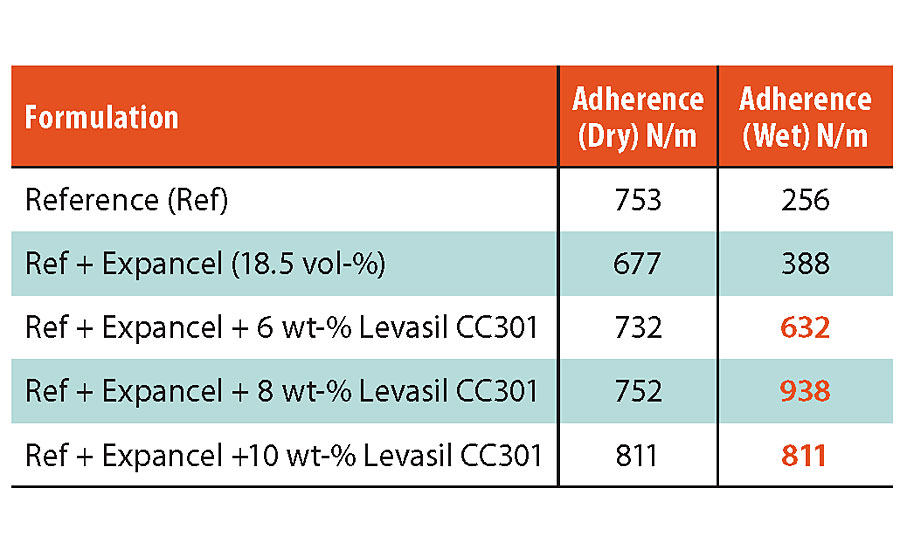 Combining for Synergy
Combining Expancel microspheres and Levasil colloidal silica products in elastomeric waterproof and cool roof coatings gives several synergies. High elasticity and excellent solar reflectance are combined with outstanding dirt pick-up resistance in a cost-efficient manner. You get strong improvement in adherence of the coating without sacrificing coating flexibility or reflectance for both fresh and aged coatings, and a long-lasting effect on dirt pick-up resistance.
For more information, visit colloidalsilica.nouryon.com and expancel.nouryon.com.