Well-known paint brand Valspar and the AstroTwins recently partnered up for a new challenge. The two companies collaborated to bring a unique experience into the home improvement/DIY space — matching each zodiac sign with a newly launched color, and introducing a "power room" and "astrological accents" into the mix. Read below to see how you can turn your home into your calming oasis or your vibrant gathering place with the perfect color shades that match your star sign.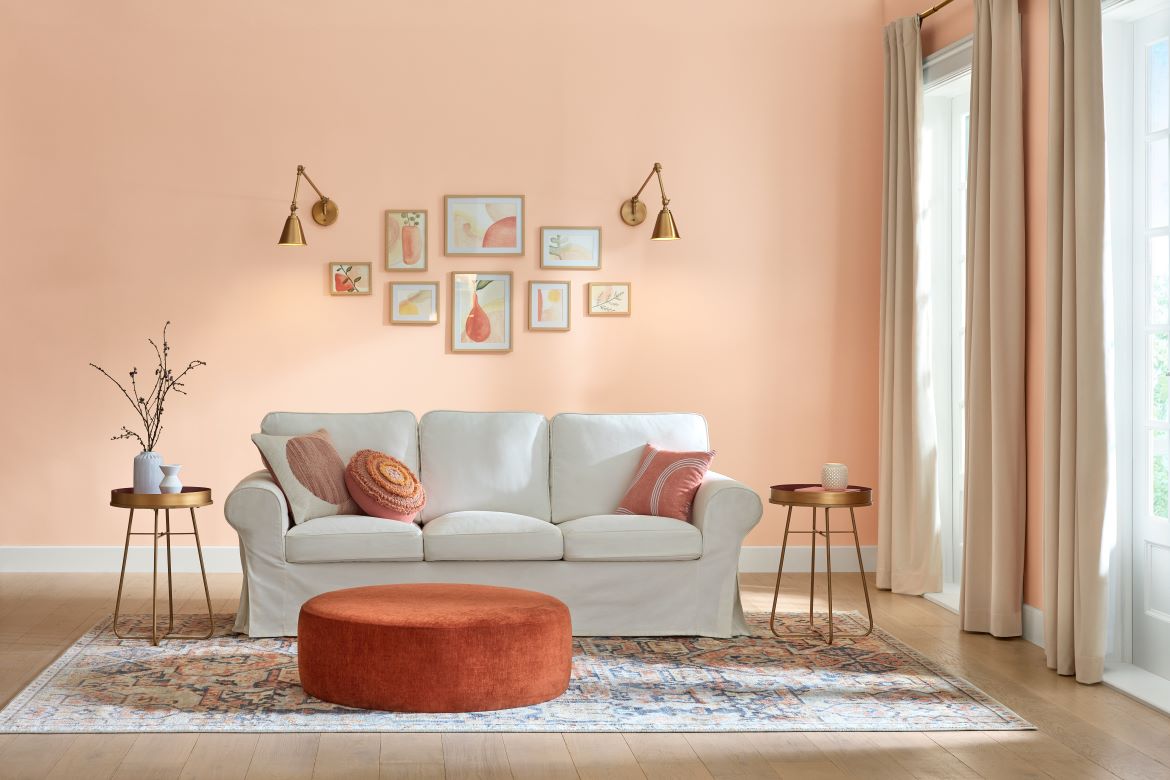 Aries 2022 Color of the Year: Sunset Curtains
A transformational year is ahead for you, Aries! In 2022, you'll release parts of your past while creating space for new opportunities to flow in. But here's where things are different: Rather than racing ahead at your usual supersonic pace, you must first slow down, relax and reflect.
Warm and soothing Sunset Curtains will support you in contemplating your next major move. Bask in this tonal tranquility and have faith: It won't be long before a creative spark becomes a flame!
Aries 2022 Power Room: Bath
Even though you're a fire sign, in 2022, the best ideas come to you near water. The bath is your power room this year, so turn yours into a sanctuary. Sunset Curtains is the perfect hue to ease your mind into a meditative state. You'll get the creativity flowing whenever you turn on the taps!
Astrological Accents: Rustic Oak and Fired Earth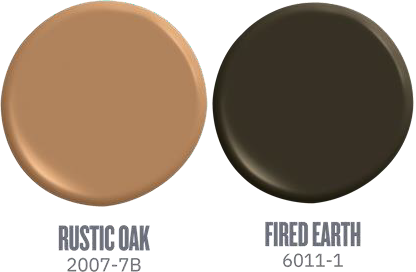 You have some big decisions ahead in 2022 as you step forward into your next phase of life. When you want to fuel your passionate personality, fan the flames with Rustic Oak or evoke a solid hearth with a dark hue like Fired Earth.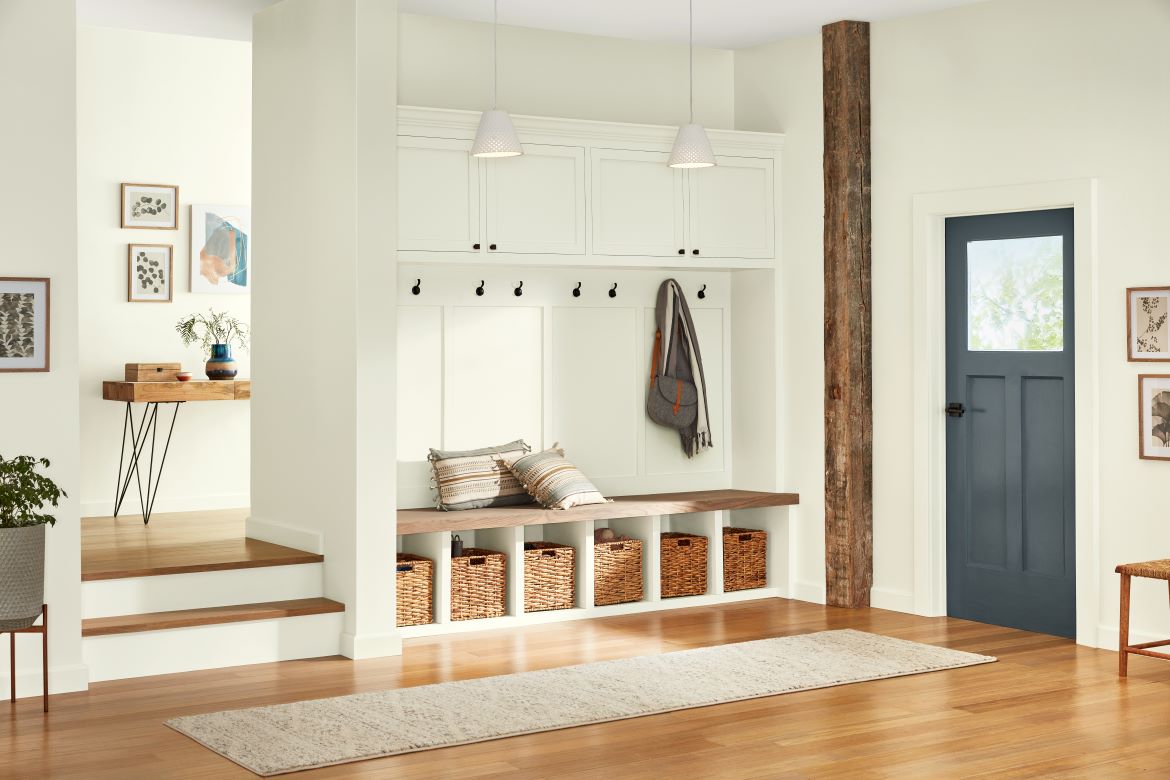 Taurus 2022 Color of the Year: Gilded Linen
Togetherness is your keyword for 2022, Taurus. After a year of hard work, you're so ready to lift your nose from the grindstone. Whether you're mingling for fun or networking for professional purposes, there won't be a shortage of lively interactions ahead. Set your GPS for cosmic connection with Gilded Linen, a bright, luxurious neutral that goes with everything (and everyone). This clean, cozy color makes spaces feel refreshingly open — perfect for drawing your inner circle together for some long-overdue bonding.
2022 Power Room: Entertainment Area
Break out the serving platters, movie projector, board games — whatever! You're the "host with the most" in 2022. Gilded Linen brightens your entertainment area and opens up the space to welcome guests. Cook up some legendary fun for your pod and you'll keep spirits high.
Knowing you, Taurus, it's bound to become a tradition!
Astrological Accents: Blanched Thyme and Rustic Oak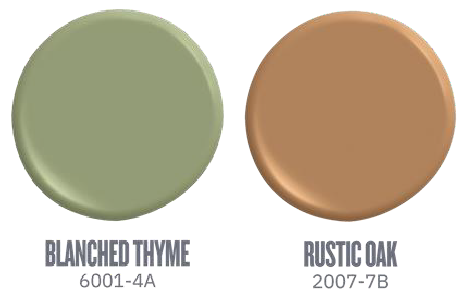 As one of the zodiac's earth signs, you like to feel rooted and secure. That's how you provide for the ones you love, after all. Bring the outdoors in with the woodsy vim of Rustic Oak or revitalizing vigor of Blanched Thyme.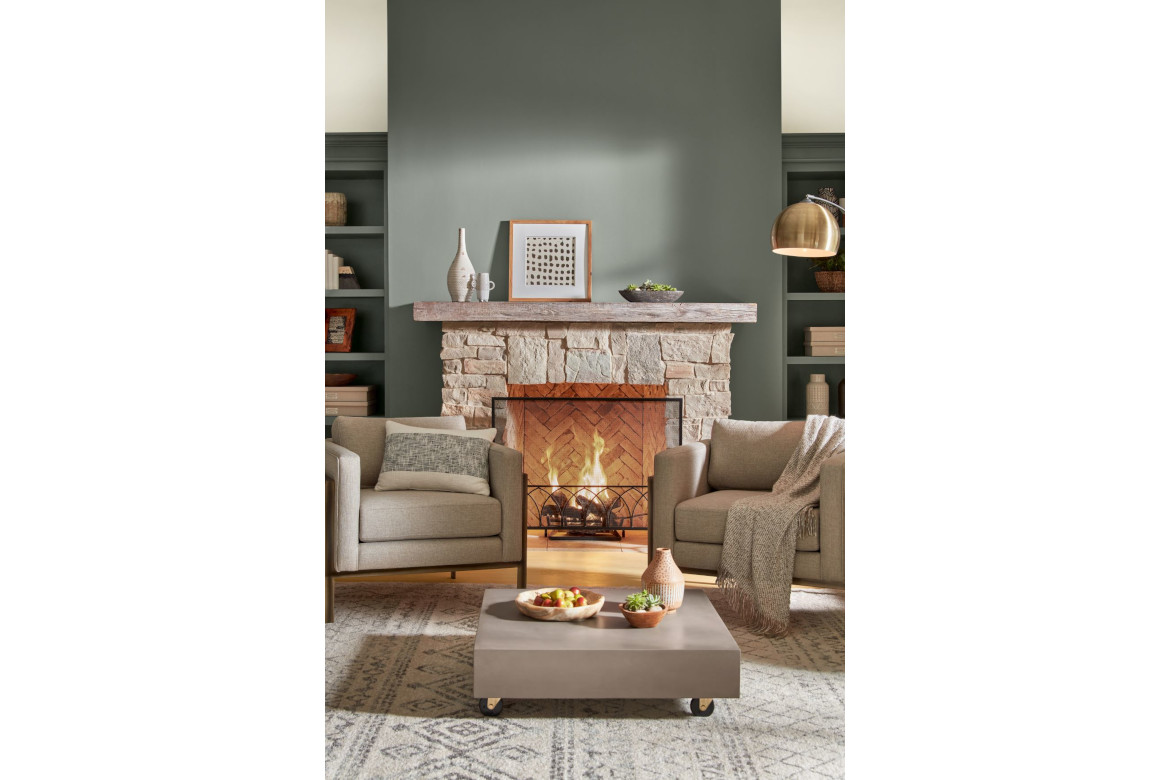 2022 Gemini Color of the Year: Grey Suit
Step up to the plate! 2022 will be a year of leadership and success as you ascend to unprecedented heights. As an air sign, you'll happily rise to the occasion, but remember one essential tip: To be the boss you can't do everything alone. Tap into your collaborative sign's superpowers this year. Find the right people for your team and keep momentum alive with your enthusiastic energy. Grey Suit is the ideal color for your 2022 "command center." Yes, this hue means business, but it also has warmth and versality, a combination that's signature Gemini.
2022 Power Room: Home Office
First project of the new year: setting up (or sprucing up) your home office. To harness the ambitious magic of 2022, you need to focus like a laser. And *sigh* that means screening out your favorite distractions, like chitchatting with the "visitors" who drop by spontaneously. Grey Suit helps you stay calm and clear-headed as you get the job done, whether you're working solo or inviting roomies in for a brainstorming session.
Astrological Accents: Fired Earth and Gilded Linen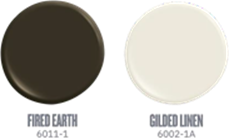 As a versatile Gemini, you're a study in contrasts. Sometimes you'll find the grey area, other times, you prefer to keep things black-and-white. From the depth of Fired Earth to the glow of Gilded Linen, experiment with warm and nuanced neutrals for the darker and lighter ranges of the color spectrum.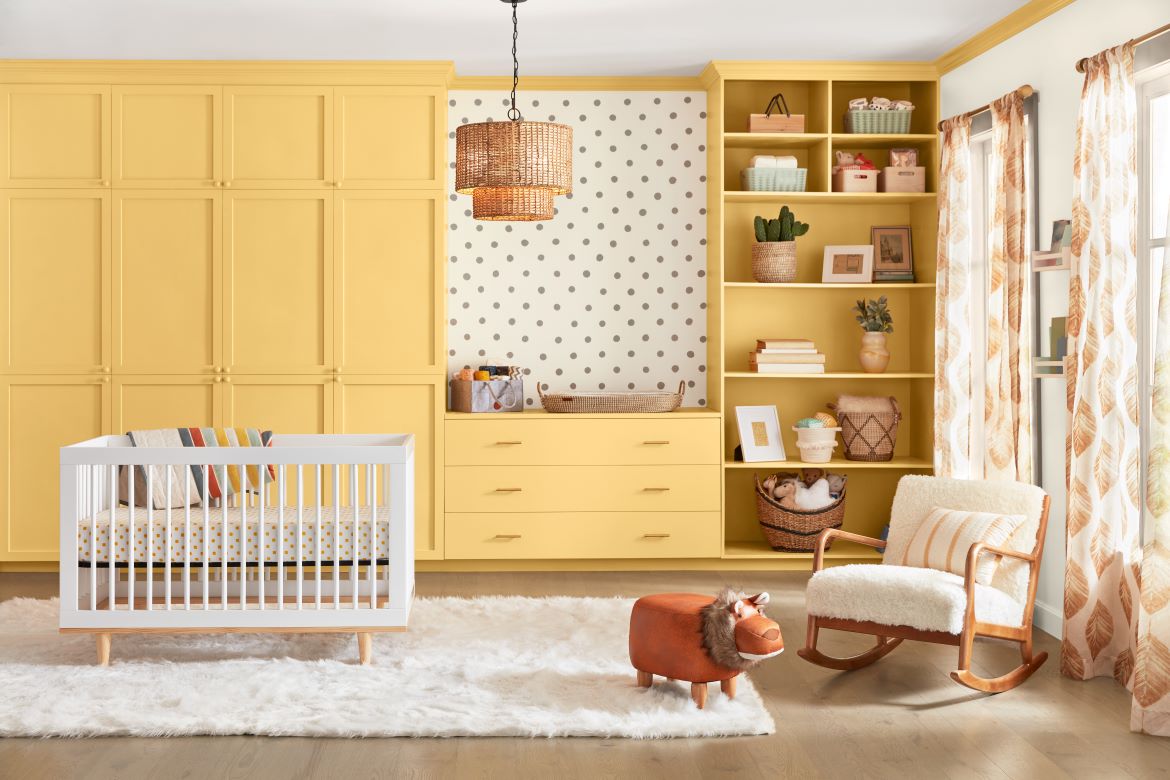 Cancer 2022 Color of the Year: Delightful Moon
Ready, set, explore! New horizons are calling you in 2022, which will be a year of epic growth and adventure. When you're not traveling to new vistas, you'll expand your horizons through study and social activities. Under these venturesome skies, you might even dabble with starting a business. Yes, Cancer, you'll be out in the world a lot more this year; but home is still where your heart is. Delightful Moon brings 2022's uplifting energy indoors, evoking the spirited, playful energy you're longing for.
2022 Power Room: Living Room
Pile up the pillows! Your living room will get tons of traction in 2022 as you gather with loved ones to exchange ideas, share travel tales and maybe even host a book club. The golden cast of Delightful Moon sets a vibrant mood. Leave lots of room to spread out if you can! This year, multitasking could mean working on a DIY project while you're hosting a movie night.
Astrological Accents: Orchid Ash and Sunset Curtains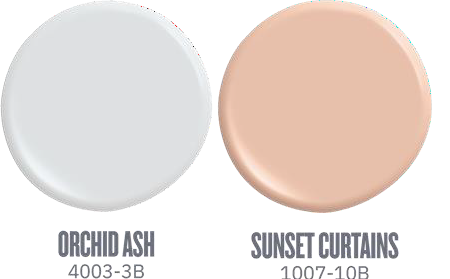 What does a summer-born Cancer adore as much as the moonlit sky? A dip in the sea or a stroll along the shoreline. These beach-bleached hues — Orchid Ash and Sunset Curtains — are two colors that will soothe a water sign's soul.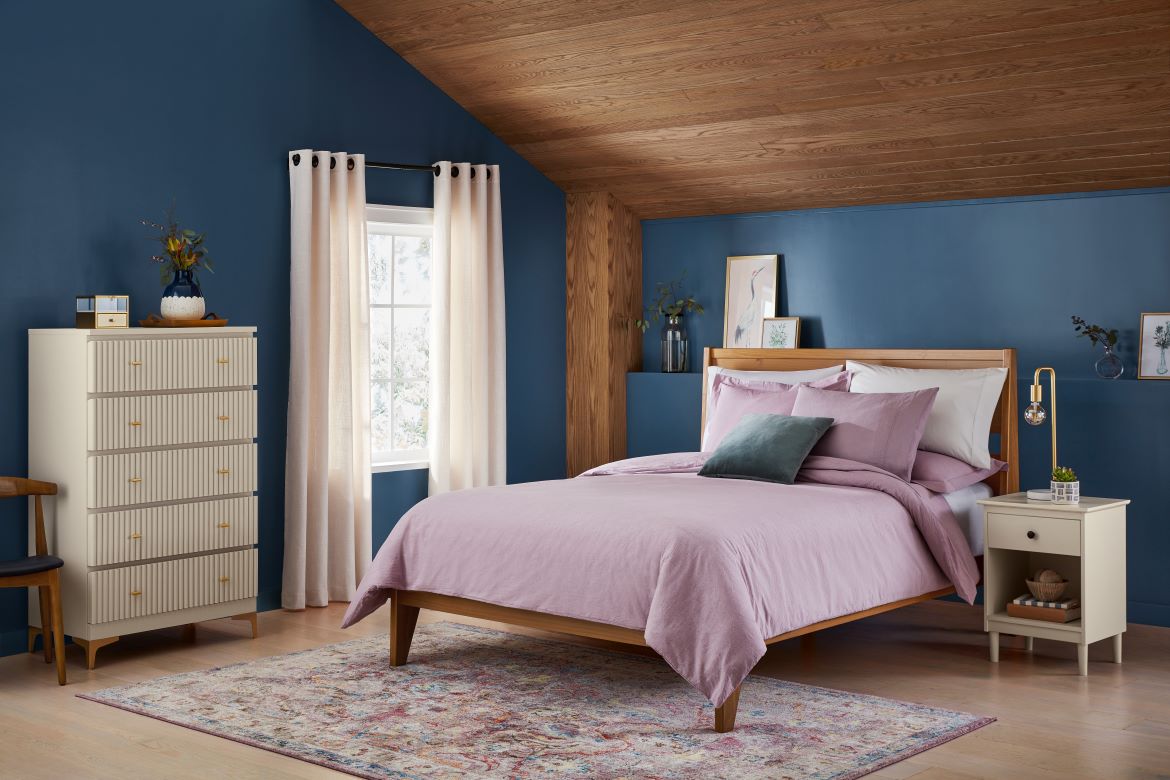 Leo 2022 Color of the Year: Mountain River
You'll never stop soaring, Leo, but in 2022, you're also going deep. With a focus on strengthening relationships, a passionate, powerful year awaits. That should be music to your adventurous ears, but here's where things are different: In 2022, your private life will be as rich as your public one. Slip behind the scenes to bond with loved ones or to dip into the muse's waters. As you luxuriate against the dark and dreamy backdrop of Mountain River, a current of divine inspiration rushes in. Take those ideas to the bank; 2022 is also a year for Leos to manifest abundance!
2022 Power Room: Bedroom
When you're not basking in the limelight, you'll relish low-key time in your lair this year. Set the mood for relaxation with the soothing calm of Mountain River. Turn your bed into a throne with luxurious blankets and bespoke bolsters — and keep a journal on the nightstand. In 2022, the best ideas may come to you in your dreams!
Astrological Accents: Rustic Oak and Blanched Thyme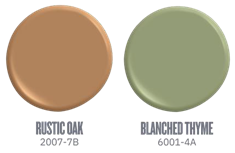 As you refill your creative tanks, watch what springs up along the banks of your imagination! Stimulate the growth with swashes of colorful tones like Rustic Oak or Blanched Thyme, which hearken the regenerative power of nature.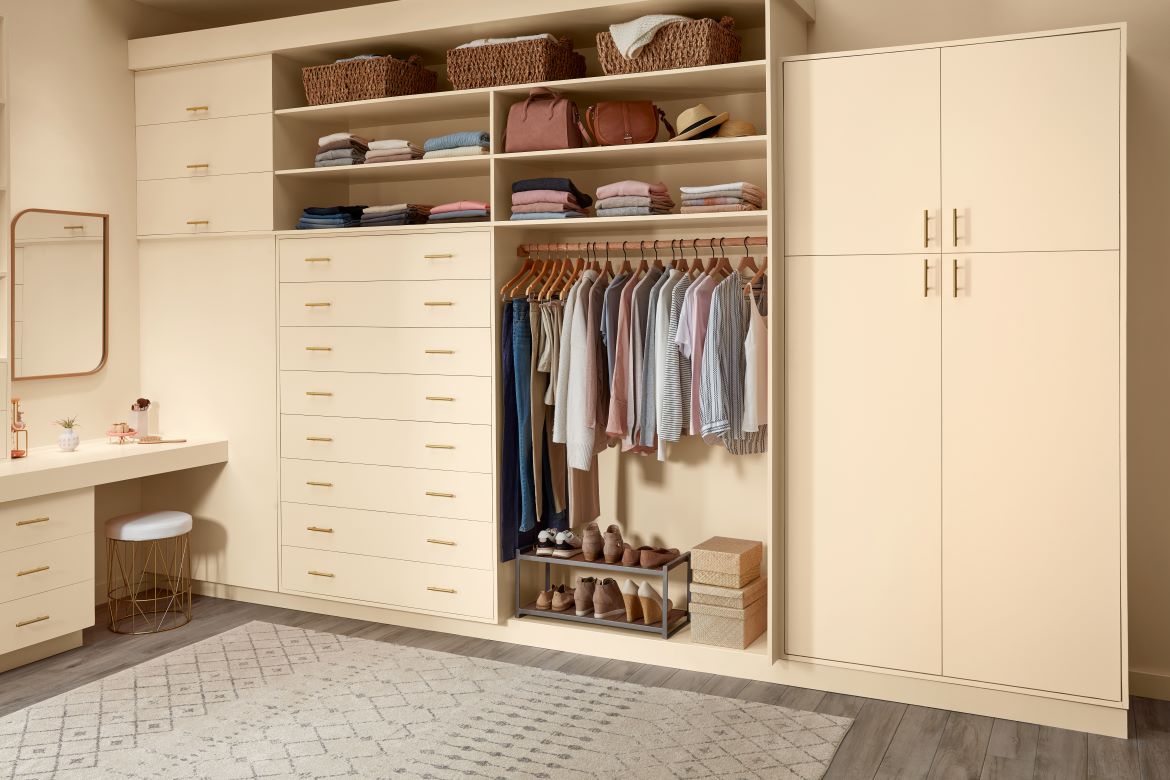 Virgo 2022 Color of the Year: Subtle Peach
Pair up for the win! For Virgos, 2022 is a year of partnerships — the key to bringing your life back into its happiest balance. Whether you're seeking a romantic mate or a plus-one for a passion project, don't cast for a clone! As an earth sign, you're a creature of habit, but it's time to mix it up. Stretch beyond your comfort zone and find a complementary force. Subtle Peach is the harmonizing hue that suits you this year. It blends beautifully with a wide range of colors and it's bright enough to hold its own. Think of yourself in a similar way, Virgo, and you'll be amazed by the incredible personalities you attract.
2022 Power Room: Dining Area
The fastest way to a Virgo's heart is always through your stomach. But it's not just a homemade meal that gets the loving vibes flowing; it's also the company gathered around your table. A warm and inviting tone like Subtle Peach turns your dining area into the soul of your home. Whether you're setting out snacks or cooking a five-course meal, this hue is sure to stimulate appetites and great conversation.
Astrological Accents: Orchid Ash and Lilac Lane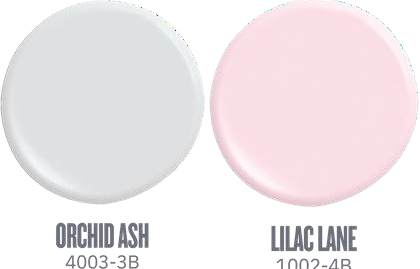 Modest Virgos know that subtlety is an art form. Try soft pastels like Orchid Ash or Lilac Lane for a sophisticated pop that is both sweet and glamorous.
Libra 2022 Color of the Year: Orchid Ash
Health is wealth for Libras in 2022, as the stars set the stage for a year of renewed vitality and abundance. With your primary focus on work and wellness, you need a healthy balance of self- fulfillment and self-care. Stay centered by eating clean, working out and organizing your daily tasks into routines. As an air sign, you like to breeze about freely, but watch the clock! This purposeful year is all about devoting yourself to meaningful activities. How to keep your cool as you juggle it all? Keep it simple. Cool and breezy Orchid Ash brings a refreshing reminder that less is more.
2022 Power Room: Workout Zone
Your body is your soul's address on Earth, Libra, and your home should reflect that ethos. Clear space for a workout zone and bring in fresh-start energy with Orchid Ash, a color-infused white. Whether you're doing high-intensity interval training or soothing yoga stretches, you'll be more inspired to exercise when the area is aesthetically pleasing.
Astrological Accents: Mountain River and Gilded Linen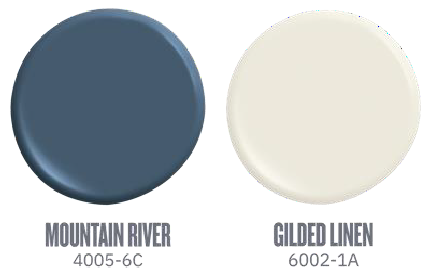 No more drama! Serene Libras are ready for smooth sailing in 2022. Nautical-inspired hues like Mountain River and Gilded Linen remind you to stop and go with the flow when you find yourself swimming upstream. There will always be waves, but this year, you're learning to ride them by prioritizing your own inner balance.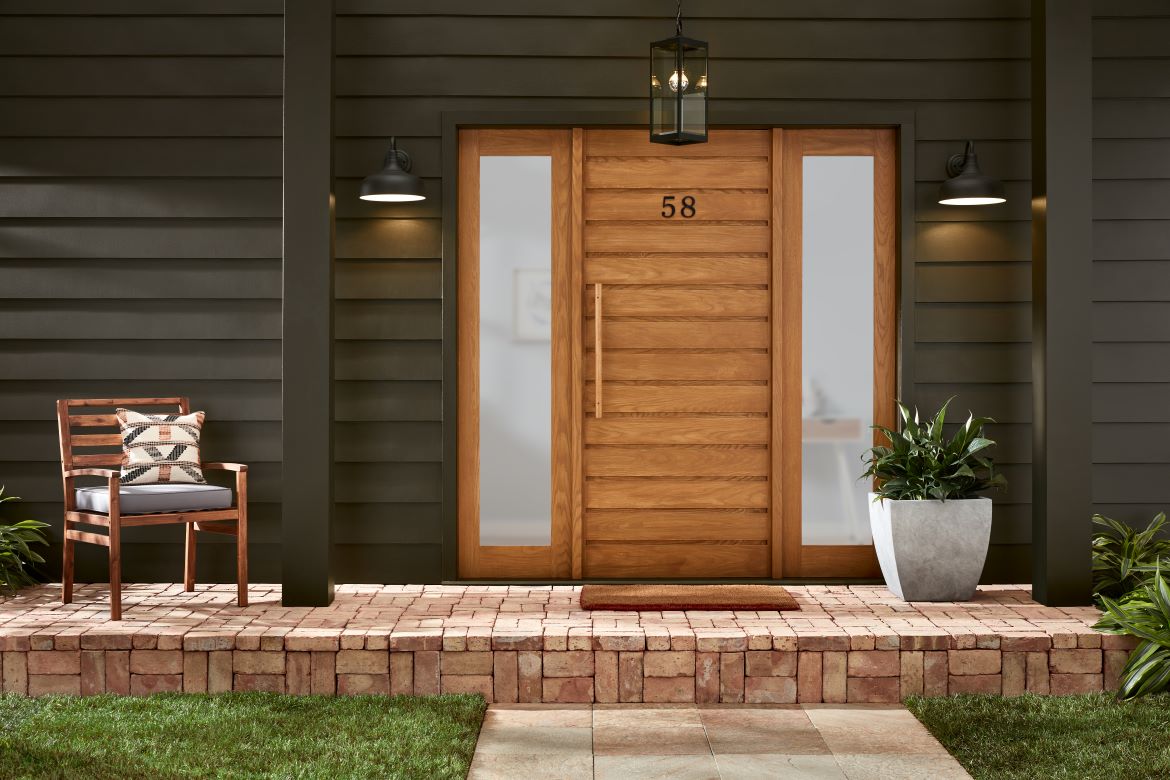 Scorpio 2022 Color of the Year: Fired Earth
Passion, fame, self-expression! You might not even recognize yourself in 2022, as the planets lure you out of your private cove and into the public eye. There's always been a dramatic side to your personality, Scorpio, and this is the year to reveal it to the world. Fired Earth puts a sophisticated spin on your signature noir. This timeless hue is warm and approachable — perfect for a year when you want to magnetize people into your orbit! And yes, Scorpio, that applies to every realm, from romance to business to your rich creative life.
2022 Power Room: Entrance
Mysterious Scorpios know how to slip in and out of a room like an undercover agent, but in 2022, it's time to make a dramatic entrance! (Or in some cases, an exit.) Since the way you begin things often determines the way they'll end, pay special attention to the entryway of your home. Clear clutter and redecorate your foyer or front door area, with a goal of inviting the best possible energy into your space.
Astrological Accents: Rustic Oak and Orchid Ash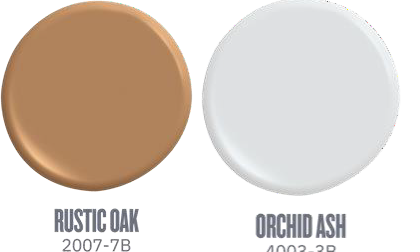 Paint It Black by The Rolling Stones is a Scorpio theme song, if ever there were. As one of the zodiac's esoteric water signs, you love a deep, dark atmosphere! When you want to brighten things up, reach for elevated warms and cools like Rustic Oak and Orchid Ash.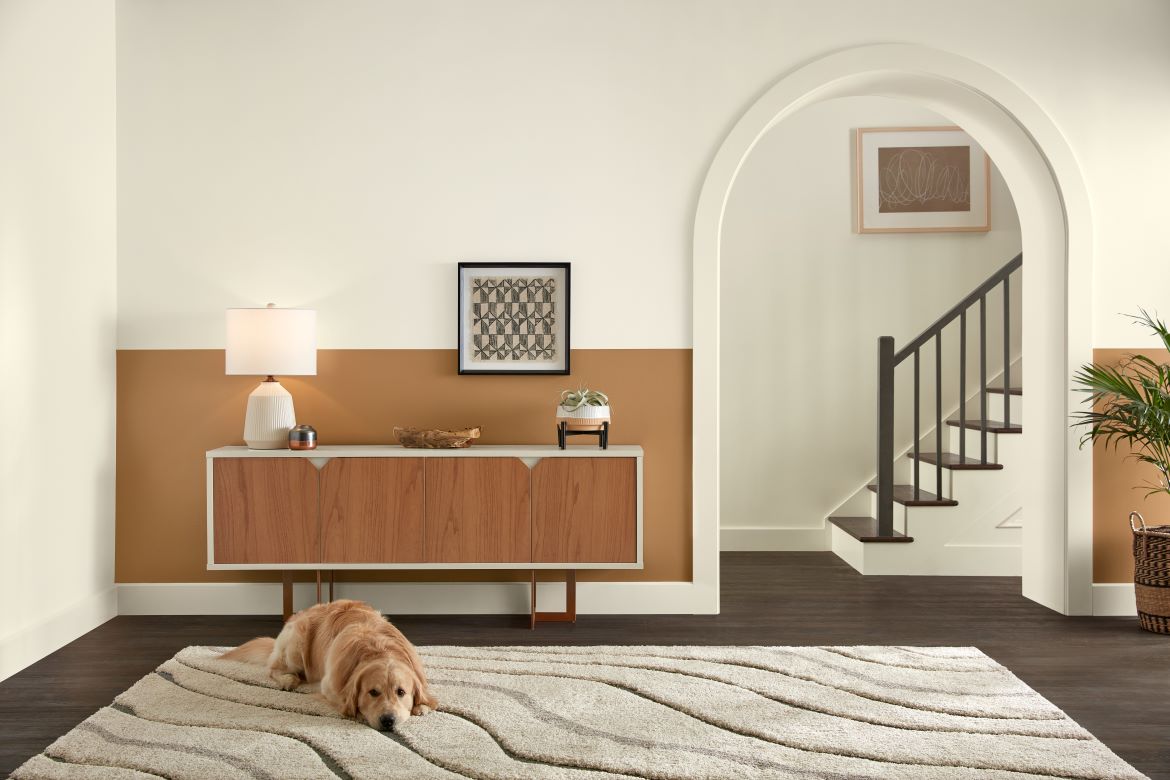 Sagittarius 2022 Color of the Year: Rustic Oak
Even the zodiac's traveler needs to put down roots. In 2022, your favorite journey may be the one that takes you through your own front door and into your favorite reading nook. This cozy, domestic year blesses you with a comforting window of time to get centered. Slow down your frantic pace as you nurture yourself with rest and healthy food. Balance your budget and create a sense of security for your whole life. Like the towering tree this tone is named for, Rustic Oak supports the grounded energy you need to embrace. It's not that you won't explore the wider world. But first, how about a relaxing cup of tea?
2022 Power Room: Family Area
Although you have friends in every port, give your inner circle priority in 2022. During this nostalgic year, the family area of your house will be warmed by VIP company. Anchor this area with the nostalgic tones of Rustic Oak. This year, those who know you best are the ones you'll love being around the most.
Astrological Accents: Orchid Ash and Sunset Curtains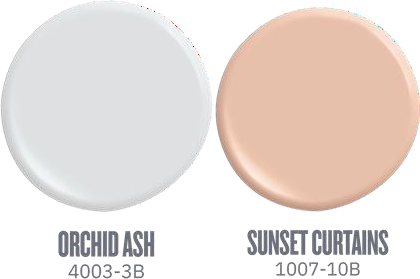 As a fire sign, you hate to feel contained. Even when settling down on your favorite corner of the sofa, you'll probably be staring out the window, dreaming about your next adventure. Summon the vastness of the open sky with Orchid Ash or tap into the warm glow of dusk with Sunset Curtains.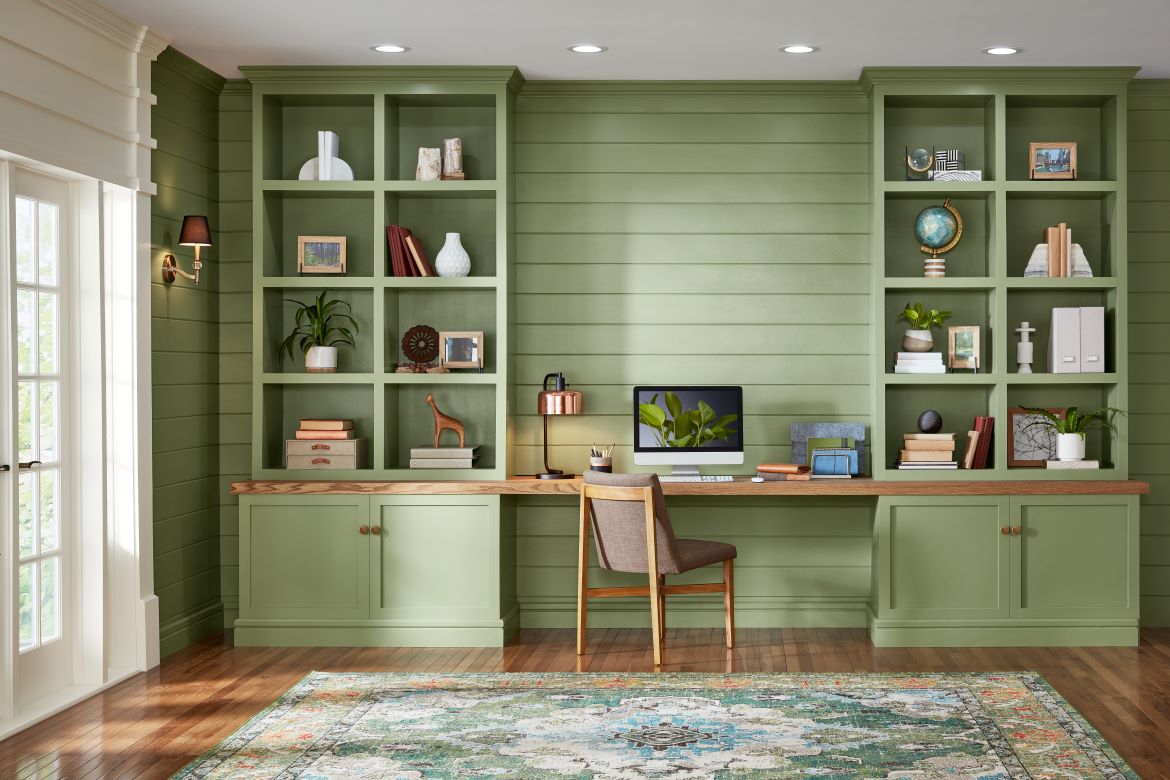 Capricorn 2022 Color of the Year: Blanched Thyme
Variety is the spice of your 2022, Capricorn, a year that was made for dabbling and exploring. What a refreshing change of pace! As a devoted and traditional earth sign, you don't always let yourself play so freely. Rather than sticking to tried-and-true routines, explore cutting-edge techniques. Collaborate with a wide range of people; you'll have a blast! Blanched Thyme supports all the sprouting connections that crop up this year as you add new faces and flavors to your life. Pro tip: Excitement will heat up in a flash but remember to let things evolve organically too!
2022 Power Room: Guest Area
Break out the spare sheets and blankets! Whether they're bunking on a pull-out sofa or a spare room, a rotating cast of friends will "check in" to Casa Capricorn this year. Blanched Thyme is a naturally grounding hue that will keep your guest area inviting and calming — a blessing on hectic days when you have a full house!
Astrological Accents: Fired Earth and Rustic Oak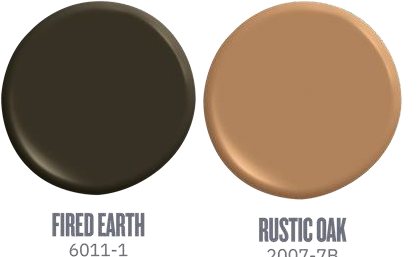 Even when your spirit is soaring, you never lose your connection with the practical part of your personality. Nature-inspired hues, like Fired Earth and Rustic Oak, keep your feet on solid ground, even while your head is in the stars.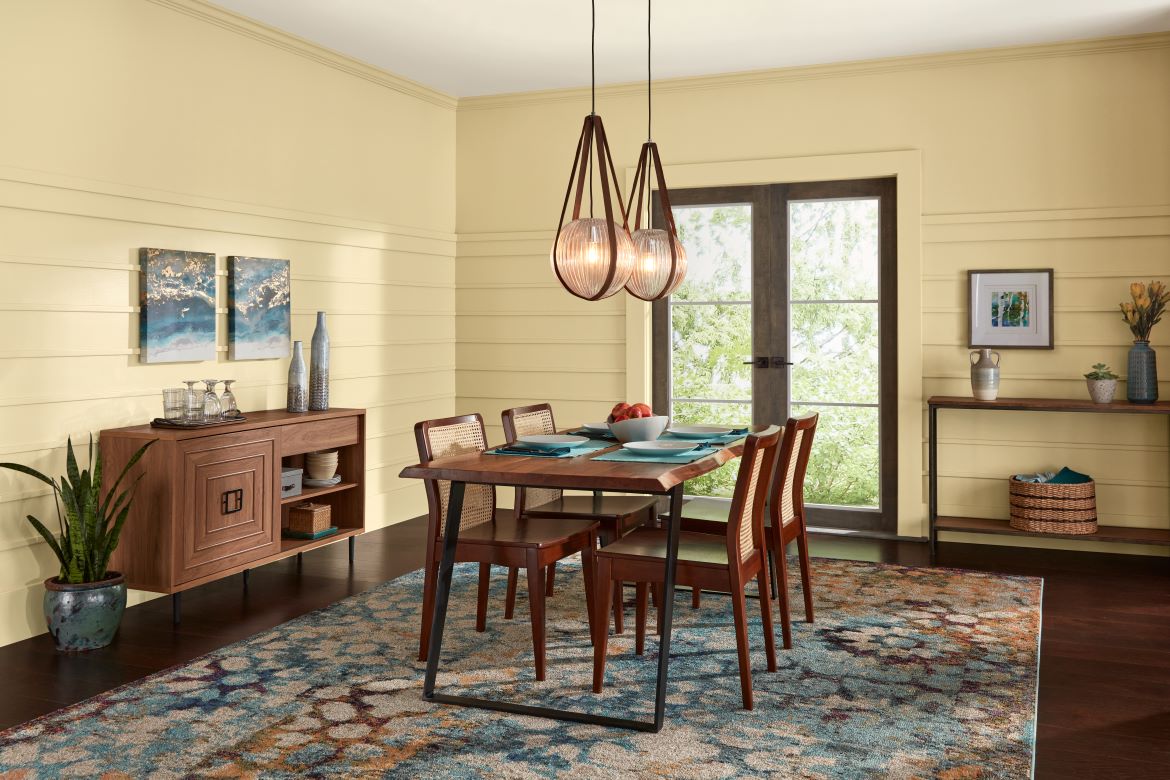 Aquarius 2022 Color of the Year: Country Charm
You've got a million genius ideas swirling in your head, Aquarius, and 2022's planets help you bring the best ones to life. This will be a productive year, fueled by practical magic. Plan to roll up your sleeves because some hustling is required to meet your goals. But if you simplify your schedule, you'll have plenty of time to relax—something you'll relish. While there won't be a million highs and lows this year, the steady beat will help you get things done. The familiar warmth of Country Charm might be softer than your usual go-to hues. But after a couple years of wildly experimenting, it feels so stabilizing to spin the classics!
2022 Power Room: Meditation Area
Where is your Zen zone, Aquarius? With so many practical matters to focus on in 2022, clearing your head will be essential throughout the days. A meditation area is always a must for air signs, inviting you to step away and take some deep, calming breaths between tasks. The relaxing familiarity of Country Charm will help you get back to center during your timeouts.
Unroll the yoga mat and do some stretches. Ahhh, that's better.
Astrological Accents: Blanched Thyme and Lilac Lane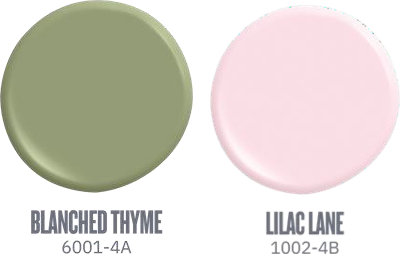 Calm, cool and collected? Yes, your rebellious sign will take all three in 2022, but that won't stop you from shaking things up. The green of Blanched Thyme and the pop of Lilac Lane's pink are colors that show off your range and your edge.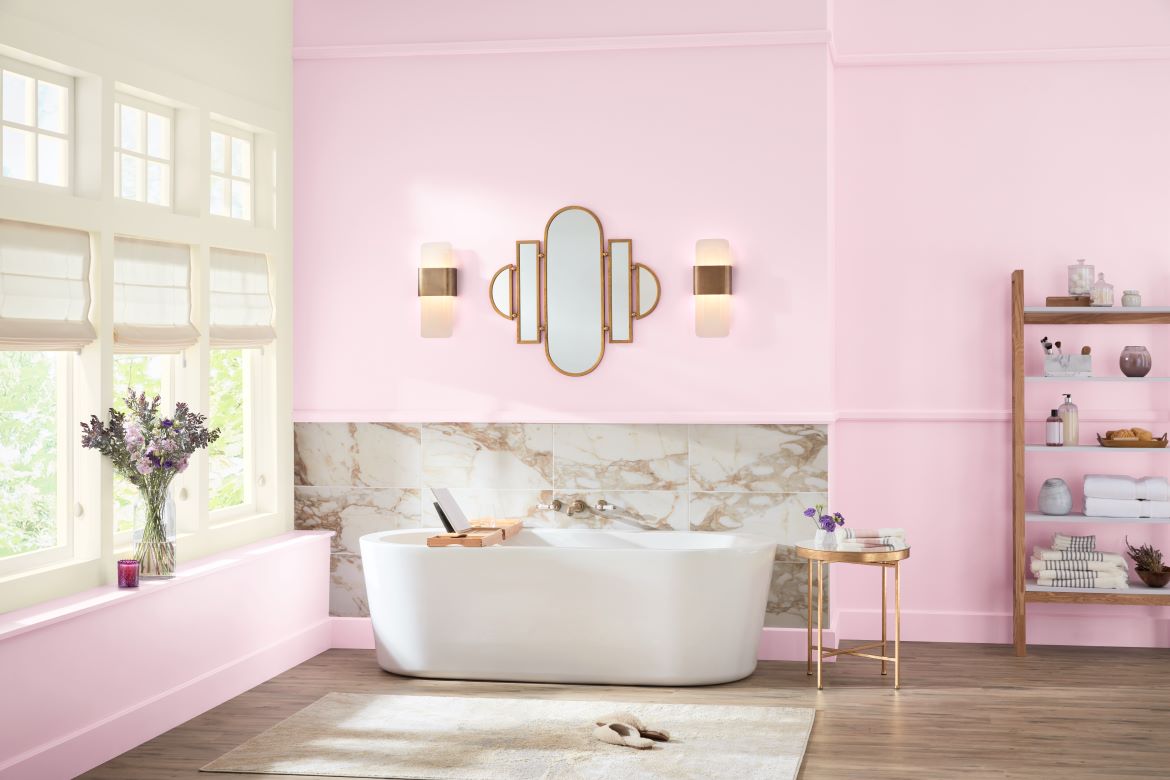 Pisces 2022 Color of the Year: Lilac Lane
How exciting, Pisces! 2022 is a time of optimism and renewal for you. For the past couple years, you've been submerged in deeper waters. Now, you're breaking through the surface and into the sparkling sunlight. You may feel very much like a fish out of water as you splash around in different arena, following whatever (and whoever) piques your passions. A playful pastel hue, Lilac Lane mirrors the lighter, brighter vibration of your 2022. Soften your defenses and open your heart! This could be one of the most memorable years you've had in the longest!
2022 Power Room: Kitchen
What are you cooking up, Pisces? The kitchen is your playground in 2022. Paint yours a fun and
uplifting hue like Lilac Lane, perfect for sampling new flavors and turning up the volume on your personal interests. There's a reason crowds gather in this room at parties—and with the upbeat energy you'll emit this year, people will flock to the Pisces Palace on a regular basis.
Astrological Accents: Grey Suit and Fired Earth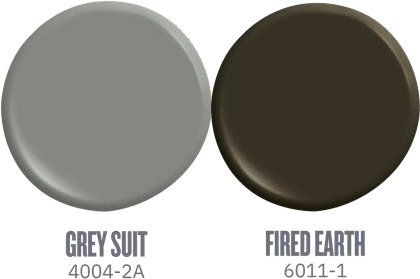 You might be as sweet as candy, Pisces, but during this independent year, you won't melt easily under anyone's spell. In 2022, you're the coolest one in your "school," so you'll also resonate with elegant classics like Grey Suit and Fired Earth.