SAN DIEGO — More than 300,000 different metals, plastics, coatings, cements and other forms of material create the important underpinnings of our modern society. In recognition of the vital role that scientists at universities and other research institutions play in advancing chemistry and material sciences research, AkzoNobel, in collaboration with the American Chemical Society (ACS), has launched a major new science award. The new award was announced at a press conference on March 27 during the ACS Spring 2012 National Meeting and Exposition in San Diego, CA.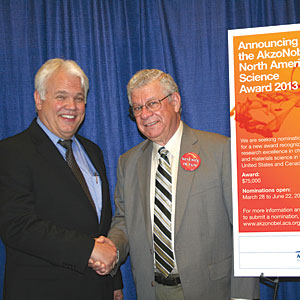 Dale Steichen, Vice President of Research, Development and Innovation for AkzoNobel (left), and Bassam Shakhashiri, President of the American Chemical Society (right).
The new biennial AkzoNobel North America Science Award aims to recognize outstanding scientific contributions by an individual in the fields of chemistry and materials research conducted in the United States or Canada. The award winner, to be announced in February 2013, will receive a $75,000 cash prize honoring their achievements. The call for nominations will be conducted online at the ACS website at www.akzonobel.acs.org and will be open from March 28, 2012, through June 22, 2012. 
While AkzoNobel will provide the funding, nomination guidelines and the scope of the areas of science covered by the award, the ACS will have an independent role in administering the award process and selecting the AkzoNobel North America Science Award recipient. This collaboration between AkzoNobel, the world's largest global coatings company, and ACS, the world's largest scientific society, represents a powerful example of how corporations and nonprofit organizations can work together to recognize the people helping to create a more sustainable future through scientific research.  
A presentation of the 2013 AkzoNobel North America Science Award will be made at the ACS's 245th National Meeting & Exposition held April 7-11, 2013, in New Orleans, LA, where the ACS typically recognizes more than 60 scientists and engineers with 56 of its national awards. 
"Materials are the substances that make up everything in the world that we use, touch, see and experience in everyday life," said Bassam Z. Shahashiri, Ph.D., ACS' 2012 President. "Research in materials science has triggered creative waves of invention and innovation, and prompted technological breakthroughs that once were inconceivable. AkzoNobel's generosity and foresight will recognize those achievements and foster further progress in the years ahead." 
The AkzoNobel Science Award was first bestowed in the Netherlands in 1970, and then extended to Sweden (1999), China (2010) and the United Kingdom (2012). Now it is being further extended to North America with an award in 2013. 
Guided by the principles and practices of sustainable chemistry, the AkzoNobel North America Science Award is bestowed for scientific research with proven or potential significant societal or user benefits. 
A call for nominations will be issued biennially in Chemical & Engineering News, ACS's weekly news magazine, on the ACS website at www.akzonobel.acs.org  and through the relevant ACS technical divisions. 
For more information, visit www.akzonobel.com/scienceawards.