SHILDON, England – Special-effect coatings by
PPG Industries'
aerospace coatings group enabled Virgin Atlantic Airways to have the unique reflectivity and bright, vibrant color the airline's design and engineering teams wanted for its new livery.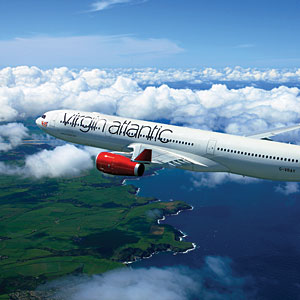 The airline has taken delivery of the first new aircraft – an Airbus A330 – painted with DESOTHANE® topcoats by PPG Aerospace colored with ANDARO® special-effect pigment. The proprietary PPG pigment was used in coatings that create the red tail and engines and the aubergine Virgin Atlantic lettering across the aircraft. The fuselage is painted with Desothane topcoats in high-sparkle silver mica.
Traditional mica aircraft coatings have about 30 percent reflectivity, while coatings with Andaro pigment reflect about 90 percent of visible light, according to Alex Reid, PPG Aerospace Account Manager at the North Europe application support center in Shildon, England.
Virgin Atlantic's design team came to PPG with a vision for the coloring, and the company adapted the Andaro pigment technology for aerospace coating applications. Desothane topcoats with Andaro pigment will be used on all new aircraft delivered to Virgin Atlantic and are being used for repainting its existing fleet with the new livery.