WAUSAU, WI - Linetec earned a 2012 Wisconsin Corporate Citizenship Award in the "Environment" category. It was one of only five in the state to win the award, and the only company honored in this category for "positive programs in place such as pollution reduction, recycling, and energy-saving measures."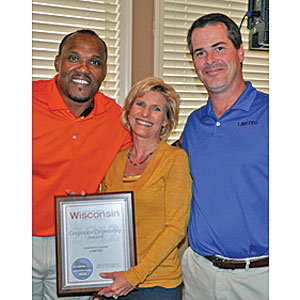 Retired Green Bay Packers player, William Henderson, presented the award to Linetec's Tammy Schroeder and Jon Close.
Located in Wausau, WI, Linetec was recognized for its industry-leading energy conservation. The company participates in peak energy management programs offered by Wisconsin Public Service, and leverages a formal Energy Management Team to identify energy savings. It also relies on a volunteer employee "Green Team," empowered to identify future waste reduction/recycling opportunities.
"We measure progress on all of our environmental efforts through carbon footprint tracking. We already have surpassed our goals for 2012, including greenhouse gas reduction of 15%, solid waste reduction of 10% and water use reduction of 5%," says Rick Marshall, Linetec's President.
The 5th Annual 2012 Wisconsin Corporate Citizenship Awards were presented in Lake Geneva, WI, on Oct. 4. Linetec's Vice President of Sales and Marketing, Jon Close, and Senior Marketing Specialist, Tammy Schroeder, LEED® Green Associate, accepted the award on behalf of the company. 
Earlier this year, Linetec also was selected for the Wisconsin Manufacturer of the Year Grand Award for Sustainability and the Wisconsin Business Friend of the Environment Award.