Inline color measurement solutions help manufacturers manage color as the product is being made. Inline systems monitor products as they are produced and alert operators as soon as color begins to drift out-of-specification so corrections can be made before the product is wasted.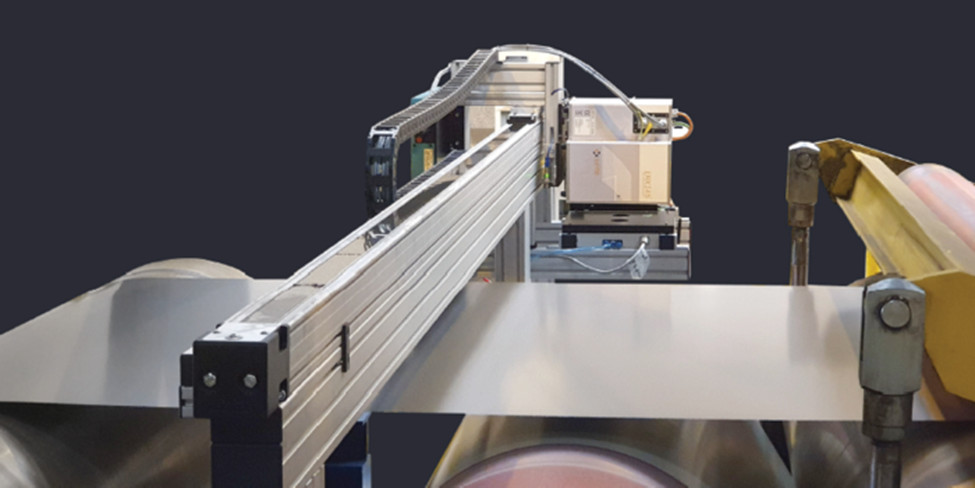 At X-Rite, we offer a variety of inline color measurement systems and software. Our Inline solutions can communicate with process control systems to provide color measurement data, or dye pump controls for real time Closed Loop Color Corrections. A system may also receive signals about events such as reel/sheet changes, machine stops or meter counts. Networked data allows manufacturers to share color standards and measurements among systems and at different locations.
Implementing inline color measurement solutions can help manufacturers increase efficiency, reduce waste, and make life easier for production operators and quality controllers. Here is a look at how coil coating, plastics, coated glass and automotive industries are using inline solutions.
Coil Coating
The color and gloss of coil coated products must be uniform across the length and width of each coil and conform to precise standards. Achieving this perfection requires accurate measurements in both the laboratory and during production; which can be especially challenging for projects containing different batches with various color adjustments. With X-Rite's coil coating color measurement system, a non-contact spectrophotometer is mounted on a traversing beam to automatically measure left, middle and right side. The system measures the material at high temperature and correlates these measurements to room temperature.
Automotive Industry
The automotive industry uses inline measurement with industrial robotics to control and manage color quality earlier in the production process and with greater repeatability. Non-contact inline measurement mitigates the risk of damaging paint during the measurement process. By using inline measurement, automotive manufacturers and suppliers can eliminate expensive color problems that can result in rejection of the vehicle or component.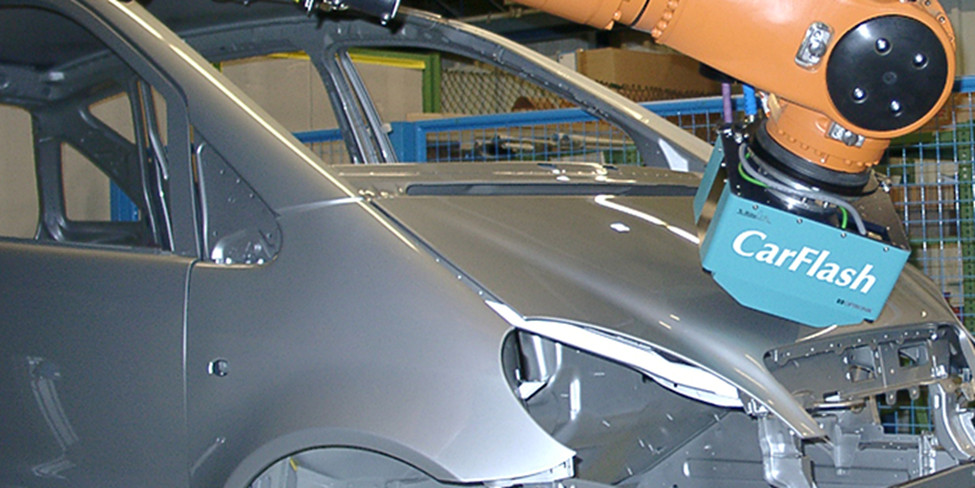 For example, the CarFlash non-contact multi-angle spectrophotometer is an automated system designed to collect colorimetric, gloss and orange peel data on painted materials such as car bodies and bumpers on the manufacturing line. In addition, there is excellent inter-instrument agreement between CarFlash and X-Rite multi-angle spectrophotometers used in the laboratory. This ensures color consistency from design through manufacturing for even the most complex special effect paints and coatings.
Plastics Industry
Color is becoming increasingly more important in plastics, especially in the automotive and furniture industries. And color tolerances continue to get tighter. An inline system can keep color on target, shorten transition times, and help operators react to color changes faster. For manufacturers working with plastics, there are both reflectance and transparent inline solutions available depending on the application requirements.
For use with opaque materials, it is best to use a reflectance measurement system, the ERX50 or ERX130 spectrophotometer. The instrument is mounted above the web at a distance of 10 or 300 mm on a customized measurement frame. Software controls the instrument and displays the measurements as a trend diagram for operators to monitor.
Transparent films, color, visual light transmission and haze are extremely important and must be monitored throughout the production run. X-Rite's inline transmission measurement system can help operators continuously monitor and correct even slight changes immediately.
The ERX55 spectrophotometer is mounted in a C-frame on a linear track on the production machine. ESWin software controls the instrument, the measurements and the movement of the linear track. The color values, correlated haze and light transmission are displayed on the screen as a trend diagram to keep operators up to date.
Glass Industry
Multiple silver layers on glass panes add functionality to architectural fronts and are state of the art in architectural design. Low-E glass or solar protection is used all over the world to save costs for heating or cooling houses. However, glass is a non-scattering product, which makes it a challenge to measure. Our inline glass color measurement system uses a non-contact spectrophotometer to measure the production of non-scattering samples, like glass panes, directly on the production machine.
Customers can use a single-angle,  or a more advanced, multi-angle unit, which measures at 15°, 45° and 60° at the same time. These devices illuminate the pane with a certain angle and measure the reflected light at the other side in the mirror gloss; allowing even functional layers, like low-E or solar protection, to be measured and quantified. The spectral curve, which is measured and displayed, provides detailed information about the reflectance from 330 nm to 1000 nm. Transmission can also be measured.
Conclusion
Today's manufacturers are under increasing pressure to improve efficiencies, deliver timely products and reduce waste. With inline color measurement solutions, you can monitor color throughout production, catch drifts in real time, and make color corrections before they impact production for a faster, more sustainable workflow.
**A version of this article originally appeared on https://www.xrite.com/blog/measuring-inline