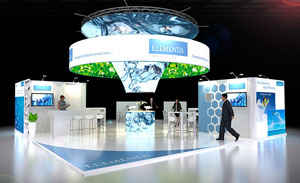 Elementis Specialties (Stand 1-430) provides high-value functional additives to many markets, including architectural and industrial coatings, and for adhesives, inks and construction applications. These additives improve the performance of products and production processes.
The company is exhibiting a comprehensive product portfolio for aqueous and solvent systems that includes rheology modifiers, defoamers, dispersing and wetting agents, and surface-active additives. Major products are rheological additives (BENTONE®, RHEOLATE®, THIXATROL®), dispersing and wetting agents (NUOSPERSE®), defoamers and specialty additives (DAPRO®), anti-settling agents (M-P-A®), and corrosion and rust inhibitors (NALZIN®).
The company continues to bring new technologies and products to the markets it serves. In addition to the booth exhibit, Technical Director BU Coatings will inform the audience of Elementis' novel highly efficient thickeners on Wednesday April, 22 from 12:10-12:30 Stand 1-131.
Recent innovative developments from Elementis include:
BENTONE DS, a new addition to the well-known BENTONE range as an economically hectorite grade due its high efficiency. This refined hectorite clay has excellent balanced application properties that are highly suitable for rendering and waterborne coating applications.
DAPRO DF 9010 mineral oil-free defoamer for architectural applications, predominantly based on renewable raw materials. It proves the possibility to combine sustainability with excellent application properties.
RHEOLATE 465, a strongly hydrophobically modified alkali-swellable acrylic thickener that has both ionic and associative thickening mechanisms. It provides both mid and high shear rate viscosity with balanced performance for superior packaging and application properties. RHEOLATE 465 is especially suitable for waterborne architectural high-PVC, high-gloss and semigloss architectural paints and industrial coatings.
RHEOLATE FX 1080 is a very low-VOC, high-efficient and high-active-content polyether polyurethane thickener suitable for many aqueous systems such as emulsions, dispersions and emulsion paints. It improves the anti-settling and levelling properties of paints by increasing the mid- and low-shear viscosity.
RHEOLATE HX 6008, an extremely efficient non-ionic synthetic associative thickener (NiSAT) for high shear-rate viscosity build in waterborne systems. It is suitable for a wide range of low-VOC paint systems and is particularly efficient in combination with pure acrylic and styrene-acrylic binders.
RHEOLATE HX 6050 will be an extension to the extremely high-efficient range as a highly efficient non-ionic synthetic associative thickener, which provides high shear (ICI) build for VAE and Vina/Veova latexes. This new additive can also be used in low- and zero-VOC waterborne paints, inks, textile coatings, adhesives and sealants.