The market for high-performance pigments (HPPs) and specialty pigments (SPs) has become an increasingly globalized and competitive business environment. The boundary between high-performance and commodity pigments was indistinct in the past, but now as application requirements have become more demanding, the definition of HPPs has become more clear.
Producers of HPPs are increasingly striving to produce products with excellent durability, high color strength and excellent dispersibility in a range of resin systems, chemical stability and low solubility. Such performance commands a premium price, as shown by exclusive research from Smithers Rapra. The company's new market report, The Future of High-Performance Pigments to 2023, shows that the market for HPPs and SPs will reach $6.73 billion in 2018 (Figure 1).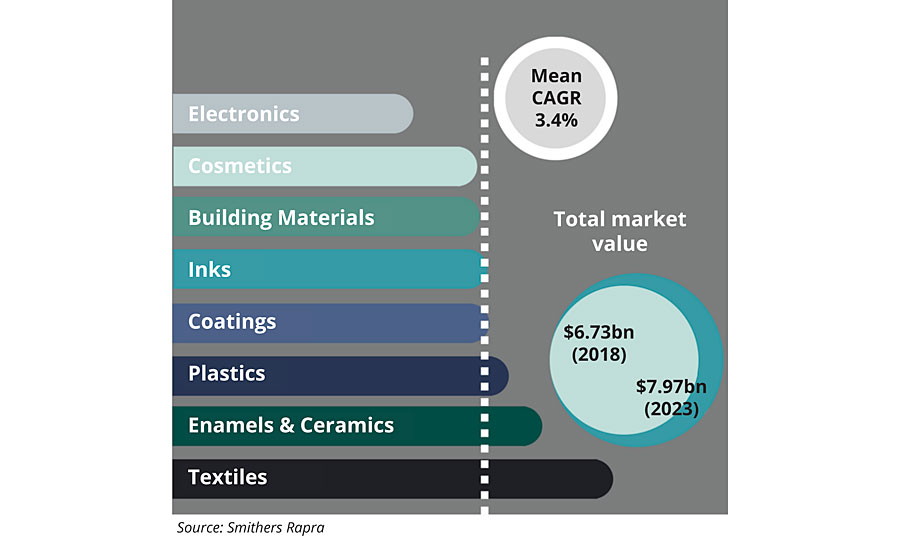 Contemporary HPPs are compatible for an increasingly diverse range of applications, as well as meeting increasingly stringent regulatory requirements – especially in the EU – which further adds to the value of top-end pigments (Figure 2).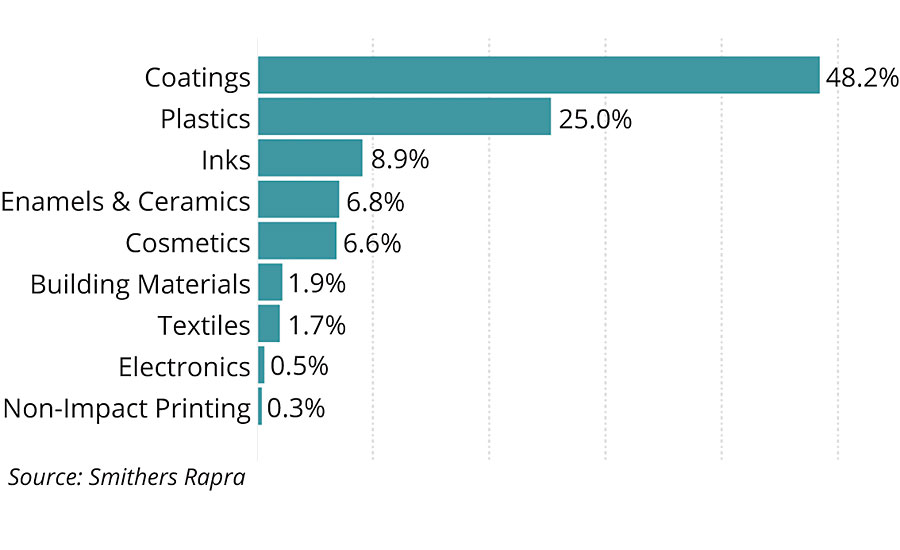 In its report, Smithers Rapra forecasts the growth of 14 HPPs and SPs – including complex inorganic colored pigments – and tracks how the overall market will reach $7.97 billion in 2023; a year-on-year growth rate of 3.4%. Volume consumption will rise across the same time period from 239,120 tons to 282,694 tons.
North America
A resurgence in the U.S. economy in 2017 has stimulated several key end-use applications for HPPs. The national market for HPPs is estimated to be 34,118 tons in 2018, growing to 38,790 tons in 2023 at a compound annual growth rate of 2.6%.
Notable merger and acquisition activity has been taking place in the United States, resulting in consolidation in the chemical sector. Much of this activity is having a global impact on trade and prices of HPPs, even as raw material supplies from China undergo disruption.
Sun Chemical recently purchased the metal-deco-ink business of PPG Industries. This acquisition reflects Sun Chemical's strategy to grow by acquiring businesses that complement areas of its existing operations. Sun Chemical will expand both its operational territories and its overall position in the global metal-deco market.
In 2017, Ferro announced the acquisition of Dip-Tech, a leading provider of digital printing solutions for high-performance glass coatings, based in Israel.
In recent years, Mexico has emerged as a key growth market for HPPs, with producers reporting robust demand for effect pigments from the coating, printing and plastics industries. Above-average performing sub-sectors within these include automotive OEM and repair coatings, powder coatings, plastic coatings, leather coatings, wood coatings, industrial coatings, art paints, dispersion paints and cosmetics.
Market Innovation
The capacity for HPPs to innovate and offer extra functionality in end-use products is an important factor for continued profitability. Smithers' analysis identifies the following key growth areas across 2018-2023 that capitalize on this and parallel innovations.
Nanotech
Nanopigments – super-fine pigments where individual particles are in the nanometer range – will directly influence the technical cutting edge of the market for special effect pigments. The automotive industry will be central in driving much of this innovation. There is a growing demand for organic nano HPP products, which are fine enough to avoid scattering effects and give very high transparency. These products maintain high light fastness and durability, while giving high chroma, saturation and transparency like conventional dyes. When mixed with effect pigments, they can generate an extended color range with dramatic effects that are embraced by designers and consumers.
Nanotechnology pigment platforms, like PPG's Andaro Tint Dispersion, developed initially for the automotive industry, are now being used in other high-performance coatings. This includes luxury goods and high-end color coatings for home appliances, like washing machines and refrigerators. Future growth will continue where consumers are willing to pay a high price to differentiate themselves using color.
Demand for these very small particle sizes is also stimulating innovation in bead mill construction and design from the likes of Buhler, Netzsch and Hockmeyer.
Dispersion Innovation
The relative high cost of high-performance pigments is prompting producers to refine their products to increase cost effectiveness. Innovation in another direction is looking to eliminate the time and financial costs associated with bead milling.
Ease of dispersion is one area of special attention that can offer significant cost savings to the user, and therefore most pigment suppliers are now offering easy-dispersing pigment powders. For example, Shepherd Color has its Dynamix range of easily dispersible pigment powders. It reports these have excellent behavior in both solventborne and waterborne paints and are now finding applications in some ink formulations (Figure 3).
Clariant is marketing easily dispersible pigments, and sells an expanding line of easily dispersible high-performance organic pigments. These are marketed as easily dispersible waterborne pigments.
Cool Pigments
Cool buildings – structures that use coatings to reflect heat from the sun – is a major trend in construction. These structures help to reduce running costs from air conditioning, and meet new energy efficiency standards. Furthermore, cool coatings result in less thermal degradation and reduce expansion across the building structure – improving lifecycle and reducing maintenance.
Many manufacturers now offer specific pigment lines with infrared (IR) reflective properties – Ferro (Cool Color), Heubach (Heucodur IR), Merck (Iriotec 9000), Shepherd Color (Arctic), Venator (Altiris). Significantly, this emergent class of HPPs can offer dual functionality – marrying color durability and IR-reflection – in a variety of colors, including blacks.
The same functionality of paints with IR-reflective HPPs is also gaining ground in automotive coatings. In March 2018, BASF's work in this area was recognized with an iF Design Award. Its passive temperature management system utilizes a basecoat, which is transparent to IR-radiation and an IR-reflecting filler. In this combination, the paint reduces a vehicle's surface temperature by up to 20 °C in bright sunlight, offering similar durability and energy savings as seen in cool building coatings.
Nanotechnology is also being harnessed to optimize IR reflectance. Decoration of mica flakes with nanorods of the mixed iron/titanium oxide has generated a new family of pigments. The near-infrared solar reflectance of these composite pigments can be as high as 80%.
Coatings for Driverless Cars
The automotive industry is increasingly fitting the advanced driver-assistance system (ADAS) to vehicles with the goal that fully autonomous vehicles may be on the road in the next decade.
ADAS relies increasingly on specialized sensors fitted to cars to help the driver to navigate traffic and other hazards. For real-time feedback, many of these are focussed on employing Light Detection and Ranging (LiDAR) technology; this in turn is stimulating demand for enhanced vehicle coatings.
PPG has led in this area with a coating technology that allows fine management of the reflectivity of the coating to specific wavelengths. It expects to market this before 2020. PPG also wants to produce improved coatings that enhance the radar reflectivity and transmission properties of plastic and composite substrates.
3D Printing
Additive manufacturing, commonly known as 3D printing, is poised to revolutionize production in industries requiring low production runs, ease of customization and/or complexity in design.
3D printed products or components are not cheap, typically. They can command a premium price, which means there is a corresponding need for high-quality effects. This can be realized by adding HPPs into the polymer mixes that a 3D printer uses.
Both Clariant and BASF have started businesses that supply premium and customized 3D printer filaments. In terms of growth potential, Smithers analysis shows that the global market for 3D print equipment and consumables will be $8.67 billion in 2018. This will triple to reach $20.14 billion in 2022 and double again to $55.82 billion in 2027.
This growth is seeing pigment business build new partnerships with additive manufacturing technology suppliers. BASF and industrial inkjet company Xaar are collaborating to refine a photopolymer jetting process. This relies on curing the plastic with a UV light source, creating an opportunity to color the photopolymers resins with HPPs.
Schlenk Metallic Pigments and filament producer Herz have collaborated to create 3D printing filaments that have "a silky, homogeneous surface that is free from visible glitter particles (combining) deep shine with an authentic metallic look." Working with polyterephthalate glycol-modified matrix polymer, five 3D print grades are now available in metallic gloss blue, red, black, brown and fir tree (green) – and can be processed up to 240 °C.
The impact of these, other innovations and commercial market trends are examined and quantified in the new Smithers Rapra report, The Future of High-Performance Pigments to 2023. This market report is available for purchase now on the Smithers Rapra website. https://www.smithersrapra.com/market-reports/raw-materials-industry-market-reports/the-future-of-high-performance-pigments-to-2023.