The global smart coatings market is projected to record a CAGR of 23.87% by 2022, reaching USD $6.26 billion. Rising applications in numerous end-use industries, including automotive and transportation, marine, building and construction, and aerospace and defense, will augment the market growth over the forecast period.
Smart coatings are specialty coatings that possess pre-defined properties that respond to external or environmental factors, such as pressure, chemical, light, heat and other stimuli. They can detect and prevent corrosion, and extend the life of components and structures made from corrosive materials. Thus, they improve a material's efficiency by reducing maintenance costs and inspection times.
Superior properties over conventional coatings such as high performance, smart functionality, improved productivity, and abrasion or scratch resistant have made smart coatings a preferred choice in several applications. There is a massive potential for smart coatings to replace conventional coatings in end-use industries such as automotive and transportation, building and construction, and medical.
Smart Anti-Corrosion Coatings - the Most Attractive Segment in the Next Five Years
Smart coatings are used by the end-use industries based on their functions. There are six major functions of smart coatings, namely anti-microbial, anti-corrosion, anti-icing, anti-fouling, self-cleaning, self-healing, and others such as self-dimming, electrochromic, anti-drag, smart skin, color-shifting and camouflage coatings.
In 2016, the anti-corrosion segment led the smart coatings market by function, with a share of 23.7% in terms of volume. Anti-corrosion smart coatings are preferred because of their compatibility with most structural metals, long-lasting corrosion protection, adherence to environmental, health and safety standards, capability of repairing themselves when damaged, less maintenance, materials and labor, and requirement of less physical preparation of the metal surface. Smart self-cleaning coatings accounted for the second-largest market share of 19.3%, in terms of volume, in 2016.
Anti-corrosion smart coatings provide added protection to metal surfaces and inhibit the contact between chemical compounds or corrosive materials. These coatings act as a barrier against corrosion of substrates that are frequently subjected to high temperature and harsh corrosive conditions.
In the automotive and transportation industry, anti-corrosion smart coatings are used for fasteners, body hardware, door closure, lock parts, exhaust, suspension, engine components, clamps and hose connections, and for making vehicles scratch-free.
Marine coatings is one of the largest end-use industries for smart anti-corrosion coatings. These coatings are used to protect marine vessels, ships and boats with metal hulls, resulting in low maintenance cost. These coatings also enhance the aesthetic appearance of vessels. Owing to the increasing demand from the automotive and marine industries, the anti-corrosion smart coatings market is projected to register the highest CAGR during the forecast period.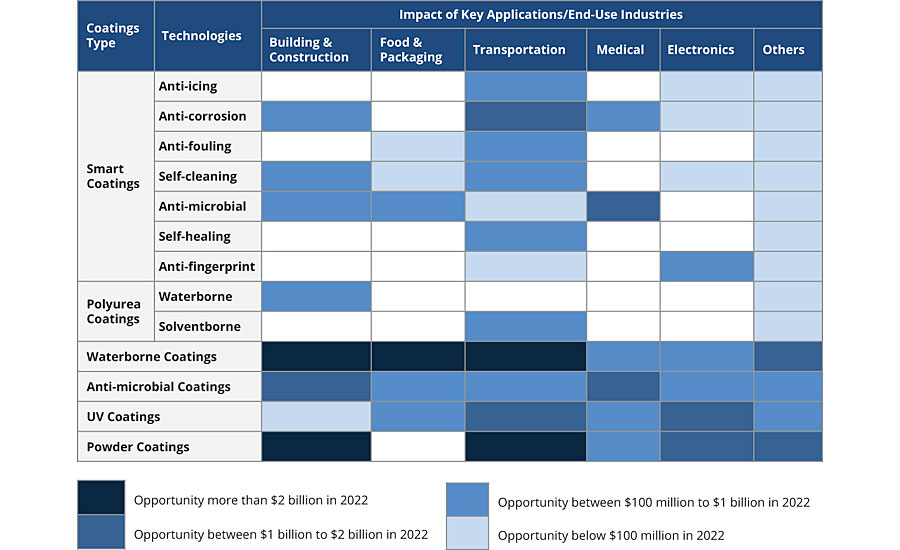 Asia Pacific: The Fastest-Growing Smart Coatings Market
Asia Pacific is the hub for foreign investment and has a booming manufacturing sector, mainly due to low-cost labor and easily accessible raw materials. There is an increase in the demand for smart coatings owing to the growing automotive and transportation, marine, aerospace and defense, electrical and electronics, and building and construction industries. The growth of the market in the region is mainly attributed to the high economic growth rate supported by heavy investment across automotive, general industrial, building and construction, electrical and electronics, healthcare, and food and beverages industries. With a population of around 4.5 billion in about 35 countries, the region accounts for almost one-third of the global gross domestic product (GDP) measured in terms of purchasing power parity. In addition, several companies are shifting their production units to the region because of low-cost of production and proximity to emerging markets such as India, Indonesia and Malaysia. The immigration of global auto manufacturers and increasing activities in the building and construction industry, including few highly cash-intensive projects, are driving the smart coatings market in the region. Asia Pacific has a large and growing population, making it an important hotspot for global trade and commerce.
The marine industry uses smart coatings in bulk tankers and carriers, cargo ships, cruise ships and container ships. The countries in Asia Pacific are well positioned to supply ultra-large vessels to shipping companies due to the manufacture of fuel-efficient vessels that ensure economies of scale. Smart anti-fouling coatings are used to slow or hinder the growth of organisms on marine vessels. Smart anti-corrosive coatings are applied to different parts of offshore vessels and structures to protect them from corrosion.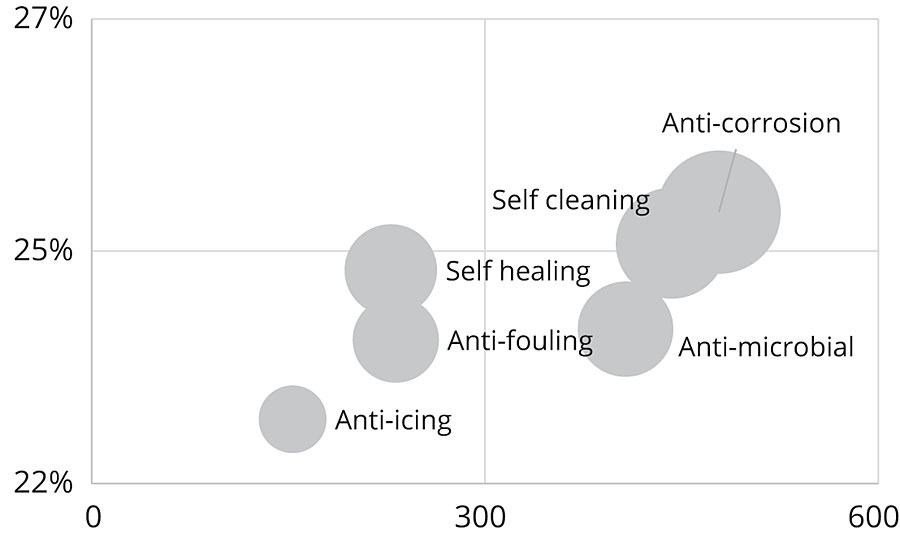 Asia Pacific is the largest smart coatings market that accounted for a share of 49%, in terms of value, in 2017. The growing demand from the marine, automotive, aerospace and defense industries and increased demand for sustainable products are driving the market.
In terms of value, Europe and North America accounted for the second- and third-largest share, with 23% and 20% respectively, of the overall smart coatings market in 2017. The European and North American markets are mature; however, the development of high-growth applications in automotive and transportation and marine end-use industries in the regions are expected to drive the market at a considerably high rate during the forecast period. There is considerable growth in passenger car ownership, which is also expected to drive the smart coatings market.
Demand for Green and Advanced Technologies is on the Rise
Consumer demand for environment-friendly products has created a major impact on the product value and innovation on the smart coatings market. Today, end users of smart coatings prefer those products that provide smart functionality, better weather resistance, high performance, improved productivity and increased service life of the component; reduce maintenance costs; along with ease of application and easy cleaning. An increase in demand has, therefore, aided innovations in technologies, exceeding consumer expectations.
For more information, e-mail vikash.kumar@marketsandmarkets.com or annirban.bhattacharya@marketsandmarkets.com.