New year, new decade, new era of possibilities. This was the sentiment that floated effortlessly through the air as 2019 gave way to 2020. However, that hope wasn't the only thing traveling around the world as people switched their calendars and practiced writing a new date on forms. The Covid-19 virus had already shut down parts of China and was quickly penetrating international borders with little oversight and no warning.
By April 1st, most of the world's population had been placed under stay-at-home orders. Consumer patterns saw a large shift in priorities. Paint and hardware stores started offering delivery and door-to-car services at the beginning of the quarantine period. Sales spiked as people sought ways to stay busy while social distancing. This adjustment was crucial and, in most areas, well implemented. However, there are still ways in which the paint and coatings industry remains outmoded and unable to adapt quickly, especially when it comes to our reliance on stationary spectrophotometers.
Traditional spectrophotometers are complex machines that provide limitations within today's new societal norms. If a custom paint match is needed, a physical sample must be taken to the store where a stationary spectrophotometer produces a formulation. These methods, while reliable, can be cumbersome, time intensive and require close physical contact within store locations. What the industry needs now more than ever before is a mobile-paired spectrophotometer that allows field users to send formulation and scan data back to the store or laboratory without unnecessary physical contact.
In response to this need, Variable, Inc. released the Spectro 1 Pro (Figure 1), a mobile-paired spectrophotometer that fits in the palm of your hand, producing formulation data that is comparable to what is produced by benchtop spectrophotometers inside color laboratories. While it is not to be considered a reference instrument, the device takes that high-level spectrophotometer technology and makes it available to anyone who needs access. This allows users to send back data that is as accurate as stationary spectrophotometers through a variety of mobile communication means including text, email or the cloud.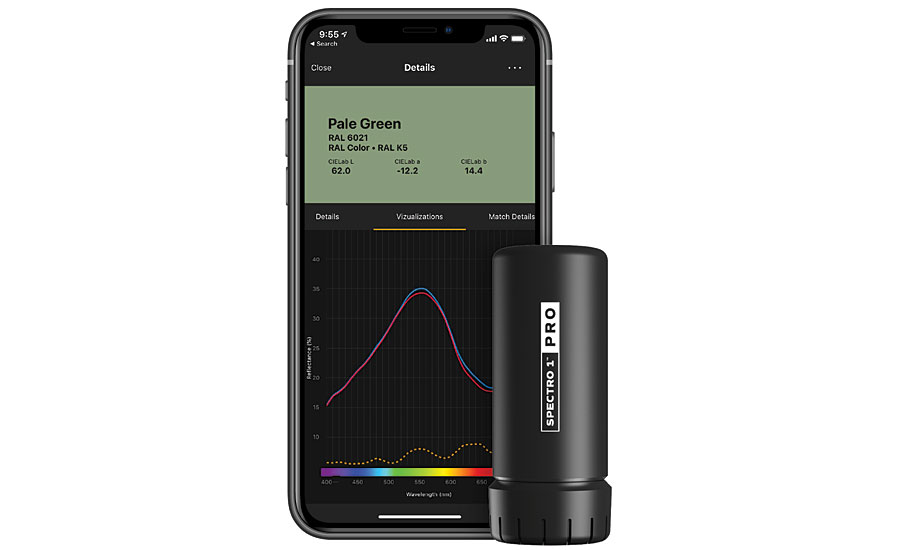 Variable realized that while we are well into the 21st century, organizations are still relying on antiquated and highly fallible methods of communicating color on a large scale. Within the industry, fan decks, paint chips, physical samples and the human eye are the standard way of finding a match on the job. While the human eye is not able to differentiate close color differences, it is able to see between five to 10 million different colors. Most fan decks hold less than 5,000 colors, often leaving customers with a limited selection and paint professionals with the need to create custom tints for clients. On an industrial level, companies often need to ship physical samples to ensure that the right tint is matched properly. This process is not only costly but time intensive.
Estimations say that it takes the average paint professional about 90 minutes to achieve a custom tint from a sample. With a mobile-paired spectrophotometer in the field, that estimate is reduced by 50 percent to an average of 45 minutes, as illustrated in Figure 2, and the only travel and contact that is needed is either a home delivery or drive-thru pick up of the custom paint.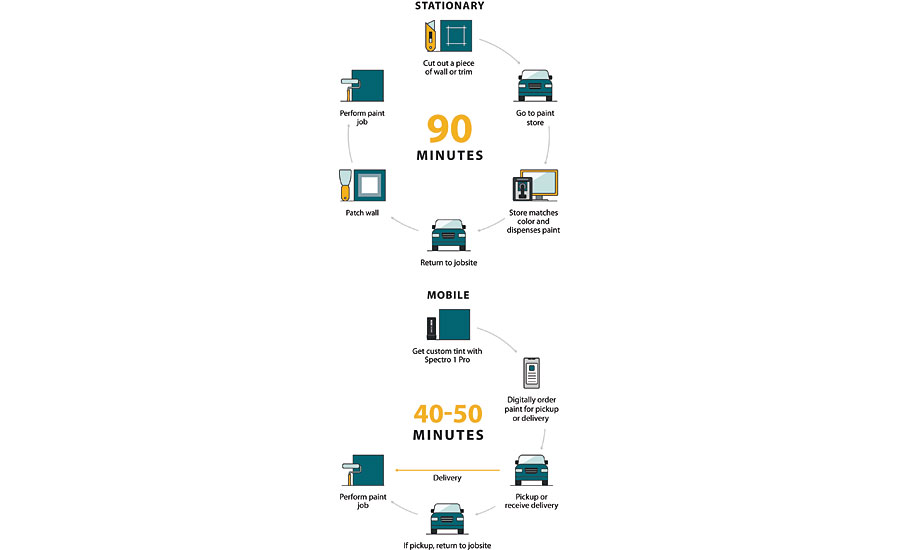 Communicating Color with Colorimeters
Variable first created the Color Muse, the first low-cost colorimeter to hit the market, in 2016. Finally, there was a color instrument that could digitally store a set of standards and match back to them with a higher level of accuracy than the human eye. While colorimeters are portable, affordable and relatively accurate, they only offered L*a*b*, L*C*h°, HEX, sRGB codes. That information does not provide the necessary reflectance data needed to formulate custom tints. Moreover, the optical geometry of 45/0° in colorimeters does not align well to formulation databases captured in D/8°. Paint professionals and homeowners were still required to take physical samples into their local paint stores for those precision custom tints.
While colorimeters are helpful, high-level color communication still has to rely on traditional spectrophotometers to provide accurate color tinting and formulation information. Those devices are limiting due to their size, cost and need for specially trained users, with price ranges anywhere from $3,000 to $20,000 and more per machine. The hardware used to make the traditional spectrophotometers prevents the devices from being cost efficient or mobile enough to be used by laymen in the field.
Spectrophotometers are the gold standard for the color industry, enabling them to identify, measure and quantify colors because they allow for a detailed capture of color in every wavelength. That accuracy and precision is the reason colors can later be identified in a large database through the use of the reflectance curve. When creating the color standards that coating companies use, the spectrophotometer provides a reflectance curve with 10-nm increments. Users are also able to understand how the color behaves and looks under a wide variety of illuminants. Being able to use that technology in the field can aid individuals as they seek to find and make custom tints while being socially responsible in the midst of a global pandemic and its aftermath.
New Sensor Innovations Shift Spectrophotometer Model
Traditional spectrophotometers are built with optical lenses, mirrors, gratings and a variety of other components that are precision made, making the device expensive to produce. Yet, these elements are the key to their high level of accuracy. Inside each device are optical components that split the light into the visible spectrum, similar to the way a prism does when the sunlight hits it.
In the last year, new innovations in optical sensors allowed mass production of a photodetector chip with an array of narrow wavelength filters to measure the visible spectrum. Coupled with Variable's patent-pending machine learning technology, a high-resolution spectral reflectance curve of surfaces can be measured using solid-state LEDs and the photodetector array chip. Further machine learning technology then tunes the reflectance measurements to a number of different laboratory reference spectrophotometers.
In order to provide the high level of accuracy that the Spectro 1 Pro claims to, it must be trained to read color under specific, consistent and measurable conditions. A tight tolerance between instruments is able to be achieved by using ceramic tiles when training each unit. Ceramic tiles, like BCRA or Guardian tile sets, are preferred because they are made from a stable material and don't change over long periods of time. This ensures that devices trained on the tiles from year to year score well in both consistency and accuracy during the production process.
It's a common practice for color professionals to identify how close a new spectrophotometer aligns with their reference instrument. And it's an important step to ensure that legacy databases are able to be accurately represented. Today, all Spectro 1 Pros produced are matched to a specified reference instrument. An experiment comparing the differences between a reference spectrophotometer in SCI mode and the Spectro 1 Pro was performed at room temperature. The color samples used in the experiment were the RAL Classic glossy fan deck consisting of 212 colors. The result of this experiment shows an average of 0.42 dE 2000 in Figure 3 with the cumulative percentage graph.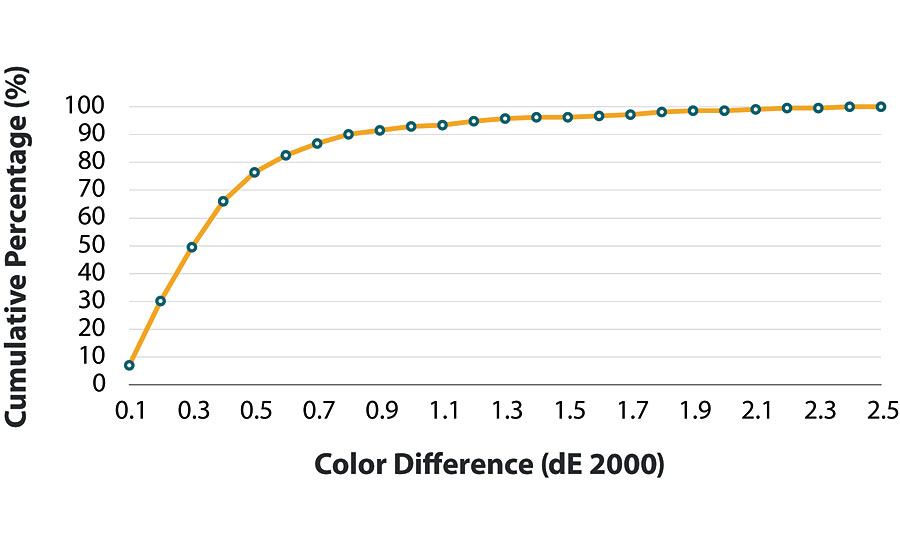 New Machine Learning Technology
A key benefit to this machine learning technology enables the Spectro 1 Pro to be aligned to different reference instruments, depending on the customer's preference. Each reference instrument reads color a bit differently, and there are many reference instruments that can be selected from. Therefore, due to the machine learning technology that has been developed by Variable, all devices are able to have that center point changed depending on which instrument the client or user needs their device to reference. This can take place after production, making these spectrophotometers able to fit within any organization. The alignment technology allows customers to define colors with their own master instrument and then refer to those colors with the Spectro 1 Pro devices through the connected mobile app  no matter where they are. In the era of social distancing, this can reduce unnecessary trips and contact with others outside a user's tight social circle.
However, to gauge just how accurate the Spectro 1 Pro is, there are two fundamental metrics to measure: short-term repeatability and inter-instrument agreement (IIA). Short-term repeatability is an indicator of how stable the instrument is from one measurement to another. Testing for that on the new Spectro 1 Pro is done in a temperature-controlled environment at about 20 C with a white ceramic tile. The instrument is placed on the tile and scanned in 30-sec intervals. The scans are then compared to determine how far the instrument drifts from scan to scan.
Inter-instrument agreement determines how different the instrument is from the reference instrument or established center point. There will always be a slight variation in the consistency of all instruments regardless of manufacturing or price, but the goal is to reduce as much noise as possible. IIA quantifies how big those differences are between the individual units. During production, each unit scans through about 44 ceramic tiles of differing hues. A center point will then be taken from each of the colors scanned. The difference between how the instrument reads that color is then recorded. Variable's mobile-paired spectrophotometers are increasingly accurate with a repeatability of 0.05 dE 2000 and an inter-instrument agreement average of 0.2 dE 2000 to the master instrument. These technical specifications are in line with many of the bench-top spectrophotometers used in color laboratories around the world.
However, if a client was to run a color test on the Spectro 1 Pro without Variable first moving the center point to match the client's reference instrument, the results would be skewed and not as accurate. Alignment methods are needed first before testing against a user's reference instrument, and organizations can work in collaboration with Variable to achieve the desired outcomes.
Once correctly aligned, the iOS and Android mobile application that pairs with the instrument is easy to use and allows anyone to navigate them without extensive training beforehand. With the app, users can now affordably access spectral curves between 400 to 700 nm in 10-nm increments, and view them directly on their smartphones or tablets. The Spectro 1 Pro is moving traditional spectrophotometer technology from behind the retail counter or inside the color laboratory and placing it in the user's pocket, making it easier to practice social distancing precautions without sacrificing quality.
Specular Component Included Geometry
The Spectro 1 Pro features don't end there. Designed with non-metallic paint professionals in mind, the device is a specular component included (SCI) geometry with a Diffused 0° (D/0°) observation. While traditional spectrophotometers house a Diffused/8° (D/8°), the ability to switch between specular included and excluded is not as necessary in the field as in the laboratory. The differences between D/8° optical geometry and the D/0° optical geometry is illustrated in Figure 4. D/8° devices are more common because the benchmark instruments in laboratories must satisfy a wide range of use cases. To validate the similar optical behavior of the two different geometries, an experiment was conducted using the NCS gloss scale to test the impact on measurement when the reference instrument is a D/8° (Datacolor SF600 SCI) and the field instrument is a D/0° geometry (Spectro 1 Pro). The NCS gloss scale consists of four different grayscale colors in seven different surface glosses ranging from 2 GU to 95 GU. The results of the experiment are shown in Figure 5 and demonstrate only small changes between the two instruments across the wide range of surface gloss. The experiment proves Spectro 1 Pro (D/0°) is a reliable field instrument when referencing laboratory reference spectrophotometers (D/8°).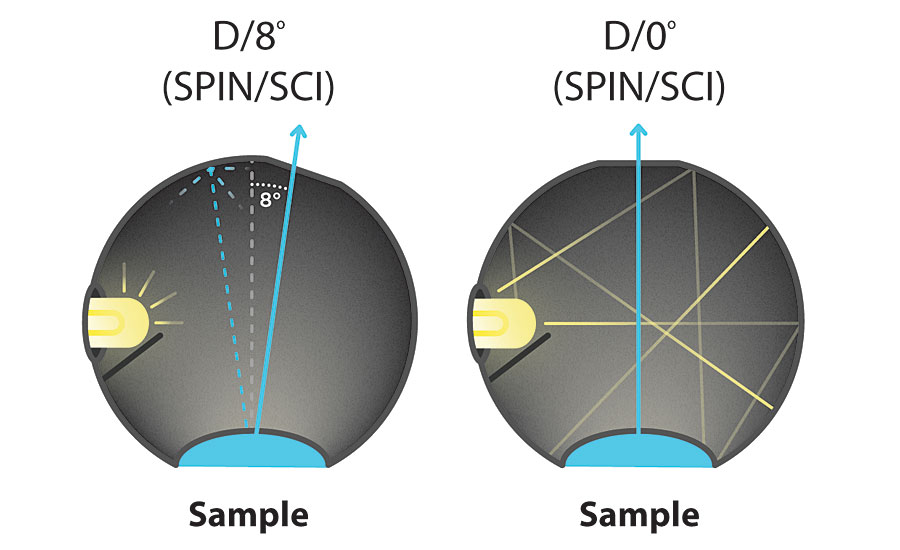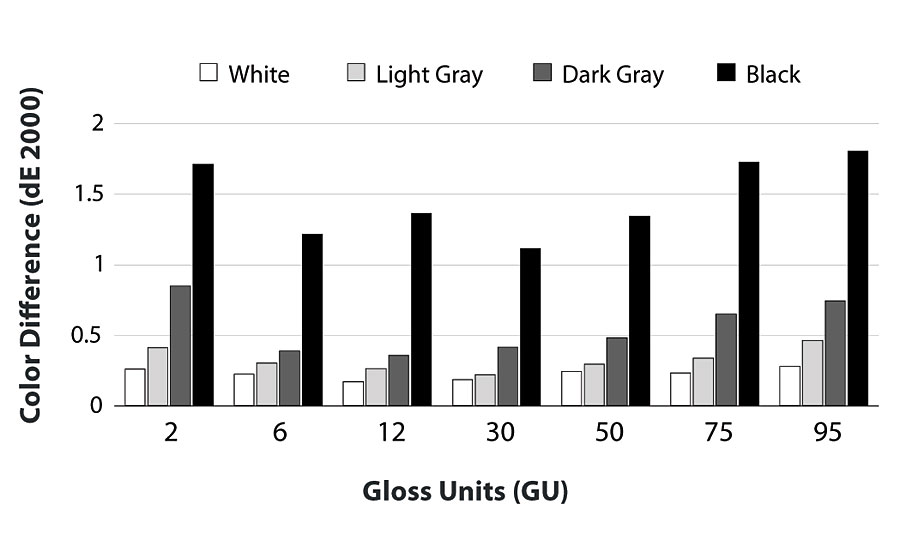 This opens new doors of opportunities for paint companies looking to provide laboratory-grade technology to field agents and customers, while using a smartphone app. A paint professional needs to be able to measure the true color despite the gloss or sheen level applied. Designing the instrument with a D/0° helps ensure its simplicity and size. Despite the differences in optical geometry, Variable can closely align the Spectro 1 Pro to D/8° reference instruments with a high degree of accuracy, allowing legacy databases to be directly imported into the mobile app.
Conclusion
The world around us is changing at speeds we have never before witnessed. There is an increasing need for digital solutions where more traditional models worked without question for decades. Variable's mobile-paired spectrophotometer offers accurate, affordable, time-saving technology that allows users to practice safe social distancing without having to sacrifice quality. With simple integrations, the possibility of scanning a color in the field, building a formulation on a smartphone, and then submitting an order to a nearby store has become a reality. This technology has been tested by industry experts both in laboratories and in the field to ensure that the claims hold up in real-life situations. The future of color communication is undoubtedly tied to mobile-paired spectrophotometers.
To learn more, visit variableinc.com.